Head coach Andy Fleming and Xavier couldn't change history, but they have certainly eased the sting of last season's NCAA tournament exit while cementing themselves as both giant-killers and potential giants themselves.
The Musketeers knocked off a second Top-2 team this season when they toppled unbeaten No. 1 Creighton in Omaha this week, partially-avenging the 2-1 loss that knocked them out of last year's NCAA Tournament in the third round (Xavier beat No. 2 Notre Dame in South Bend on Sept. 15).
"I said we can't go back and change what happened, but as far as the difficulty of winning in Omaha and beating an unbeaten team," Fleming said. "If there were eight boxes to check to make up for the loss, we checked off six, which was fine cause we couldn't (change last season)."
Xavier is 10-4-1 this season, yet another strong run during Fleming's five years in charge. He took over a side that won five games in the two seasons before he took over, one that saw the national standard for red cards taken.
[ MORE: College soccer news ]
Since Fleming was hired in 2010, Xavier has gone 71-32-18. The six-straight double-digit win seasons is a standard for the program, and matches the total number of 10-plus win seasons in the 35 years since he took over. And the Musketeers have rebounded from the reds to become one of the least-carded teams in the country.
Fleming says he looked at Duke basketball for inspiration in terms of representing a university, and Boston University's hockey program as a powerful program in a non-traditional power sport. And while he thinks others saw "a graveyard" in the open coaching job at Xavier, he wanted to fix the culture of a sleeping giant, one he compared to his last stop in Illinois.
"I saw this as a mini-Northwestern and I thought I could get people to come here," Fleming said. "We try to develop 'hires' and 'spouses', people you'd hire into your company or want your kid to marry."
This season's star has been the defending, which is little surprise given the Musketeers posted the Big East's best defense in 31 years last season.
"Defense is our catalyst," Fleming said. "And Cory Brown, a center back from New Zealand in the U-23 World Cup this summer, is definitely going to leave here as the most-decorated player we've had here. He's a very savvy, experienced player."
The coach also points to the performance of South Florida transfer goalkeeper Dallas Jaye and U.S. national futsal teamer Walker Andriot, and says the side has seen great offensive contributions from Jalen Brown and Matt Vasquenza.
The side's progression led Fleming to a pivotal point in any season. He has a physical "key to the team" that he's passed to them at Friday's training session.
Fleming has also powered a very personal cause at the school. His daughter Devin was born with Down's syndrome, and each Spring the side stages "Devin's Game" to raise awareness for those born with the disability.
"Every time I get asked about it at the right moment it gets me," Fleming said. "This university exists to take teenagers and make them into adults, and show them perspective and broaden their horizons. To put things in front of them, not the flowers and candy but the challenges. One of the most empowering things and special things is I think this all happened for a reason. In 10-20 years if one of them has something happen with a wife or parent or have a child born with a disability, if I got through to one of them I've done my job. Devin has changed everyone's life."
Three stars of the week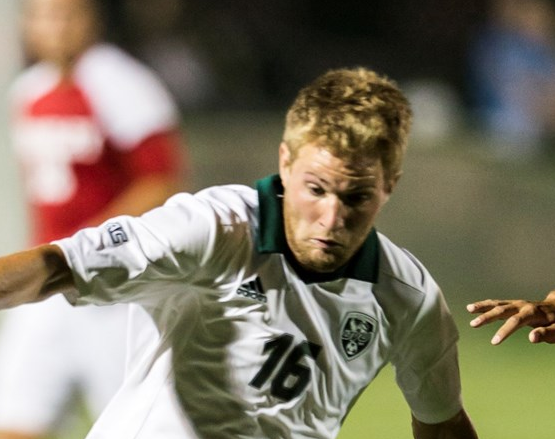 1, 2 and 3) Fabulous freshmen playmakers — Wake Forest's Jack Harrison, Utah Valley's Aaron Meyer (above) and UCSB's Geoffrey Acheampong are in the race to lead D-1 in assists. The first two have 11, while Acheampong has 10. West Virginia's Joey Piatczyc leads the league with 12, but West Virginia may well miss the MAC tournament and provide him few chances to improve on the total.
Other notes
— Creighton's loss opens the door to a wealth of teams, including surging Wake Forest, Clemson and Stanford.
— Denver looks very good and remains unbeaten at 11-0-3, but will likely fail to leap up the table due to a perceived-soft non-conference schedule.
— Other No. 1s in this week's poll were: Pfeiffer (Men's D-2), Franklin & Marshall (Men's D-3), Florida State (Women's D-1), Gannon (Women's D-2), Messiah (Women's D-3), Rio Grande (Men's NAIA), Lindsey Wilson (Women's NAIA), Louisberg (NJCAA Men's D-1), Genesee Community College (NJCAA Men's D-3), Eastern Florida State (NJCAA Women's D-1), Fresno City (NJCAA Women's D-3).
— Nick DePuy from UCSB leads the nation in goals, with 15 in 18, after scoring three in his last two.
Still, the race for the scoring title remains fairly open: