It was disjointed at times, even ugly for the first hour or so, but there's little debating the emotion, frenetic and frankly desperate nature of Liverpool's visit to Chelsea on Saturday.
The Blues and their boss needed three points badly, and the Reds wanted badly to assert that life was different under Jurgen Klopp.
[ MATCH RECAP: Chelsea 1-3 Liverpool ]
The Klopp revolution is being televised, and probably just as visibly as Mourinho's downfall. The score line read Normal One 3, Special One 1, as Mourinho was outfoxed (or maybe out-foxed himself), but how did the players rate?
LINEUPS
Chelsea
Asmir Begovic — 5 — Wasn't going to do anything on Coutinho's goals, and a big save on Moreno in the 77th minute, but there's no good way to give up three goals, is there?
Kurt Zouma — 5 —  Couple pivotal first-half clearances, and clearly not a right back but deputized well enough. What was Mourinho thinking? Especially given how poor his center backs played.
Gary Cahill — 4 — Some good clearances through the first 45 gave way to some shaky stuff early in the second. And then total collapse. Woeful stuff from Chelsea's center back pair.
John Terry — 3 — He hasn't looked good dating back to the preseason tour, but the first half saw shades of his best defending. The second half… didn't. It'll be ironic if Jose Mourinho goes out giving two English center backs every chance to right his ship.
Cesar Azpilicueta (Off 75′) — 6 — Fantastic work on the left side was punctuated by his wonderful cross to Ramires for the early Blues goal.
John Obi Mikel (Off 70′) — 4 —A bit slow to react all day, but was dealing with an incredibly lively Liverpool midfield. Silly, silly yellow card foul against Lallana.
Ramires — 5 — Celebrated his new deal with a well-taken headed goal, but was duped by Coutinho's faked shot right before the equalizer. (Can you believe he's 28? Feels like we've known him forever).
Willian — 4 — One of Chelsea's better players when lively and active, he was far from impactful.
Oscar —  4 — Aside from a nifty dribble or two, did little to give Costa a chance to break down the door. Almost caught Mignolet off his line with a long blast.
Hazard (Off 58′) — 3 — Can anyone explain Hazard's dip from the precipice of truly elite to nearly invisible?
Diego Costa — 4 — A lack of service makes it hard for a lone striker to make things happen (aside from diving, scowling, and doing world-class awful things like kicking Martin Skrtel in the chest).
Subs
Kenedy (On 58′) — 6 — An immediate injection of life, a midfielder willing to run and dribble at the defense.
Fabregas (On 70′) and Falcao (On 76′) — 4 — These guys played in the game, huh? You're sure?
***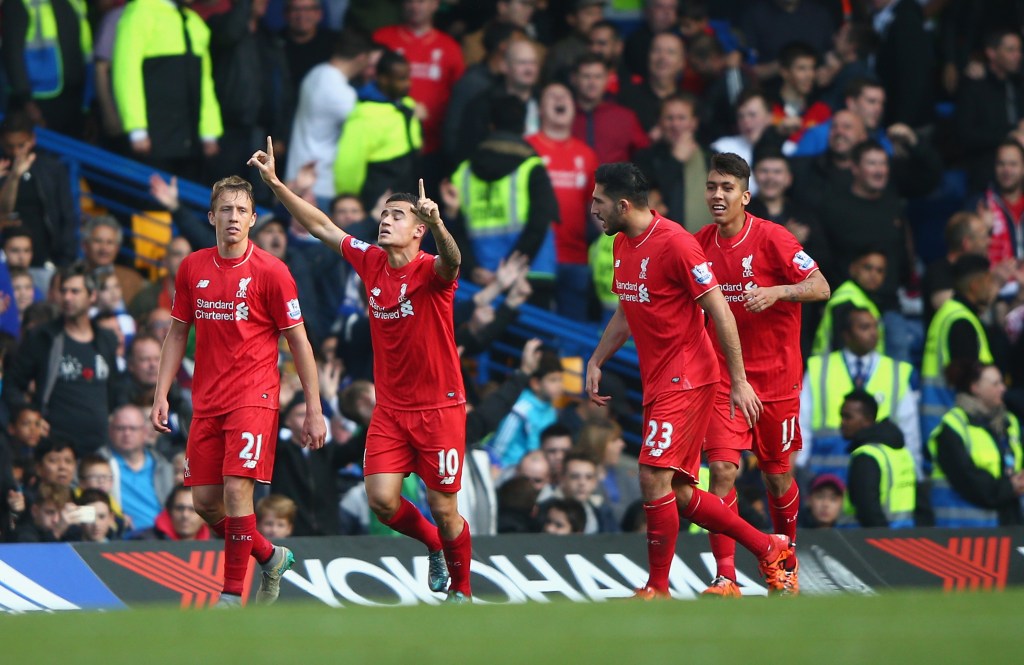 Liverpool
Simon Mignolet — 6 — Didn't have much to do in the first 45, and perhaps you want your keeper to save the Ramires goal, not just get a hand on it… but hung a bit out to dry there.
Nathaniel Clyne — 6 — Lively on the wing in the first half, settled into a more defensive role as the match moved forward.
Martin Skrtel — 6 —  Not without his scary moments, but marshaled the back line in a big way.
Mamadou Sakho — 7 — He's a player, making several big tackles and marking very well.
Alberto Moreno — 4 — Failure to pick up Ramires allows Chelsea to strike early is enough for a poor grade
Lucas Leiva — 7 — Clearly a critical part of Jurgen Klopp's plan. In attack, the 28-year-old helped Liverpool's possession with calm. In defense, he was cantankerous and on the edge. Did he deserve a second yellow card?
Emre Can — 6 — Steady. Did his job well enough that he barely stood out.
James Milner (Off 64′) — 3 — Struggled to start the match, and never found his rhythm.
Adam Lallana (Off 90+1′) — 7 — Good first half, and worked the Reds into a rare early second half chance before helping to cement the win on Benteke's late insurance goal.
Coutinho — 10 — Yes that's a 10. What a pair of goals from the Brazilian: the movement to get free, the reception of the ball, the curling shot. Gorgeous. The second was deflected by Terry, but slightly.
Firmino (Off 75′) — 7 — Looked dangerous early, and combined neatly with country-mate Coutinho on the equalizer.
Subs
Christian Benteke (On 64′) —  7 — How's that for an injection of finish? Klopp goes from a myriad of wily attackers to a big target man who makes both Terry and Cahill look like rookies.
Jordon Ibe (On 75′) — 6 — Didn't have much to go, as game was firmly in hand.
Dejan Lovren (Off 90+1′) — N/A