Lost in the hullaballoo regarding Steven Gerrard's comments on turf and altitude in Major League Soccer was the Liverpool legend's statement that 2016 could be it for him as a player.
Perhaps he's feeling the weight of a full year of playing, or maybe he's seeing Ryan Giggs' understudy role at Manchester United and intrigued, but Gerrard says he could be done in 2016.
[ JPW: Five ways Mourinho can fix Chelsea ]
He'll turn 36 during the next MLS season, and it's safe to say he's not entertaining a loan. The man needs a break, people. He played 58 games between Liverpool, Los Angeles and the England national squad last year.
"It could be my last season as a footballer. … I certainly don't want to feel like I'm feeling right now come next year," Gerrard told reporters in Seattle last week. "I'd love to go out on a high. It's a long season and I only came here for the last four months, but I'll certainly be better for the experience next year."
While we're here, allow me to weigh in on Gerrard's "not aware" comments. I would be absolutely stunned if no one told him there was turf in MLS, or if his entire entourage failed to note that Colorado plays in high altitude.
Simply put, Gerrard used vocabulary very poorly in laying out that he was having a new experience this year. That experience had ups and downs. Advanced stats site Squawka rated him the 18th-best player in MLS from his debut through Decision Day, but $6.3 million-per for 18th-best? Surely a proper offseason and league adjustment should boost that a bit, but but how much is a question for time to answer.
(Columns are games, minutes, defense, attack, possession and total).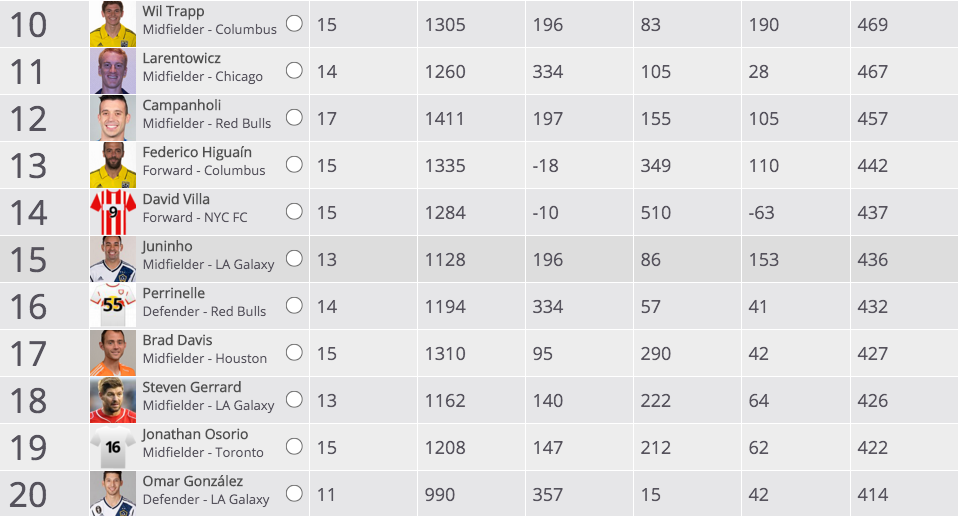 And if he really wasn't made aware of it? We will never be told otherwise, because it would make anyone associated with his decision-making process quite odd.