STOKE, England — These are heady days at the Britannia Stadium.
[ MORE: PW's picks for PL Week 12 ] 
Stoke City are in their ninth-straight season in the Premier League and the coaching staff, players and fans are optimistic this will be the best yet as they continue to progress on the pitch.
Ahead of their clash against Chelsea on Saturday (Watch live, 12:30 p.m. ET on NBC and online via Live Extra) ProSoccerTalk went along to Stoke's Clayton Wood training ground to speak with U.S. national team defender Geoff Cameron, England goalkeeper Jack Butland and Spanish playmaker Bojan Krkic. Typically it was raining. Hard. It was cold. It was wet and windy. What else did we expect?
[ MORE: Bradley set for Le Havre ]
Since Mark Hughes arrived at Stoke as boss for the 2013-14 season the Potters have steadily been building a new philosophy, a new identity and playing style. Back-to-back ninth placed finishes, recording their highest points tally last season and attracting exciting talents from overseas has seen a new-look Stoke City take the Premier League by surprise.
USMNT center back Cameron is in his fourth season at Stoke, his third under Hughes, and has seen a big shift since the Tony Pulis era.
"It is definitely a new-look Stoke. From the staff to the way things are run day-to-day it has changed. Physios, fitness coaches, nutrition, everything. From top to bottom it has changed," Cameron said. "Under Tony Pulis it was different. He was a good coach, different style, different ideas and we were successful so not taking credit away from him. But under Mark Hughes he has come in and changed the whole philosophy of the club, a different idea of playing the ball on the pitch and being creative, letting guys go into their own ability and I think with the players we have like Bojan, a player of that type of caliber has come in and you see that it took him a little while to adjust but he is now blossoming into a big player for us."
The man Cameron singled out, Bojan, was a shock signing for Stoke as the Spanish playmaker arrived from Barcelona last summer and perhaps signifies just how Stoke's image has altered over the last few years. The 25-year-old was dubbed "the new Messi" when he broke through at Barca at 17 years old but moves to AS Roma, AC Milan and Ajax saw his career at the Nou Camp stall. Bojan revealed why he was excited to join Stoke, even if he didn't know too much about the club to start with.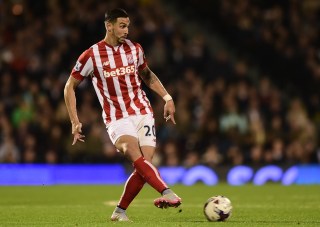 "I think when I came here I didn't know the history about Stoke City and a lot of people say, 'oh, why you go there because it's a different style and a different style of football?'" Bojan said. "But when Mark Hughes called me, I spoke also with Marc Muniesa, he told me the philosophy of the club and what Mark wants to play. I said yes for that. When I come here and started to train and play I enjoyed it since the first day."
It was clear from Hughes' first day in charge of Stoke that the much talked about tactics under Pulis — direct, long balls and playing up to a target man with a reliance on long throws and set pieces consolidating them in the PL — would dissipate and they would play more attractive soccer. It's been a case of steady progress but one of the players who was there on Hughes' first day in charge was Butland and he believes the new philosophy is evident in the way his team plays.
"From the minute the manager came in and first day of preseason he said things are going to change," Butland revealed. "There is a lot of talent in this room that isn't being allowed to play at their full potential. From that moment we knew it was going to be exciting, a lot of changes, the balls came out quite early. We were getting into football quite early and what the manager wanted. As the years have progressed we have improved a great deal."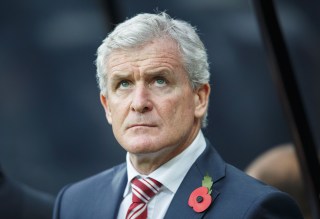 One of the main reasons Stoke seem to be improving each season is the caliber of players Hughes is attracting to the Britannia Stadium. Last year Bojan joined Austrian international Marko Arnautovic to boost the attack and over the summer Hughes added another two star attackers in Ibrahim Afellay from Barcelona and Xherdan Shaqiri from Inter Milan, the latter for a club record $20 million.
"You can tell the pedigree that they bring, the caliber and skillset that they have, they are all unique in different ways," Cameron, who has been a mainstay in Stoke's defense since arriving from MLS in 2012, explains. "A guy like Shaqiri, it is going to take time for him to adjust, like it did for Bojan. It is difficult coming from different leagues which is something I experienced myself, you come in and everything is a little different. The Premier League is quicker, faster, it is more physical. It took a little while for Bojan to find his feet then a month or two into the season that's when he started feeling the game coming to him and he was scoring goals for us but then unfortunately he went down with his injury. You can see already this season that he is back and things are starting to happen for him.
"It does take time and it is going to happen with Shaqiri. You know what he brings to the table, you see it on the training pitch every single day. The games are a little different and it will come. You have a guy like Afellay, he is clever, he is quick and he likes to dribble at guys, which is the same with Arnautovic. They have power and pace. We are a threat offensively. I think we are a little off right now, we are trying to find that final ball and it hasn't been there but we are creating chances. It is just a matter of us finishing them and sharpening up in the final third. Once we all start clicking together as a team, I think we will be pushing for the top 10 for sure."
A big reason why Stoke may not be gelling as quickly as they hoped was that over the summer 12 new players arrived. The Potters didn't win any of their opening six games of the season. However, a three-game winning streak followed that and despite a blip against Watford last weekend, Stoke's new boys are finding out what it's all about in the Premier League.
[ WATCH LIVE: Stream every PL game via Live Extra ]  
Butland believes the new flair players are adapting to chipping in defensively, a trait which is still very important at Stoke despite all the changes, as well as showing their attacking talents.
"They are adapting to that really well. The minute you do bring the more technical players in with flair, you are always going to veer a little bit away from what the team was but that's kind of the sacrifice that we are making," Butland said. "We want these players here because they are incredibly talented but with that they know and we know that we still have to work hard and be tough to beat as a team. Nothing changes on that side of things but as you do start to bring these players in, your team does become a little bit smaller, a little bit more technical and you have to try and play to that."
Bojan, the hub of Stoke's attack who says he is enjoying playing in the No. 10 role, believes the foreign players who have arrived know their responsibilities on both sides of the ball.
"It depends in what team you play but I think football changes every year," Bojan said. "Before, the strikers they really don't need to do a lot of defensive work but now yes and more if you play in a club like Stoke City. Everyone has to work 100 percent, offensively and defensively. We know that and we have to."
The man leading this new approach at Stoke, former Manchester United and Barcelona forward Hughes, quietly goes about his business on the sidelines with a calm persona and with Stoke in the Capital One Cup quarterfinals at home to a Championship team, trying to push up the PL table and playing more attractive soccer, Cameron reveals that his boss is a real players' coach. Even if he does explode in the heat of the battle.
"He definitely has that bit of a temper that he had when he was a player but at the same time he is very cool, calm and collected coach," Cameron laughed. "He is a players' coach. He is a guy you want to play for. You can tell that he wants to win and he wishes he could still go out there and play, which he can, but he wishes he could go out there every weekend. That shows his desire to do whatever it takes to win and do whatever it takes to help this club. He is a great guy to play for."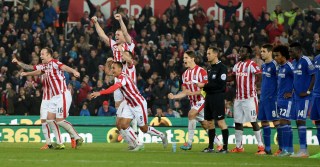 With Chelsea rolling into town this weekend with six defeats in their opening 11 PL games, many would say this is a great time for Stoke to face the reigning champs. Butland, still only 22, became Stoke's starting goalkeeper this season after Asmir Begovic left for Chelsea and is pushing Joe Hart to be England's starting goalkeeper following his great start the campaign. Butland saved Eden Hazard's penalty kick in the League Cup shootout last week to hand Stoke victory over Chelsea but is expecting a completely different game this time around and believes his side can't take anything for granted.
"It will be very different. Even though it was only just a week ago, a lot has happened since then with both clubs. Chelsea have had a hell of a lot more, a Champions League game which they managed to get through in the dying minutes which is going to give them a massive boost but then obviously Jose is not going to be in the stadium for the game at the weekend so there is still a lot going on with their side," Butland said. "For us, if we apply ourselves like we did in the League Cup game and try and be hard to beat and prevent them from breaking us down, that's when we need our players to step up going forward and try to get something for us. It will be a very different game but we still need to apply ourselves well and be difficult to beat and try to keep that clean sheet, then it's about, 'can we nick one going the other way?'"
[ MORE: 5 ways Mourinho can turn things around at Chelsea ]
Stoke's players respect Jose Mourinho, despite the tough spot Chelsea is currently in, and believe he will turn things around. Bojan also believes that one of the players heavily criticized during their poor run, Hazard, can still deliver the goods.
"I saw Eden Hazard play here last week against us in the League Cup and he was amazing," Bojan said. "I don't see every game but I watched that game and he played amazing. I think Hazard is one of the best players in the world. Also, it can happen, you don't play [well] some games. That is life. That is football. But he is an unbelievable footballer."
With reaching the final four of the League Cup a real possibility and the club aiming for a good run in the FA Cup, Butland believes that Stoke should not lose focus on improving their PL finish from last season. When asked about qualifying for Europe, for now, he sees it as a long-term goal.
"No matter how successful we are in the cup, anything less than what we've produced in the league in the last two years won't be acceptable," Butland said. "We are normally a slow starting team. We did have a slow start to the season last year but we finish well. We have not had a bad start and anything less than a ninth place finish we won't be very pleased with…
"[Getting into Europe] is the progression we are trying to make. We are not going to be able to turn it around and get in the top six or seven just like that. It is a process but hopefully with another positive season and hopefully a good run in either cup or finishing eighth this year, those kind of accolades are going to attract more players to the club. It is going to be a much more exciting team to be a part of. It is certainly something in the future that will be a target."
Bojan and Cameron both echo that sentiment of building slowly at Stoke but as new high-quality players continue to arrive for big money, expectations will soar.
"We have to go step by step. We have players to have a good season. Of course we want to be in the top 10 and we want to win a cup," Bojan added. "For that we have to do better, we have to correct some things to have a chance to do that."
Mistakes will be punished on Saturday, despite a struggling Chelsea arriving at the Britannia. Cameron is hoping Stoke can invoke a well known fact to get one over on Chelsea for the second time in 10 days.
"It's what they always say, 'can you do it on a cold, wet, rainy night in Stoke?' … so hopefully it will be a cold, wet, rainy night in Stoke on Saturday!" Cameron laughed. "Then we will get after it and make it difficult for them to play."
No matter how many things change at Stoke on the pitch, that old adage will always remain.