Stoke City beat Chelsea 1-0 at the Britannia Stadium on Saturday as a Jose Mourinho-less Blues lost for the seventh-time in the Premier League this season.
[ MORE: New-look Stoke progressing ]
Marko Arnautovic's second half scissor kick sealed a big win for the Potters, just their second-ever PL victory over the Blues, as Chelsea's woes continue despite an improved display without their manager in the dugout.
[ MORE: Stoke beat Blues ] 
Here's three things we learned from Stoke's second win in 10 days — the won on penalties in a Capital One Cup clash at the end of October — against Chelsea.
NEW-LOOK STOKE IMPRESS
Sure, Stoke struggled to get a foothold in the game in the first half but anytime they got the chance to attack and get at Chelsea they grabbed it with both hands. Bojan played in Glen Johnson in the first half and his shot was well-saved by Asmir Begovic. Xherdan Shaqiri looked a threat and full of tricks whenever he got on the ball. At the start of the second half Johnson surged forward and his cross found its way to Arnautovic at the back post who scissor-kicked the ball home and sent the Britannia Stadium wild. Stoke had only won once in their previous 15 PL games against Chelsea, and despite the reigning champs struggles this season, this victory represents a big coup for Mark Hughes and his players.
This week I spent a day at Stoke's training ground chatting to three of those players — Bojan, Jack Butland and Geoff Cameron — about the new-look Potters and how Hughes has changed their philosophy into a team who likes to possess the ball and can now punish opponents when they're handed opportunities. In their ninth season in the PL, Stoke have transformed themselves from a team who were known as long-ball merchants under Tony Pulis to having incredibly talented attackers such as Bojan, Shaqiri, Arnautovic and Ibrahim Affelay on the books. After a slow start to the this season, Stoke's flair players are figuring the PL out. Hughes added 12 new guys over the summer and as this result showed, the team are beginning to gel and understand what is required within the framework of a traditional Stoke side. Yes, they have a new philosophy and a more exciting way of playing but the Potters are blending in their previous blue-collar, defensive style and it is working a treat. They have finished ninth in each of their last two seasons and if Stoke are going to better that they need to keep that defensive guile — Butland was once again superb in goal — and ability to grind out wins and let their mercurial talents win games for them just like the did on Saturday. The atmosphere inside the Brit was bubbling and it was just like the old days, except, now, the Potters can really play and kick on to challenge the PL's elite consistently.
CHELSEA CRACKS APPEAR AGAIN
Sitting in a hotel room somewhere in Stoke-on-Trent, it would have been interesting to see Mourinho's face at the final whistle as Chelsea lost three-straight league games for the first time in 16 years. Handed a one-game stadium ban following his latest misconduct charge from the English FA, the Portuguese coach wasn't on the sidelines on Saturday and couldn't communicate with his bench or his players before or during the game. Fans in and around the stadium did their best to try and imitate Mourinho (see the photo below) by wearing masks of his face and holding up cardboard cutouts of him, but we will never know if his presence on the bench would have made a difference and rescued Chelsea from this latest damaging defeat. Following ther 2-1 UEFA Champions League win over Dynamo Kiev on Wednesday in the UEFA Champions League, Mourinho praised the "strong mentality" of his players for responding to a negative moment when they were pegged back to 1-1 with 15 minutes left. His side, for probably the first time this season, truly rallied after going behind and pulled through for a win. As soon as Stoke scored seven minutes into the second half on Saturday, you never truly felt Chelsea would get level.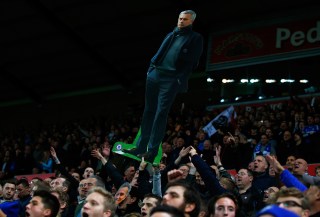 Pedro hit the post with a curling effort, Eden Hazard and Diego Costa put in an incredible shift and the only moment when Chelsea's defense hesitated — Baba Rahman was skinned by Johnson for Arnautovic's goal — they were punished. That's the way it's been going for the Blues this season. Bad luck or bad judgement, it continues to happen and the reigning champs are in ruins as losing that nervousness and fragility at both ends of the pitch won't happen overnight. This will take a long time to rectify. So, for seemingly the 4,000th time in this young season, it is time to ask: what's next? Now comes an agonizing two-week international break for Mourinho to mull over the issues his side are having and will face against Norwich City at home when they return on Nov. 21. Remarkably, the game before each international break so far this season had ended in defeat for the Blues — a 2-1 defeat to Crystal Palace, then a 3-1 loss to Southampton and now a 1-0 loss at Stoke — to leave a sour taste in Mourinho's mouth. How he deals with this latest setback, even though he wasn't on hand to witness it, could be career defining as the pressure mounts. Depending on how Arsenal and Manchester City get on this Sunday, Chelsea could be up to 17 points behind the league leaders with a third of the season in the books. As our studio analysts say in the video below, they have to snap out of this losing habit. Fast.
HAZARD BACK TO HIS BEST
Despite being on the losing team, Hazard can hold his head high. The Belgian winger, 24, put in one of his best displays of the season so far, as he tormented Stoke's defense on multiple occasions. In the first half his link-up play with Pedro and Costa saw Stoke's defense not knowing which way to turn. Hazard's movement is so hard to track and at the start of the second half he spun on a six-pence and smashed a shot just over the crossbar as he looked to the heavens in frustration. In the 78th minute, a flick from Oscar and Cesc Fabregas set him up on the left of the box but his shot towards the far corner was deflected wide.
It was a case of another dose of bad luck for Chelsea and Hazard as their shots squirmed just wide, loose balls at the other end fell to Stoke and the Blues lost for the seventh time in 12 PL games this season but in truth, their first half performance, and Hazard, deserved more. The Premier League is an unforgiving league and when this fixture came out, it will have been one Mourinho will have circled on his calendar as a potential banana skin. Chelsea have now lost twice in 10 days at Stoke and three of their last four encounters at the Britannia. Hazard wasn't to blame for this loss and he showed glimpses that the man who tore apart the PL last season is slowing getting back to his best form.