It's that time of year to assess whether your alma mater or favorite program is going to go dancing.
We won't mess around with the at-large bids, which are heavily-influenced by RPI, but let's dig into the conference tournament fields.
[ MORE: College soccer news ]
America East: Surprising Binghamton will test the mettle of No. 1 Albany in one semifinal, while the other sees Brian Wright and Vermont take on last year's NCAA darlings in UMBC.
American Athletic: SMU is the No. 1 seed, and hasn't lost since a Sept. 13 defeat to powerhouse Stanford. If they get past No. 4 Tulas, they'll get the winner of UConn and USF.
Atlantic 10: Still eight teams in play, including our No. 1 star of this week (See below). George Washington finished a remarkable rise to the No. 1 seed last weekend, while No. 2 Dayton looks mighty dangerous.
ACC: What a conference! In one semi, you have annual power Notre Dame against a Wake Forest side which has looked as impressive as any side in the nation this year. On the other, last year's darling Syracuse used a Liam Callahan penalty kick to force a match-up with Clemson. Any of these four could win the national title. Game on.
Atlantic Sun: No. 4 USC Upstate and No. 2 North Florida square off Saturday for the title, with freshman Gordon Wild and his 16 goals hoping to lead the upset. And Upstate is playing with heavy inspiration after losing two teammates in a car accident earlier this season.
Big East: Some massive matches in the semis, with red-hot Xavier mixing it up with Georgetown and last year's College Cuppers Providence going after former national No. 1 Creighton.
Big South: Sneaky-loaded Radford faces High Point in one semi, while No. 1 seed Winthrop will have to tend with one of the nation's top scores in Brad Farias and No. 6 Campbell.
Big Ten: Columbus is the venue for No. 1 Ohio State and No. 4 Rutgers, with the winner earning a date with the victor of the other semi: Indiana vs. Maryland.
Big West: UCSB and Cal State Fullerton won their divisions, with UC Davis and Cal Poly the wild cards for the semis.
Colonial: Elon has dipped a bit since its lofty start to the season, but is still the favorite to emerge from a bracket with Delaware, Hofstra and James Madison.
Conference USA: Kentucky has a bye with the No. 1 seed, and Charlotte (See Star No. 3 below) is a very dangerous No. 2 seed. Five other teams are alive in the tournament, with South Carolina, Old Dominion, Marshall, Florida International and New Mexico.
Horizon: No. 1 seed UIC gets a tricky No. 6 in Wright State in one tournament semifinal, while No. 2 Oakland faces No. 4 Cleveland State.
Ivy League: Dartmouth is through to the NCAA tournament.
MAAC: Charlie Inverso's Rider beat No. 25 Monmouth in an thrilling final to win the conference's outright berth.
Mid American: Tantalizing bracket in one of the more under-the-radar conferences in the country. Akron is widely-expected to win the thing, but then West Virginia snuck into the tournament as the No. 4 seed. Buffalo and Western Michigan tangle in the other semi.
Missouri Valley: SIUE is the first seed and will look to go to another NCAA tournament by holding off a field which includes Bradley, Drake, Missouri State, Loyola and Central Arkansas.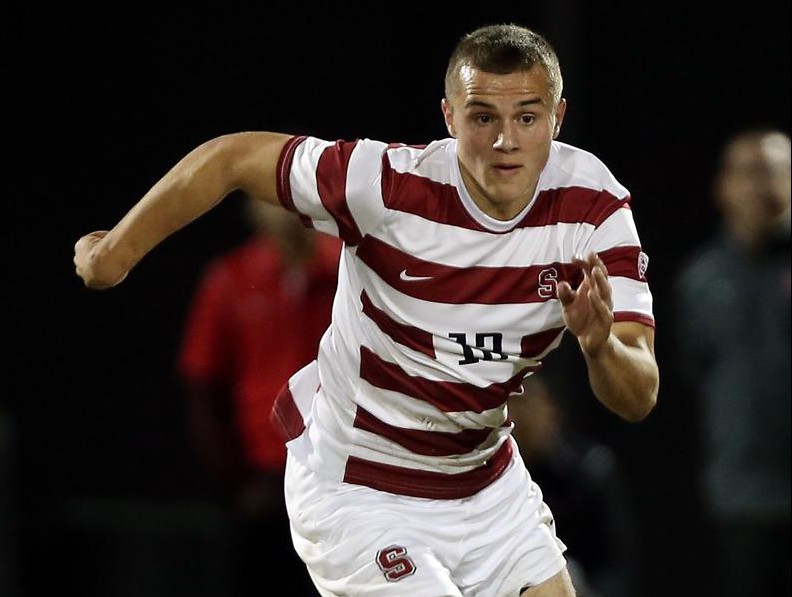 PAC-12: Jordan Morris and Stanford have already clinched the conference title.
Patriot: No. 1 seed Colgate hosts Lehigh in one semi, while American and Boston tangle in the other.
Southern: Top four seeds are still alive heading into Friday's semis: UNC Greensboro, Furman, Mercer and Eastern Tennessee State.
Sun Belt: There's a whole five-team tournament left, but No. 1 Hartwick is favored to go to the tourney for a second-straight season.
Summit League: It'll be decided Thursday and Saturday. Unbeaten Denver (see Star No. 2 below) is the top seed and faces Western Illinois, with the winner taking on the winner of Omaha and Oral Roberts.
West Coast: It's win (or draw) and in for San Diego in Saturday's conference finale at Santa Clara, which needs a win. San Francisco needs a win against Loyola Marymount and a San Diego loss.
WAC: Seattle and Utah Valley are your Nos. 1 & 2 seeds, and will get to face the winners of the 3v6 and 4v5 matches on less than a day's rest after Thursday's quarterfinals. No. 3 seed UNLV has a gem in striker Danny Musovski.
Three Stars
Colin Phillips, Duquesne (right) — The redshirt-senior Canadian is making the most of his fifth year. Phillips still plays some back, but his great speed and size has forced coach Chase Brooks to play him up top. All the kid's done is scored 12 goals and add five assists this season, including five goals and two assists in his last four games. The Dukes get Dayton in the first round of the A-10 tourney.
Denver — Still unbeaten at 13-0-3, the Summit League's No. 1 team has a 522-plus minute shutout streak moving into the conference tournament. Redshirt-senior Dan Jackson has been at the helm for 10 clean sheets, including the Pioneers' last five matches.
Brandt Bronico, Charlotte – The midfielder with a killer name has played a massive part in the 49ers charge to No. 24 in the nation. Bronico has 7 goals and 8 assists, and Charlotte has lost just once in its last eight games. The seven wins include victories over South Carolina and New Mexico.
Other notes
— Wake Forest maintains its status as No. 1 team in men's Division 1, and now has 23 of 24 first-place votes. Clemson has the other.
— St. Francis Brooklyn still leads the nation with a minuscule 0.38 goals against average.
— On the flip side, Dayton has scored more goals than anyone in D-1. The Flyers have netted 46 goals in 18 games.
— Other No. 1 sides: Pfeiffer (Men's D2), Calvin (Men's D3), Virginia (Women's D1), Grand Valley State (Women's D2), Messiah (Women's D3).