Claudio Ranieri's appointment at Leicester City this summer drew much criticism, as many believed the Italian was the wrong man for the job.
That criticism quickly disappeared as Ranieri has led the Foxes to a miraculous start, sitting third on the table with just one loss through 12 matches.
[ MORE: PL Team of the Season…so far ]
During his time at Chelsea in the early 2000's, Ranieri was nicknamed "The Tinkerman" by the British press, accused of over-rotating his squad and not sticking with a consistent lineup.
Now with Leicester, Ranieri has done the opposite, using just 16 different starters through the first third of the season. With 20 players featuring through 12 matches, Ranieri has used the second-fewest players in the Premier League.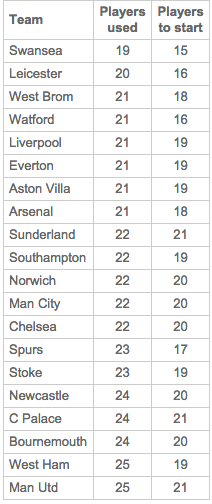 Six players have started every match for Leicester this season, while nine have featured in all 12 fixtures.
If it is was a calculated move to change his tactics or if Leicester simply lacks the depth to rotate players, it's working quite well for Ranieri.
Table from premierleague.com