Brazilian midfielder Ramires is one of Chelsea's most experienced players and he has taken some time out to look back on a trophy-laden first five years at the club, while also addressing their recent poor form and how the Blues can move forward to bring back success.
[ WATCH: Stream every PL game live ]
In an exclusive partnership with Chelsea Football Club, NBCSports.com provides even more access to life at Stamford Bridge.
Sign up to the Chelsea Fan Club Plus now to read the full edition of this month's Chelsea magazine. Members also gain access to Chelsea TV featuring behind-the-scenes action from the Chelsea training ground and exclusive interviews with Jose Mourinho and his players.
[ MORE: Latest Chelsea news ]
Below is the feature article on Ramires, who has just signed a new four-year deal with the reigning Premier League champs, from Chelsea's magazine.
---
Home is where the heart is  – By Chelsea Football Club
Having signed a new contract which will keep him at the Bridge until 2019, Ramires is hoping the Blues can replicate some of the trophy triumphs of his first five years with the club
Midway through our interview to mark his new contract, Ramires' face lights up and, for a few minutes, he can't wipe the smile from his face. We have come armed with a set of photographs portraying the stand-out moments from the Brazilian's first five years at Chelsea and, sitting down in his spot in the Stamford Bridge home dressing room, he takes his time going through them, getting lost in the memories.
"The feeling of a dream come true," he says after a few moments of quiet reflection, pointing to a picture of himself holding up the Chelsea shirt during his first day at the club in August 2010, before adding: "I look very young there!"
In truth, Ramires doesn't look much different to the 23-year-old who arrived from Benfica with hopes of lifting silverware in England. He has become an experienced member of the squad, with almost 250 appearances to his name, but more significantly he has added every domestic trophy, plus both major European competitions, to his list of honours.
Now he has signed a new four-year contract and, having just put pen to paper on the deal, he tells us what Chelsea means to him.
"What is there to say about this club?" he asks, rhetorically. "This is my home now. The memories since I arrived here are the very best. At the beginning, when I came to a huge club, my first thought was just to play here and remain here.
"A few years have gone by now. I have had all the support I ever wanted and needed from everyone at Chelsea, from the players that have left, from the players who are still here and, hopefully, from the players that will come in the years ahead as well."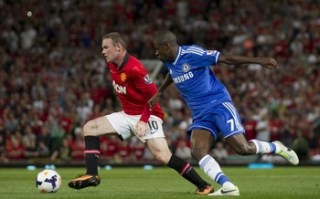 Since Emerson Thome became the first Brazilian to play for Chelsea at the turn of the millennium, 13 players born in the South American footballing hotbed have pulled on the blue shirt at Stamford Bridge, including current first-team squad members Oscar, Diego Costa, Willian and Kenedy. None, however, have played as many times for the club as Ramires, who nods appreciatively when that fact is pointed out to him.
"When I first came here, there was only one Brazilian, and that was Alex, but many others have come along since then and we have got five Brazilian-born players in the first-team squad now," he says.
"It's very important for us to have one another here, especially when a new Brazilian player arrives, because we all speak the same language. While we have a very good relationship with all our team-mates, it helps to have these guys because, being so far away from home, they represent a kind of family here.
"As for the record of being the longest-serving Brazilian player at Chelsea, I'm not here to break any records but I am very happy about that and it is a good sign that the club is renewing my contract because it means I must be doing a good job. Hopefully, I will be able to stay here for a very long time."
Having noticed Ramires shivering in the autumn mist as we made our way around the stadium to the shelter of the dressing room for the interview, it seems a good time to ask him whether he feels he has fully adapted to English life, having resided here for half a decade. Pulling his tracksuit jacket closed around his neck, he bursts out laughing.
"Yes and no! We have a saying in Brazil, which is a bit of a joke, that if you're out on the street, it's always cold. If you are inside, it's fine."
It's probably fair to say that anyone arriving in London from Rio de Janeiro State is going to feel the cold, but he shrugs off his joke about the weather and answers earnestly about his life in England.
"Of course, I am adapted to everything now. I enjoy London, it's a brilliant lifestyle here and my English is getting much better. I am starting to talk more and more English now and feeling more confident with it. I really enjoy the lifestyle here in London, I think it's perfect.
"As far as my life off the pitch goes, I like it to remain quite private. I don't do much apart from going to dinner, spending time with family and having friends over to my house. I really like living in England and when the weather is nice I enjoy going to different parks and relaxing."
Family is at the forefront of Ramires' mind at the moment. He and his wife recently celebrated the birth of their third child, Bruno, and the following day he toasted the newborn with a spectacular goal in our 2-2 draw at Newcastle.
On the pitch, it hasn't been an easy season so far for the Blues, but Ramires has put in some strong performances. His energetic midfield displays allow him to get up and down the field, contributing both on and off the ball. His well-timed runs into attacking areas have also yielded some goals, too.
"As far as the mood is concerned, it is fine. We are training and working hard. We are doing the best we can to get out of this situation we have put ourselves in.
"I think the team has a good mentality, but when you don't have victories you lose some confidence and we need to come back and start winning games again. When we have a good victory, where the team plays well and all of us return to our best, then the confidence will come back and our situation will change."
The experience of players like Ramires, who have tasted success in the past, will be essential this season. In the 2011/12 campaign, when the team struggled to find their feet in the league, we still won two trophies thanks to hard work, persistence and the dogged belief in the quality of the players.
Reflecting on a magical moment from the following campaign, Ramires holds a photograph of himself celebrating a goal against Manchester United with the fans at Stamford Bridge and taps it repeatedly with his index finger, nodding vociferously as if to say: "This is what it's all about."
"This is very cool," he says. "Not only when I score a goal, but also when a team-mate scores as well. You are so close to the fans and you can see the expression on their faces."
He breaks off to point at one particularly ecstatic supporter in the photo and makes a high-pitch laugh of appreciation at the delight his art can produce in people. The man in the photo is looking at Ramires with pure joy in his eyes and the goalscorer is roaring back at him in delight.
Most of us will never know what that feels like, but he tells us it is the best motivation any footballer can ever want.
"You can see them smiling and cheering – it's fantastic. If I could, I would score goals every day just to see those faces."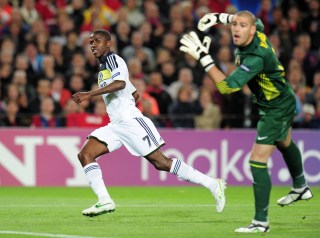 At the time of writing, Ramires has 34 goals for Chelsea, including two which won the club's official Goal of the Season award. While we're reflecting on his time in SW6 it seems appropriate to revisit those famous strikes, the first a stunning individual goal featuring a weaving run through the Manchester City defence and a cool finish past Joe Hart in front of the Matthew Harding Stand in March 2011; the second a sensationally cool chip over Victor Valdes in Camp Nou to set Chelsea on the way to the Champions League final in 2012.He starts with the goal against City.
"Ah! My first individual trophy here was Goal of the Season for this one," he says. "It was an incredible game. It's very difficult to forget a goal like that and a day like that.
"But the goal at Camp Nou was a very important one, impossible to forget, because it was in the Champions League semi-final against a Barcelona side that, until that time, was unbeatable – and the quality of the goal as well. But I would choose them both as my favourite. I can't decide between them."
Almost as memorable as the goal at Barcelona was the celebration that followed. The stadium was a cauldron of noise that day – almost all of it in favour of the hosts. Camp Nou holds just short of 100,000 people when it is full and the vast majority of them were feeling very confident when they took an aggregate lead against a 10-man Chelsea side early in the second leg that night.
Despite the raucous atmosphere, Ramires' chip was ice cool. His celebration, in front of more than 90,000 locals who were either stunned into silence or whistling their opposition, was a flamboyant dance, accompanied by an uncontrollably broad smile. The away supporters up in the gods were delirious, but what was going through his mind at that time? He chuckles at the memory.
"It was a dance we do back home with my friends and family when everyone is together," he reveals, holding up a photo of himself in full snake-hipped motion. "I had been promising them for a very long time I was going to do the dance and it just came up on that goal, that moment. I did the dance for them."
Ramires has many happy memories from his first five years as a Chelsea player and his ambition hasn't dimmed one bit. He is now fully engrossed in the next challenge: restoring the optimism to Stamford Bridge and transforming a season that has started disappointingly.
"I have some great memories here, but I still feel as though I haven't won any of those trophies, I still have the hunger, will and desire I had before.
"The competition is very demanding and being at a club like this you are expected to win something every year. I would love to win all of those trophies again. They are great memories and, even though they are in the past, they didn't happen a really long time ago.
"However, when you win something, you have to move on. You are always competing, always challenging and always wanting to do more.
"Our objective now is to retain our confidence, to start winning games again as soon as possible and get involved at the top end of the table."