Before every game this weekend in the Premier League the French national anthem will be played.
[ MORE: Behind-the-scenes at Wembley ] 
As La Marseillaise is heard at PL stadiums following the coin toss of all 10 games to honor those killed in the Paris terrorist attacks last Friday, it will provide a poignant moment of remembrance for those lost.
[ MORE: PW's PL picks – Week 13 ]
It will also serve as a reminder of just how closely linked the Premier League and France have become.
More French players play in the PL than any other foreign nationality. At the moment 72 Frenchman are registered with Premier League clubs and the strong bond and connection shared between the league's rise over the past two decades — plus the French imports who have helped it grow — make this moment of solidarity, defiance and support over the weekend even more important.
That strong Anglo-French bond has been built over the last 23 years and since the PL's inception in 1992 more French players (191) have graced the league than any other foreign nation, beating both Scotland (188) and the Republic of Ireland (156). Countless heroes have hopped across the English Channel and into the PL from France over the years.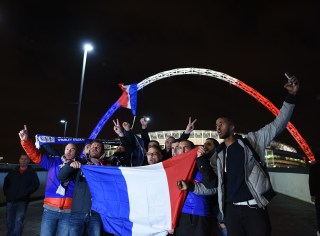 From Arsene Wenger arriving at Arsenal in the PL in 1996 along with his band of fine French players such as Thierry Henry, Patrick Vieira, Robert Pires, Emmanuel Petit and many others, to Eric Cantona before them and the new wave of French stars in the PL today in Anthony Martial, Morgan Schneiderlin, Olivier Giroud, Laurent Koscielny, Moussa Sissoko and others.
"I think it's a nice gesture of solidarity," Wenger said. "It's not an obvious one for the fans, just like it would not be an obvious one for fans in France to sing God Save The Queen, because they don't know the words. Symbolically it's a very nice gesture."
Fifteen of the Premier League's 20 teams currently have French players in their first-team squad, all of whom will be hugely appreciative of the support from the whole of English soccer this weekend, plus there are other PL players who were born and raised in France but play for other nations internationally.
"Given how close we are as well as the long-standing relationship that exists between the Premier League and France, playing La Marseillaise as an act of solidarity and remembrance is the right thing to do," Premier League Chief Executive Richard Scudamore said. "We were all saddened and deeply shocked by the events in Paris last Friday, and the fact it was an attack on people enjoying their everyday freedoms like going to a bar, a concert or a football match resonates with football fans and the general public throughout the UK."
Across the rest of Europe this weekend there will be a minute-silence in Spain's top two divisions, while games will go ahead in Ligue 1, France's top-flight, without any away fans allowed. Moments of remembrance are also planned across other European leagues.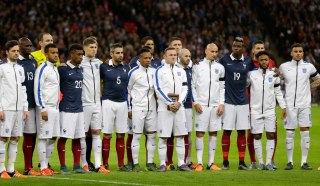 At Wembley on Tuesday night — here's a behind-the-scenes look at the emotional, poignant friendly — England hosted France in a game which became all about showing solidarity as La Marseillaise was belted out by over 71,000 fans — most of whom were English — before the game and a fine job was done by the English FA to mourn those lost in a communal moment of grief England and France shared.
Thirteen of France's 23-man squad for that game were either currently playing or had played in England during their career and for some, noticeably Arsenal's Laurent Koscielny who was in tears during the anthem, the moment seemed too much to handle. Arsenal, Aston Villa and Newcastle United each have at least five French born players in their first-team squads as the events of last Friday hit home hardest at those clubs.
During the PL games this Saturday, Sunday and Monday, the victims of the attacks in France will be honored across a country where their countryman have delivered countless memorable moments on the soccer pitch.
This weekend, honoring those lost and the values of the French nation which is inextricably linked with England will provide another somber yet memorable moment as the Premier League's bond with France continues to go from strength to strength.