It's a tricky question, isn't it? Would there be an underlying thread, a lesson, or a copycat inspiration inside of Portland scoring a minor upset of Columbus at MAPFRE Stadium on Sunday?
Here are some thoughts on the storylines from a post-Timbers title.
1) Stick with the boss
Caleb Porter's reputation is rather "hate or love", and people (including this "perhaps still bitter from the Olympics" writer) were expecting his days to be numbered after a rough start to this season.
In his first year in PDX, Porter engineered a 20-point upgrade to the West's No. 1 slot, but Year Two featured no playoffs and it looked headed that way for much of this year.
[ MORE: USMNT back Alvarado on Club America's transfer list? ]
But after leaping into control of its playoff destiny with a game to play, Porter now has a Conference Final and an MLS Cup Final (at least) on his resume inside of three seasons.
Where other teams have gone through coaches like candy, Portland keeps going with Porter. Perhaps there's a lesson there, as in 102 games he's posted 41 wins and 36 draws to go with just 25 losses (and he was missing Will Johnson and Diego Valeri for the critical moments of his bum season).
2) Spend* at the back, and spread it out
Portland spent the league's 10th highest total dollars on players when including Designated Players, but that total leaps to sixth if you discount the big money guys (Liam Ridgewell, Lucas Melano, Diego Valeri).
You have to get to 19th on the list of top MLS salaries to find Portland's first entrant (Ridgewell), and you don't hit another until No. 33 (Fanendo Adi).
[ MLS: Impact to sign 96-times capped Ivorian defender? ]
But Portland has six players in the Top 100, compared to Columbus' four. High-end spenders NYC (five players), Toronto (four), and L.A. (four) all don't hit that figure inside of the Top 100 (and to be specific, Portland does in 98).
They also rank ninth in spending on forwards, 14th on midfielders, and third in defenders. Of the 15 players making more than 100k in base salary, four are defenders and one is goalkeeper Adam Kwarasey.
All numbers come from Spotrac*
3) Get Darlington Nagbe
This will be harder to copycat, seeing as there's only one Darlington Nagbe, but the Timbers' midfielder is versatile and helps Porter challenge opposing coaches because of the unpredictable nature of how he can be deployed on the pitch.
In fact, when you run numbers on advanced statistics site Squawka, you'll see something quite interesting. Among players who hit the pitch in at least 2/3 of their teams' games this season, Nagbe is fourth in MLS in combined score. More intriguing? Besides Michael Bradley, he's the most complete contributor (offense, defense, possession) of any top scorer.
[ MORE:  Who is the favorite for MLS Cup 2015? ]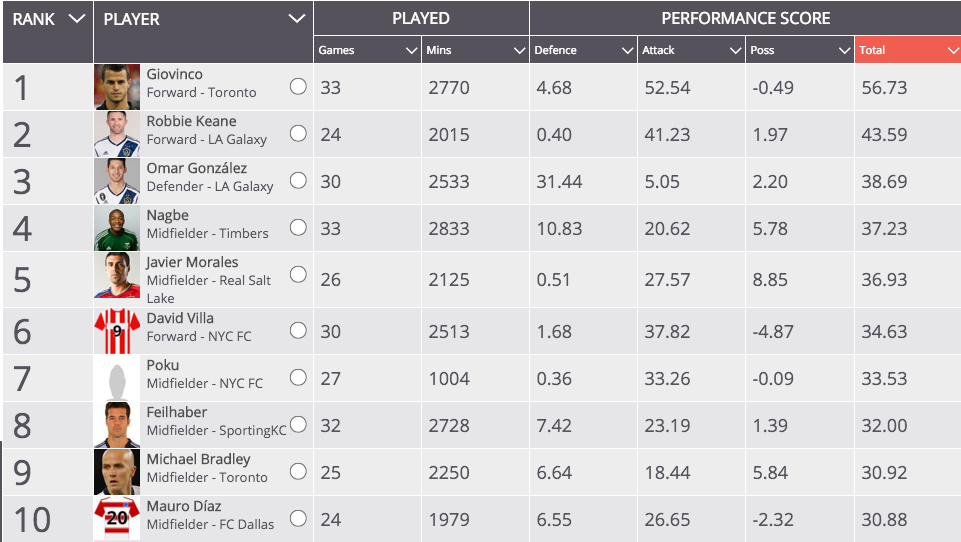 4) Parity continues to reign
For the same reason people barely celebrate the NHL's Presidents Trophy, the MLS Supporters Shield is a bit of a fallback party for fan bases who fail to capitalize on a season's worth of solid play.
In much of world soccer, the season-long title matter more than a tournament, but North America is about the playoffs. The fact of the matter is that only one team in MLS this season finished more than four wins out of a playoff spot (Chicago), and most teams that missed the playoffs by a bunch (New York City, Colorado, Real Salt Lake, Houston), earned their gaps off the playoff pace by losing a lot once they were officially eliminated.
Even Chicago, who was awful, had a shot at the playoffs when August ended, only to lose seven of eight to finish the season. MLS, for better or worse, literally is anyone's ball game at nearly any time.