After clean sheets and two wins in their last three games, Eden Hazard believes Chelsea's so far disappointing season has turned a corner.
He has one simple message with Chelsea 12 points off the top four: "Our season starts now."
[ WATCH: Stream every PL game live ]
In an exclusive partnership with Chelsea Football Club, NBCSports.com provides even more access to life at Stamford Bridge.
Join Chelsea Fan Club Plus now to read the full matchday programme from Stamford Bridge featuring notes from the manager and captain. Members also gain access to Chelsea TV for behind-the-scenes action from the Chelsea training ground and exclusive interviews with Jose Mourinho and his players.
[ MORE: Latest Chelsea news ]
Below is the feature article on Hazard — Jose Mourinho told ProSoccerTalk that the Belgian played his best game of the season last week — from Chelsea's magazine.
---
Moving in the right direction – By Chelsea Football Club 
November produced plenty of positive signs as the Blues secured some confidence-boosting wins and Eden Hazard wants the improvement to continue
A rare break from midweek match action these past few days gave Eden Hazard the chance to reflect on recent results and consider today's game, and our No10 is feeling optimistic about the signs of improvement since the last international break.
Hazard is cautious about talking our last three performances up too much, using phrases such as "step by step" and "bringing confidence back" as he discusses wins over Norwich and Maccabi Tel Aviv as well as the goalless draw at White Hart Lane last Sunday. However, he sees reasons to be hopeful about the direction the team is moving in.
"Things feel better," he says. "It's always good to win and, before the draw at Tottenham, we won two consecutive games, but when you play for Chelsea you have to win every game – we know that.
"I think everyone is happy now. We didn't start the season very well, we know, but we need to keep getting one step better each game. Even though we didn't win at Tottenham, we played a good game and we drew, so we still feel we have a good opportunity to continue bringing confidence back to the team."
It is a pragmatic outlook and the facts back up Hazard's assertion that the team has steadied its form over the past month: three wins from five games, plus an away point against one of our rivals, just two goals conceded (none in the last three matches) and seven goals scored at the other end. He even makes a point of referencing our sole defeat in November, stating the only thing our performance at Stoke lacked was the finishing touch.
"Our form has changed a little bit in the last three games, but I remember the game against Stoke, which we lost before the international break, and even though we played well we didn't score," he says.
"Against Maccabi, it was a different situation because after we scored one goal we were able to score more. I think we just need to win games now to bring the confidence back and this is what we did in two of our last three games."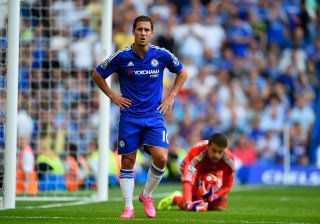 The comparison of the away games against Stoke and Maccabi is an intriguing one. One game ended in a frustrating defeat, while the other was a comprehensive 4-0 victory, yet Hazard believes the first goal was the key in both games. It didn't arrive in Stoke, but who knows how many goals would have followed if we had taken an early chance at the Britannia Stadium?
It is a valid point. Chelsea had 19 attempts on goal at the Britannia Stadium, just two less than in the convincing win over Maccabi two weeks later. In fact, from open play, we managed to carve out more opportunities in the 1-0 defeat than we did in the 4-0 victory. In short, the result doesn't tell the full story.
Fortunately, the all-important winning goal was forthcoming in our last home game, against Norwich, and Hazard reckons the final flourish in front of goal will be the next thing to return.
"We need to improve our last pass or our last shot, to run into space, and these are things we need to work hard on in training," he says. "We want to create more chances because if we do that we can score more goals, but if you play against a compact team it's not easy to do that, so it's something we think is coming game by game.
"Everyone's performances have improved. We have brought confidence back to the whole team and we just have to keep going like this. There is a good dynamic with the players around me at the moment. We try to change, try to switch because none of us like to stay in one position, so we have this understanding on the pitch."
The connection between the players and the supporters remains strong as well, which was in evidence during the win over Norwich here two weeks ago, when each of the three players substituted – including Hazard – left the field to rousing applause from the stands.
"Maybe this is the most important thing when you are down," he says. "The fans can bring your confidence back up. Even when we drew or lost games at home, they were singing all the time and that is so good for us.
"This is why we like to play at Stamford Bridge – we want to win every game for them now. Chelsea fans know football has ups and downs and when you are down – as players and as fans – you need to do everything you can to help the team improve. You have to keep going and that is what we are all doing now.
"Against Norwich, every player who was substituted, the fans gave us a standing ovation, and it's always good when you play a good game and you feel the crowd behind you as you leave the pitch."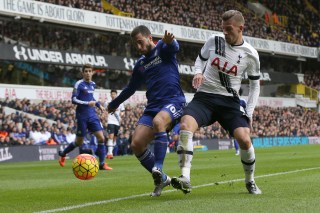 Willian was among the other players applauded off the pitch that afternoon, and in current form the Brazilian deserves all the praise he is getting from the stands. Since discovering his incredible knack for striking a dead ball, he has scored six free-kicks this season – more than any player in the top five rated leagues in Europe – and his team-mates are as pleased about that as anyone.
"Willi's free-kicks this season have been amazing," Hazard says, shaking his head in admiration. "I call him 'Willi Beckham' now! When you don't find the solution in a game, a corner or a free-kick can be the answer. This is an important part of the game for us and he has been fantastic."
Of course, having a set-piece specialist like Willian in the side is even more useful when you have players like Hazard running at defenders, flitting between the lines and forcing opposition defenders to take desperate measures. With each foul they commit, they risk being on the end of another Willian master stroke, but their only alternative is to let the likes of Hazard have a run at goal and he certainly seems to relish forcing that issue.
"I am enjoying my football. Every time I am on the pitch I try to be me – I want the ball, I try to do some skills to open up the game and, even when I don't play well, I try something to make the game change.
"We are almost there. We are not yet the Chelsea of last season, but things are going better. Step by step we need to improve, I think I can say the confidence is back and this is the key.
"We have some wins in the recent games and our season starts now – we will see where we are at the end of it."