That's it. It's all over. MLS Cup 2015 was won by the Portland Timbers on Sunday, bringing to end the 2015 Major League Soccer season.
[ FOLLOW: All of PST's MLS coverage ]
Not without one final MLS Team of the Week Playoffs, though. Unsurprisingly, this year's Team of the Playoffs is heavy on players from the Timbers and Columbus Crew SC, Sunday's finalists, with a few conference semifinalists sprinkled throughout.
[ MORE: Timbers top Crew SC to lift first MLS Cup trophy ]
Kei Kamara's four goals scored during the 2015 MLS Cup Playoffs were twice as many as any other player — one of which was Portland's Fanendo Adi. Diego Valeri bagged four assists in five games played, which is mighty impressive until you read on and realize Mauro Diaz hit the same mark in just four games played. And then there was the two-way midfield work of Diego Chara, whose work rate was otherworldly en route to Portland's first MLS title. Throw in defenders Nat Borchers and Jorge Villafana, and it becomes clear just why Portland were crowned champions.
Thoughts? Questions? Agreements? Disagreements? (Of course not.) Leave them in the comments section, as always. I'm not afraid to defend my picks.
[ MORE: 2015 MLS Team of the Week archive ]
MLS Team of the Week — MLS Cup playoffs
Goalkeeper: Luis Robles (New York Red Bulls)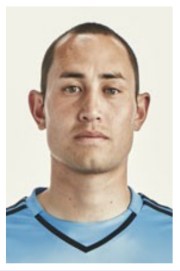 Defenders: Harrison Afful (Columbus Crew SC), Nat Borchers (Portland Timbers), Matt Hedges (FC Dallas), Jorge Villafana (Portland Timbers)

Midfielders: Diego Chara (Portland Timbers), Diego Valeri (Portland Timbers), Mauro Diaz (FC Dallas), Andreas Ivanschitz (Seattle Sounders)
Forwards: Kei Kamara (Columbus Crew SC), Fanendo Adi (Portland Timbers)