The last 50 years or so have dealt a tough hand to strikers from Hungary, the land of Ferenc Puskas and the Mighty Magyars.
Not only does any young Hungarian scorer have to compete with the fabled ghosts of the national team's past, but there's the task of making an impact on the international stage, something Hungary's struggled with for nearly a half-century.
Enter Sporting KC striker Krisztian Nemeth and the new-look Hungarians, who've surged into Euro 2016 as FIFA's No. 20 ranked team and are looking to make a statement on behalf of their people.
[ MORE: Hertha wants USMNT's Brooks signed, or sold ]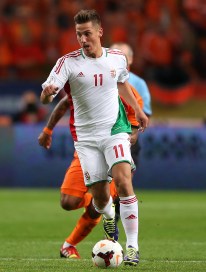 "Everyone dreamed of this," Nemeth told ProSoccerTalk. "It's a very good result and people were waiting 44 years. That was the last time Hungary was in the European Cup. It's everybody's dream."
Nemeth, 26, earned six of his 23 caps in 2015. He scored against Greece in qualifying, and went 90 minutes in the first leg of Hungary's playoff against Norway. He then subbed into the second leg in the 75th minute, and was on the field at Groupama Arena as his side made history.
"An unbelievable feeling for sure," Nemeth said. "We worked a lot for this result. It was a crazy celebration after with the crowd."
Hungary's strength lies in its lack of a focal point, Nemeth says. The attack can go through Hoffenheim striker Adam Szalai, Bursaspor mid Balazs Dzsudszak, former Fulham/West Brom man Zoltan Gera, Nemeth, or any number of players. Hungary can balance a rough outing by any player with 10 solid games from the other components
"As for the team, you cannot pick only one," he said. That's why we are so strong. Anyone can have a bad game and it is not a problem."
It's a facet of their team that has Hungary aiming for the knockout rounds, regardless of who they draw on Saturday. Although it would be excellent if they end up pitted against their rivals in Romania, who they twice drew during qualifying.
"Look, I don't know who we are going to play against, so until the draw we are just going to enjoy this," Nemeth said. "We want the best, and progressing from our group would be a good result."
[ MORE: Mourinho not worried about sacking ]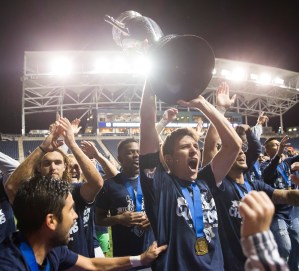 The momentum would serve them well into 2018 World Cup qualifying, where Hungary has drawn Portugal, Switzerland, Faroe Islands, Latvia and Andorra — a tough task, to be sure.
Nemeth will have to balance this major European duty with his goals for Sporting KC, where he netted 10 times under coach Peter Vermes, a fellow Hungarian. Some of those goals were downright silky, and the veteran striker is eyeing more team goals in 2016.
"It was a really good year for me," Nemeth said. "We won the U.S. Open Cup (right), but the MLS season was very disappointing because we had promise to make MLS Cup. We hope to get there next year."
The Euro 2016 draw is slated for just after Noon ET Saturday in Paris.