So many Premier League players have thrilled us in 2015.
Some did it during strong second halves of last season, with Chelsea's duo of Eden Hazard and Nemanja Matic helping the Blues to a title, David Silva impressing with runners-up, and David De Gea backstopping Manchester United back into the UEFA Champions League.
[ MORE: Premier League's Best XI for 2015 ]
Then there's this season's hot-starters: Riyad Mahrez and Jamie Vardy of Leicester City have been incredible, while Ross Barkley looks to be proving his rumor mill value in real life with Everton. That Romelu Lukaku character is pretty good, too, and Stoke City goalkeeper Jack Butland has been close to unbeatable.
And how about guys who've done it across seasons, like David Silva, Philippe Coutinho and Jose Fonte?
But what the battle boils down to is a mini-North London Derby.
In one corner, we have Spurs forward Harry Kane, the big hope of the English set for Euro 2016 and a man who started his year by scoring two goals and adding an assist in a 5-3 win over Chelsea. The Spurs' hitman ended up the second half of 2014-15 with 16 goals, and has 11 so far this season.
[ MORE: 2015 end-of-year table — Arsenal are January-to-December champions ]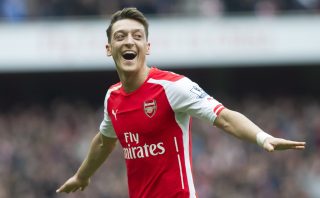 On the other side is German playmaker Mesut Ozil, who missed three months for the Gunners last season before returning in January. A critical part of Arsenal's possession and ball movement, the Gunners won 10 of the next 12 Premier League games with Ozil in the fold, and picked up another FA Cup.
While the traditional stat metrics don't back up his performance last year, this season it's all aces. Ozil has 20 assists over the course of 2015, and 16 have come to start this season. The German needs just five assists the rest of the way to break the PL's season assist record, currently held by some dude named Thierry.
Because the playmakers rarely get the love of the finishers, the foreigners often get the shaft from the Englishmen, and — frankly — because Ozil's been a thrill to watch in the center of the park and moving forward, Mesut Ozil is our Premier League Player of the Calendar Year. He wins a sandwich and a high-five. Call us to pick up your prize, Mes.
Hey look: I agreed with Kyle.