We have our list.
U.S. Soccer released Jurgen Klinsmann's call-ups for this month's camp in California, which reaches its apex with friendlies against Canada and Iceland in Carson.
[ MORE: Full roster | Klinsmann talks roster ]
It's a youth-heavy lineup with just two goalkeepers. So what's this all mean? Let's sort it out:
1) Two goalkeepers? Yes, just two. DC United's Bill Hamid and New York Red Bulls' backstop Luis Robles make the squad, and part of us is wondering whether the stories of FC Dallas' Jesse Gonzalez turning down Klinsmann's invite in favor of Mexican camp came too late for the U.S. boss to make other plans.
EDIT: U.S. Soccer has clarified the Gonzalez situation for us. Gonzalez could've accepted the training invitation without filing a one-time switch application.
Presumably they each get a game here, and Robles has not been capped since the 2009 Gold Cup (his only game time with the senior side). Hamid is 1-1 in his two caps, a win over Venezuela and a loss in Ireland.
[ MORE: Trio of New York City FC players to train with Manchester City ]
2) The defense. This one's less clear, though Matt Miazga seems sure to get every chance to continue his growth as a USMNT back. Will it be Miazga and Besler in the middle? Probably to start.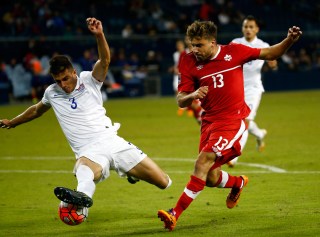 Tim Parker is a center back, too, but plays some right back. That could fit the bill for Klinsmann, who has been using some big fullbacks lately. Kellyn Acosta is listed as a defender, but the right back could be a DeAndre Yedlin type for Klinsmann, with midfield in his blood. Eric Miller can play either side, but looks like the left back.
Matt Polster and Marc Pelosi are outside guys that could be considered midfielders in a pinch, too. And Jurgen, man, no Matt Hedges?
3) Why so young? January is generally a young camp, but Klinsmann wants to give his U-23 players as much of an advantage as possible ahead of the Olympic playoff with Colombia. Marc Pelosi, Jerome Kiesewetter, Khiry Shelton, Wil Trapp… 'Sup.
4) Predicting a lineup
Klinsmann is going to do a wealth of experimenting as usual, though it's easy to predict he'll give Iceland his best for at least an hour. That lineup might look like this:
Robles
Acosta — Miazga — Besler — Miller
Finlay — Bradley — Jones — Nagbe
Altidore — Zardes
That's of course considering a 4-4-2 and the continued use of Jones and Bradley together in the center of the park. It's also a bit of a stretch, as Klinsmann will likely want to see more of Darlington Nagbe (and we'd like to see him with Tchani. *Swoon* seems an appropriate term).
Here's another thought, youth in revolt style:
Hamid
Acosta — Miazga — Parker — Pelosi
Jones  — Bradley
Nagbe
Morris — Altidore — Zardes
And, finally, one with Bradley as almost a traditional "No. 10", because we have to…
Robles
Parker — Miazga — Besler — Miller
Jones
Nagbe — Diskerud
Bradley
Altidore — Zardes