Surely it was under the guise of "just voting for my mates", but Cristiano Ronaldo and Lionel Messi did not name each other among the world's three best players in the run-up to Messi claiming his fifth Ballon d'Or.
Portugal captain Ronaldo went with Real Madrid teammates Karim Benzema, James Rodriguez and Gareth Bale, while Argentina skipper Messi tabbed Neymar, Luis Suarez and Andres Iniesta.
[ MORE: Messi, Lloyd claims world's top honors ]
(If we're power ranking the 2015s of the players they did vote for, it would go: Neymar, Bale, Suarez, Iniesta, Benzema, James. Discuss).
The coach, captain and one media member from each nation of FIFA votes for their top three players from a shortlist of names. Here is this year's shortlist.
Other notes (Full list of voting results):
— USMNT captain Michael Bradley went with Messi-Ronaldo-Suarez, while Jurgen Klinsmann opted for Messi-Neymar-Ronaldo. U.S. media representative Paul Kennedy voted Messi-Ronaldo-Neymar.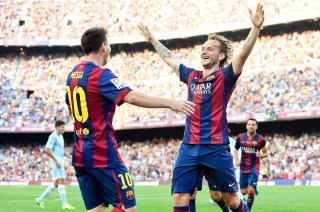 — The following players were No. 1 on someone's ballot: Messi, Neymar, Suarez, Iniesta, Ronaldo, Benzema, Robert Lewandowski, Yaya Toure, Javier Mascherano, Gareth Bale, Kevin De Bruyne, Zlatan Ibrahimovic, Arjen Robben, Thomas Muller, Manuel Neuer, Alexis Sanchez, Sergio Aguero, Paul Pogba, Eden Hazard.
— Ronaldo and Messi weren't the only ones to simply choose club teammates. Brazil captain Neymar had Ivan Rakitic (right) on his ballot, as all
Barca and Real players went club-only.
— Liberia captain Dennis Teah went Real-only, and tossed Toni Kroos in with Ronaldo and Benzema. Does this count as a "come get me" plea?
— Morocco boss El Mouttaqui Mehdi had a ballot that ignored Messi, Neymar, and Ronaldo (He went Lewandowski-Arturo Vidal-Pogba). Germany boss Joachim Loew also ignored the trio, going straight-German (Neuer-Muller-Kroos).