Chelsea may have had a poor season so far but the emergence of young center back Kurt Zouma has been one of the major success stories.
[ WATCH: Stream every PL game live ]
The French international, 21, has been the standout defender on plenty of occasions for the Blues and is hopeful they can continue their good run after four games unbeaten in all competitions.
In an exclusive partnership with Chelsea Football Club, NBCSports.com provides even more access to life at Stamford Bridge.
Join Chelsea Fan Club Plus now to read the full matchday programme from Stamford Bridge featuring notes from the manager and captain. Members also gain access to Chelsea TV for behind-the-scenes action from the Chelsea training ground and exclusive interviews with Guus Hiddink and his players.
[ MORE: Latest Chelsea news ]
Below is the feature article on Zouma from Chelsea's magazine ahead of their clash against West Bromwich Albion on Wednesday.
---
Eye on the ball
Kurt Zouma is looking focused when we catch him after training during a busy run of fixtures, nodding seriously as we discuss the opportunity to make a good start to 2016.
This run of consecutive home games offers a chance to build momentum and, after the FA Cup third-round tie against Scunthorpe on Sunday, we now head into back-toback Premier League matches against West Bromwich Albion and Everton. Zouma is very much in favour of the "take each game as it comes" mentality and tells us the players are determined to make these matches count by continuing the kind of form they showed at Selhurst Park 10 days ago.
"After the Crystal Palace game, we had these three games in a row at home, and we want to win every match at home," the big centre-back asserts. "Let's see what happens tonight first of all and then we can think about the Everton game. We are confident, we are a big team with big players in the squad and we know that. When things go wrong, we are always together. More good results now would give us more confidence, for sure."
Guus Hiddink has discussed his desire to see how "eager" the players are and their energetic display in that 3-0 win over Palace combined the requisite composure to overcome a hard-running opposition with an injection of urgency when going forward. Zouma believes we will need to show similar qualities tonight against a tough West Brom side.
"We played away against them earlier in the season and it was a difficult game, although we won 3-2," he recalls. "They are very strong and, defensively, they are organised. They wanted to play on the counter-attack in the first game and at Stamford Bridge I think it is going to be the same, so we have to play our own game, but we also have to keep a balance, and be
very careful on set plays."
Zouma admits he also has to bewary when he makes his trademark slide tackles, explaining that, when a last-ditch challenge is required, he isn't afraid to make the most of his athleticism. There were a few "you don't see many of them these days" comments as he tracked back to cut out the darting runs of Wilfried Zaha with a telescopic leg at Selhurst Park a week-and-a-half ago.
"I just go in to try to win the ball," he says. "Sometimes the striker gets in behind and you have to use the tackle to win the ball back. It's a risk you take and you have to make sure you take the ball. I'm very confident when I make these tackles. You have to calculate it a little bit, ask yourself some questions, but sometimes you have to make the tackle. But I am always confident, I tackle the same way I play, and if I think I have to make the tackle then I will make it, 100 times out of 100. That's not a problem. I don't have to rely on my pace, though. We are a compact team, but when the ball goes over you, you have to defend – that's my job. I have some pace, so I can recover sometimes, but the most important thing is to stay in position  throughout the game."
That defensive understanding across the back four was one of many positives to emerge from our last Premier League encounter, but Hiddink was clear in his post-match interviews
that one result, one performance, is not enough to get carried away with. Zouma echoes those sentiments and adds that he has been impressed by the new manager's manner during his early weeks in the job.
"It's been very nice because he is a friendly guy, who is always close to the players," the defender says. "He doesn't speak a lot, but he speaks when he sees something is wrong. Most
importantly, us players now have to move forward."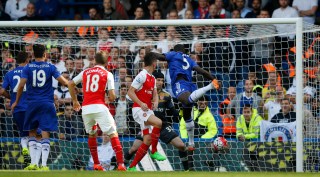 As we head into these back-to-back home league games, there are reasons to be optimistic about the direction the team is heading in, but Zouma says we have to keep winning and build some tangible upward momentum before we can truly talk about turning a corner.
"Slowly, we are starting to improve," he says. "It's a new year, it's 2016, and we have started well. After beating Crystal Palace, we had a good game in the FA Cup at the weekend, now we move forwards and think about game after game. Last year was a good one for me personally. I had a lot of chances to play, I played in some big games and won two titles, so I am happy with the year on a personal level. It's not quite new year, new start, because the season started in August! But, mentally, it's a new year and that's a way you can think about it – we have to because we have no other choice.
"We are not doing well in the table, so we have to start winning matches, but not win one and lose two – we have to start winning a lot of matches. We have to keep going and working for the team, and I hope we will move up the table."