On Sunday Liverpool boss Jurgen Klopp will experience his first taste of the bitter rivalry with Manchester United.
The man dubbed as Liverpool's messiah, the man to return them to past glories is also the man feared the most by United.
[ STREAM: Liverpool-Man United via Live Extra ]
Shortly after Klopp's arrival in England the legendary former manager of United, Sir Alex Ferguson, a man who delivered 38 trophies in 26 seasons at Old Trafford to wrestle dominance away from Liverpool after they reigned supreme over England and Europe during most of the 1970s and 80s, had this to say.
"I'm worried about him [Klopp] because the one thing United don't want is Liverpool to get above us," Ferguson said. "He's a fantastic personality, with those big white teeth always showing… I know him quite well from the coaching seminars. He's going to make a difference at that club with his personality, drive and knowledge. Things are looking up there."
There's no doubt that things are looking up at Liverpool, while the opposite could be said for United as they continue to judder along in neutral, coasting under Louis Van Gaal into a myriad of inconsistency amid severe short term-ism.
[ MORE: Klopp dazzles on unveiling ] 
There's also no doubt that all week Klopp has been made aware by fans, staff at the club and locals on Merseyside as to how big of a deal this game on Sunday is. He knows.
Almost two weeks before the latest Liverpool-Manchester United clash, after his side beat Sunderland on Dec. 30 to go level on points with United to end 2015, Klopp was already fanning the flames of one of the greatest soccer rivalries in the world.
"I don't know [about a title challenge], but you can see we both have 30 points. In this moment Liverpool FC feels good, but at Man United the atmosphere is not the best," Klopp said.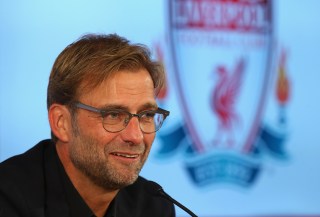 With Klopp, 48, signing a three-year contract, with the option for a fourth, to lead Liverpool back in October following the firing of Brendan Rodgers, a long-term plan to return the Reds to greatness is evident with the enigmatic German having the media like putty in his hands during every press conference and fans foaming at the mouth with his passionate persona on the sidelines.
On that morning of his unveiling back on Oct. 9, the euphoria of Klopp's arrival was palpable. I was there. I flew up to Manchester that morning and got a cab across to Liverpool. All of the national newspapers had Klopp's photo on them, with the former Borussia Dortmund boss grinning cheekily and holding the famous red and white scarf proudly. During the press conference he held court with over a hundred members of the media, keeping everybody captivated. Klopp dubbed himself as "The Normal One" when pressed for a comparison to Jose Mourinho's self-proclamation as "The Special One" during his own unveiling after arriving in England for the first time. More tellingly, trophies were already at the forefront of Klopp's thoughts.
"We [Klopp and his staff] could start in a very difficult league but in a special Liverpool way we can be successful," Klopp said. "We can't wait for it, I don't want to say we can wait 20 years. If we sit here in four years, I think we win one title. I'm pretty sure."
Despite an up and down start to life at Anfield due to injuries, fixture congestion and the difficulty of coming in mid-season, there's a sense Klopp is grinding through the gears as he figures Liverpool and England out. A sense of foreboding also seems to have overtaken a vast majority of United's fans. They don't want to admit it, and many still won't, but we are on the cusp of Liverpool once again taking over the North West of England and, in that vacuum of soccer exceptionalism, that means the universe.
It will take time. This won't happen overnight and a win in the derby on Sunday won't be do or die for either team. Both teams head into this game on the back of thrilling 3-3 draws in midweek which probably gave their managers more questions than answers as to where they're heading.
However, the next 6-12 months are crucial periods for both teams and Liverpool seem better set than United to negotiate the rigors of the Premier League and return to past glories. Klopp will be given money to spend in the summer to transform his team and build what the American owners (Fenway Sports Group, fronted by John W. Henry) hope becomes a dynasty, just like it was before. The German will be able to mold his team and select his personnel to carry out the highly demanding high-pressing gegenpressing gameplan he developed and mastered at Dortmund.
It took Klopp three years at the Westfalenstadion but he delivered back-to-back Bundesliga titles and took them to the UEFA Champions League final while going head-to-head with fierce rivals Bayern Munich at the same time. Those lofty heights still seem a long way off at Liverpool. But, despite all of their riches and rich heritage, United's fans are looking towards the red half of Merseyside with an envious glance as both teams tussle for a top four spot this season, plus both are in the Europa League last 32 and Liverpool are also in the League Cup semifinals with a trip to Wembley looming. Silverware for Klopp in his first half-season in charge at Anfield is a real possibility.
In stark contrast United haven't won a single trophy since Ferguson retired in 2013. Current boss Van Gaal, 64 is under-fire. His team aren't scoring, aren't exciting to watch — something he had admitted — and he only has a contract until the end of next season. His assistant coach, Ryan Giggs, is being groomed as his successor but nobody knows if the United legend is ready for his first-ever head coaching job. The Red Devils are at a crossroads, something they haven't had to navigate for the best part of three decades with the memories of the trophy-laden Ferguson era fast becoming blurry.
Like a swinging pendulum the axis of power has shifted from Merseyside to Manchester, and back, rhythmically over the past 50 years. United's great teams led by Sir Bobby Charlton and George Best in the 1950s and 60s were preceded by Liverpool's all-conquering squads of the 1970s and 80s as Kenny Dalglish and Graeme Souness delivered European Cups and league titles. The power then shifted back to United over the past two decades with Ferguson leading a golden generation of homegrown talent and then the likes of Cristiano Ronaldo and Wayne Rooney to domestic and continental glory. More recently Liverpool's smattering of trophies — albeit the UEFA Champions League in 2005 and two FA Cups and three League Cups over the past 15 years — has been inconsistent, there has been no total domination of England and Europe and no league title since 1990.
United's long-term dominance over Liverpool is now under serious threat and the man who will taste his first Liverpool vs. Manchester United derby on Sunday is the man who is capable of delivering that success to Liverpool and disdain to Manchester United.
If Klopp would've held on for a few months before taking the Liverpool job in October then the likes of Real Madrid, Chelsea, Bayern Munich and maybe even United, with constant reports claiming Van Gaal could leave at the end of this season, would have made him their first choice to take over. However, he chose Liverpool and even though the huge challenge of returning them to a perennial title contender isn't insurmountable, it will be his biggest challenge in management to date. Klopp has a plan and if making that plan a reality coincides with the downturn in United's fortunes, one where finishing in fourth place is deemed a failure, then it would make its completion even sweeter for everyone connected with Liverpool Football Club.
When Klopp steps into the cauldron of noise at Anfield on Sunday it will be his greatest example yet of the special atmosphere supporters of his club generate. In turn they hope Klopp can orchestrate special times returning to Anfield while at the same time leaving their bitter rivals in their wake.