The Chicago Fire added a former Manchester United Academy kid first overall — then traded him — and Earnie Stewart's Philadelphia Union revolution has three new components after the early picks of Thursday's MLS SuperDraft.
Jack Harrison went first overall, but then was dealt to New York City FC. After his dynamite freshman year at Wake Forest, the Bolton-born man will move to the Big Apple.
Seven picks changed ownership in the first 20 picks.
The Union traded for another draft pick, giving them the Nos. 2, 3 and 6 picks in Thursday's SuperDraft. They selected Georgetown defending duo Joshua Yaro and Keegan Rosenberry second and third before picking Creighton forward Fabian Herbers sixth.
[ MORE: Harrison selected first, traded | Which was a little embarrassing ]
New York City FC then traded the No. 4 overall pick and allocation money to Chicago for a player to be named later (later announced as Harrison), and the Fire picked up USMNT call-up Brandon Vincent from Stanford. It was a bit confusing, and not a great look, but ultimately both teams got outstanding players.
San Jose pulled a surprising move in taking U.S. U-23 goalkeeper Andrew Tarbell from Clemson. They have David Bingham right now, who's played very well, but Tarbell's high ceiling must be the bet from California.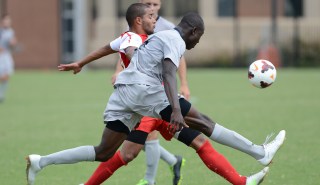 1. Chicago Fire — Jack Harrison, FW/MF, Wake Forest*
(picked, then traded to NYC)
2. Philadelphia Union — Joshua Yaro, DF, Georgetown*
3. Philadelphia Union — Keegan Rosenberry, DF, Georgetown
4. Chicago Fire — Brandon Vincent, LB, Stanford*
5. Real Salt Lake — Omar Holness, MF, North Carolina*
6. Philadelphia Union — Fabian Herbers, FW, Creighton*
7. Orlando City SC — Richie Laryea, FW, Akron*
8. San Jose Earthquakes — Andrew Tarbell, GK, Clemson*
Tarbell was our target…… thought he was a 10-year keeper 4 us….

— Robb Heineman (@RobbHeineman) January 14, 2016
9. Toronto FC — Tsubasa Endoh, FW, Maryland
10. New England Revolution — Jordan McCrary, DF, North Carolina
11. DC United — Julian Buescher, MF, Syracuse*
12. Chicago Fire — Jonathan Campbell, DF, North Carolina
13. Orlando City SC — Hadji Berry, FW, Central Florida
14. Montreal Impact — Kyle Fisher, DF, Clemson
15. Colorado Rapids — Emmanuel Appiah, MF, Louisville
16. Vancouver Whitecaps — Cole Seiler, DF, Georgetown
17. FC Dallas — Ryan Herman, GK, Washington
18. New York Red Bulls — Justin Bilyeu, DF, SIU Edwardsville
19. Columbus Crew — Rodrigo Saravia, MF, Florida Gulf Coast
20. Portland Timbers — Ben Polk, FW, Syracuse