Jordan Morris has followed his heart to Seattle, which is a boon for the league, MLS fans, and at least the short-term future of the player himself.
I have been an unabashed proponent of Morris striking while the iron is hot and moving to Germany, England or anywhere his services are in demand.
My logic was simple: There's no guarantee his profile will ever be higher, and right now the hierarchy of his national team includes a pair of influential Bundesliga vets in Jurgen Klinsmann and Andreas Herzog.
[ MORE: Americans Abroad roundup — Brooks, Hyndman, Williams shining ]
All that said, the 21-year-old Stanford product moving to MLS is still solid for reasons beyond the aesthetics (For one, we get to watch him develop during the off-kilter schedule of MLS, where our focus can be trained on the youngster).
For one, Morris' feelings are important, and you don't get the feeling he's opted for MLS because out of a lack of confidence (though he did mention feeling homesick on trial). Morris grew up with the Sounders and dreamed of putting on their shirt. Yes, that would be possible if he tried his luck at Werder Bremen, but the kid wants it now, and he's wanted it since he attended the Sounders' first game in MLS (Plus, his U.S. coach is cool with it).
"I went to that first game… It was super exciting to be there and experience that atmosphere and know that Seattle had such a special team, had such a special fan group. Since then I was hooked. I remember watching and saying, 'I want to play on that field someday.' I was there with my whole family and it's just a dream come true to turn that into a reality."
I loved the idea of Morris and Aron Johannsson teaming up in Germany to refine a wondrous strike partnership that would bear fruit for all of us. I loved the idea of his making an impact in Bremen's survival fight and drawing the attention of bigger clubs, the hot new American prospect.
But Morris took an extra week to make sure Germany wasn't what he wanted right now. He'll theoretically combine with Clint Dempsey and Oba Martins to learn plenty of good things, and be based in America leading up the Copa America Centenario.
If he develops as planned, perhaps even August or January 2017 could see the striker revisiting his dreams. And a confident, sated Morris can either chase MLS dynasty shine or take a step outside North America.
As for MLS, it's brilliant. He'll be as supported as prospect in years, and snobbish eyes that wouldn't normally train themselves on the league will take a peek. As we know, they'll see a league much better than they remember.
Opponents can point to what they say is a drop-off in production from Michael Bradley, Clint Dempsey, Jozy Altidore and others who've come back to MLS, but Morris' Seattle move is still a step up from the NCAA game. Plus, DeAndre Yedlin signed Homegrown with Sounders after just two seasons at Akron, and was off to the Premier League within two seasons.
Think the league's excited? Check its front page, which shows a lot of love for a Homegrown signing.
No pressure, kid. Well, plenty of pressure… and that's good.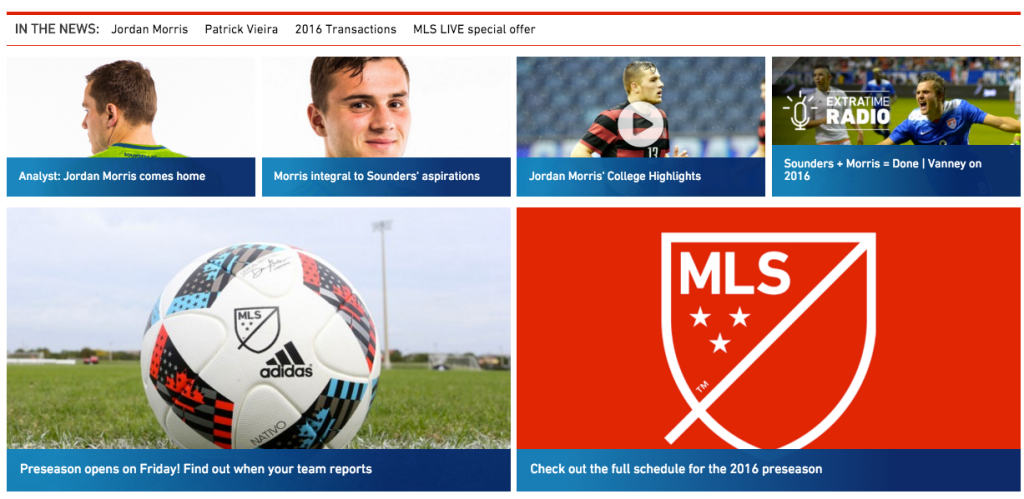 Follow @NicholasMendola