There's a lot of "What ifs" when it comes to retiring USMNT midfielder Stuart Holden, but his class will never be up for debate.
One of the most talented and intelligent players to don the U.S. kit, the snake-bitten 30-year-old has called it quits on his playing career, a decision that coincides with the birth of his first child.
Holden went to Clemson before signing with Sunderland, though he'd never appear for the Black Cats. He went back to Houston, where he helped the Dynamo winning the MLS Cup Final in 2006 and 2007.
[ WATCH: USMNT's Bedoya stays hot, scores again for Nantes ]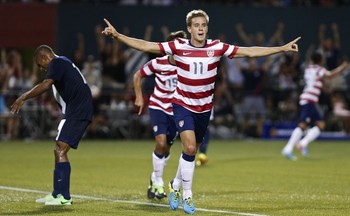 In 2009, the midfielder was off to Bolton, where he broke out during his sophomore season with 30 appearances and two goals. He won club Player of the Year honors that year. He also made his bones with the U.S., and he earned 17 caps and two goals during the next two seasons.
Leg injuries were the name of the game for Holden after that, and he'd make just nine club appearances between Bolton and Sheffield Wednesday over the next three seasons. A revival with the U.S. saw him play 8 times with one goal in 2013, though he tore his ACL in that year's Gold Cup.
Jonny Evans and Nigel De Jong are names that have been linked with Holden, given their awkward at-best tackles twice broke his leg.
In announcing his retirement, Holden took to USSoccer.com to share three keys to life: Be proud, be thanful and smile at the future:
One thing is for sure: you haven't seen the end of me… but I might take a short break as the contractions are kicking my wife's butt right now. That means it is time for Stuart Holden, the retired athlete and third-person self-referencer, to step up and deliver a life-winning assist! Child birth has just put all of my injuries into perspective. I now know that my wife is the real champ (and my Mom too)! Cheers to the release.
All the best to you and your family, Stu. You're one the classiest players to ever represent the U.S., on and off the field.