Brazilian attacker Alexandre Pato has joined Chelsea on loan until the end of the season and the former AC Milan star is looking to make his mark in Europe once again.
[ WATCH: Stream every PL game live ]
In an exclusive partnership with Chelsea Football Club, NBCSports.com provides even more access to life at Stamford Bridge.
Sign up to the Chelsea Fan Club Plus now to read the full edition of this month's Chelsea magazine. Members also gain access to Chelsea TV featuring behind-the-scenes action from the Chelsea training ground and exclusive interviews with Guus Hiddink and his players.
[ MORE: Latest Chelsea news ]
Below is the feature article on Pato from Chelsea's magazine.
---
The chances are you will have known Pato's name long before he signed for the Blues. After all, he was a teenage sensation for club and country, impressing in Serie A with
AC Milan and joining the long line of thrilling forwards to have graced the Brazilian national team.
There is also a chance that, until his arrival here, you hadn't heard his name too much lately. That's because Pato has been back in his homeland, playing for Corinthians and Sao Paulo, before making his return to Europe with a loan deal at Stamford Bridge until the end of this season.
Still only 26, he is visibly excited about the move and the prospect of playing Premier League football, and as we sit down to talk to him during his first week at Chelsea, his famous boyish grin is pretty much a permanent fixture.
"I am very eager to play," he says enthusiastically. "I am eager to train with my team-mates and to incorporate myself into the group here. I know it's a fight against time because there is not so long until the end of the season, but I am very keen to get started.
"The first few days have been very important. To be back in Europe again at a big club like Chelsea is a dream come true. I'm very happy to be here because I have worked very hard for the last three years in Brazil."
He arrives with the team looking to push itself back to the more familiar upper echelons of the league table and with crunch FA Cup and Champions League fixtures against top opposition fast approaching. In short, it's an exciting period and Pato knows he will have to hit the ground running.
"The season is not over," he states. "There is a lot to play for and a lot of things Chelsea can achieve. This sequence of better results we are having now is just the beginning of something the team can continue to build on. Since I arrived I have been made to feel very welcome, not just by the Brazilian players but everyone. The coach met me here at Cobham and introduced me to all the staff from all the different departments. He has given me the support to have a great rest of the season at Chelsea."
Pato is a versatile and mobile player. He is always on the lookout for gaps to exploit, holes in the defence or a swift change of direction which might open up the pitch. A great many of his goals involve a sudden burst from deep, his acceleration taking him away from defenders.
Then there is the footwork in tight spaces, the body swerves and the tricks that allow him to slalom in and out of players. The Brazilian domestic season finished in early December but Pato has been keeping himself fit in preparation for a possible move during the January transfer window, and believes he just needs to get himself up to speed.
"I feel very good physically," he tells us. "Obviously as a player you need game-time to be at your best but I feel prepared, I have been training well, and hopefully with games and time I can adapt.
"I know I only have a few months until the end of the season but what I can promise is that I am prepared to play to the best of my ability to help during the few months left of the campaign."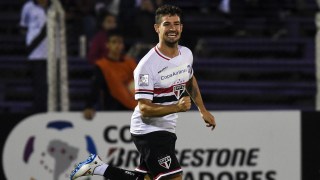 He adds that, after injuries hampered his last two seasons with Milan, he has changed a few thingscand learned "what to do before training, during training, after training, even after the match.
"I learned a lot about myself and how to look after myself, and now Chelsea have opened the doors to me for this opportunity I am very happy to be back in Europe."
As for English football, Patois well aware of the different challenges the Premier League is likely to present to him, but more than anything he is excited to test himself here. He has experience of
playing English clubs in European competition and pre-season friendly tournaments, and in the dressing room here he has plenty of friends who have been filling him in on the intricacies.
"I already knew Willian, Oscar, Kenedy and Diego Costa," he says. "There are some players I know from friendship and others I have once played against. It's a big thing that they can help me settle down at Chelsea. They will help me express myself with freedom and to be incorporated into the team. The players all helped me to settle in my first few days.
"I know how hard the Premier League is. Diego, Willian and the boys have been telling me that it is very hard here, but I feel I have to improvise so I can find the space on the pitch, get my timing right and get myself into spaces. I have heard a lot about the Premier League and I also had the chance to play against English opposition when I was at AC Milan. For example, I played against Chelsea in a friendly match in the USA. It's a different league – very hard, very physical, with a lot of contact, and hopefully with my pace and ability I will be able to help the team. I'm hoping to contribute a lot and have a great time here."