USMNT youngster Matt Miazga joined Chelsea in January as the former New York Red Bulls star has joined one of the biggest clubs in the world.
So far, it's all been a bit of a whirlwind but Miazga, 20, is settling in well and is already raving about the "more professional" setup in the Premier League and spoke of his dream to always move to Europe in the Q&A below.
[ WATCH: Stream every PL game live ]
In an exclusive partnership with Chelsea Football Club, NBCSports.com provides even more access to life at Stamford Bridge.
Sign up to the Chelsea Fan Club Plus now to read the full edition of this month's Chelsea magazine. Members also gain access to Chelsea TV featuring behind-the-scenes action from the Chelsea training ground and exclusive interviews with Guus Hiddink and his players.
[ MORE: Latest Chelsea news ]
Below is a Q&A with Miazga from Chelsea's magazine.
---
It must be an exciting time for you, having just moved across the pond to start your Chelsea career.
This is a great opportunity. My goal was always to go to Europe to test myself against the best players in the world and against top-level opposition. This is the best league in the world so I'm looking forward to the higher level, getting better as a player and developing.
How would you describe yourself as a player?
I'm a defender so I like to win headers. I'm aggressive, I'm not scared to play out from the back and I like to use my passing range a lot. I try to communicate with the other defenders and be a leader on the field.
What do you expect from the Premier League?
Watching it since I was a young boy, everyone knows the league is very competitive and any team can beat any team, so the competition is very high and everyone is going all out to win their games. It is a very exciting league and I look forward to it.
Football really seems to be on the rise in the United States now…
It definitely is, especially after the World Cup in 2014 when we made it out of the group of death. Everybody became big fans and it is growing now, you can tell.
Coming from a Polish family must have helped your interest in the game along…
When my dad was younger, growing up in Poland, everyone played football so he gave me his tips and advice. Every year as I got older, I would play with different travel teams and different coaches would take control and help me, but my dad has always been there for me, giving me advice and keeping my mentality strong.
You have a full United States cap now and you also had an impressive tournament at the Under-20s World Cup, didn't you?
It was a great experience. Playing with some of the best players your age is a great experience. Going past the group stage was another one – playing for your lives, everyone gives it their all, game are full of emotions and there's a lot of passion. You are representing your country so you want to give it your best and everyone is watching back home. Obviously, it is not the full World Cup and that is definitely a goal of mine, but it is definitely a stepping stone in my career. We did fairly well for an American side, we got to the quarter-finals and lost to the eventual champions, Serbia, on penalties.
Is it fair to describe last year as your breakthrough season, given that you made 30 MLS appearances for New York Red Bulls?
Yes, I would say so. As a young player, to become a full-time starter and get all those significant minutes, that is a definitely a breakthrough season. From the start I wasn't pencilled in as a starter. I talked to my manager and he wanted to slowly integrate me and establish me as I was 19 at the time, but there was an injury so I was forced into the line-up anyway. Ever since that first game I just played really well and stuck with it.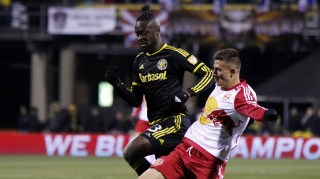 You played against Frank Lampard in a game against New York City, as well as David Villa and Andrea Pirlo. What was that like?
Yes, we played them in the Red Bull Arena. There were obviously some world-class players and every time you step on the field against them you want to do well. It was a good experience playing against top players like that – meeting them and competing against them. Lampard actually had some chances arriving at the right time in the box. He didn't put them away and we were lucky he didn't. He obviously had good quality on the ball.
What are your first impressions of Chelsea, having just arrived here?
It's definitely more professional. It's a huge club, so there are staff that take care of you and people within the club who try to make it an easy transition and make you feel comfortable. Your job, then, is only to work on the pitch and give your all. You can tell the magnitude of the club when you walk in, with the facilities here.