Brazilian playmaker Oscar has been at the forefront of Chelsea's revival in recent weeks and he's hoping continue in the FA Cup against Manchester City on Sunday at Stamford Bridge.
[ WATCH: Stream every PL game live ]
In an exclusive partnership with Chelsea Football Club, NBCSports.com provides even more access to life at Stamford Bridge.
Sign up to the Chelsea Fan Club Plus now to read the full edition of this month's Chelsea magazine. Members also gain access to Chelsea TV featuring behind-the-scenes action from the Chelsea training ground and exclusive interviews with Guus Hiddink and his players.
[ MORE: Latest Chelsea news ]
Below is the feature with Oscar from Chelsea's magazine.
---
The moment the draw was made for the fifth round of the FA Cup, eyes were drawn to the first tie out of the hat – the two most recent Premier League champions going head-tohead for a place in the last eight of the competition.
After progressing past Scunthorpe and MK Dons to reach this point, today's game is not just about making it to the quarter-finals, it's a big occasion in its own right, and one a lot of people have been looking forward to, not least the players involved.
Oscar was the big story for Chelsea in the fourth round. His hat-trick in Milton Keynes earned him the match ball for the first time since he moved to England in 2012 and he has high hopes for the only domestic competition he is yet to win here.
"For sure, this is a big game because Manchester City are a good side and we are performing well at the moment," the Brazilian midfielder tells us. "We want to win the FA Cup this season, we are in good form, you have to play the best teams some time and if we don't play Man City now we would possibly have to play them later.
"Everyone, and not just the players, knows that Chelsea are playing better now and it's not easy to play against us because we are very confident. "We are creating a lot of chances. We are stable and we need to improve now to have good performances and go to the next level."
Two recent matches have given us a glimpse of that next level. Last week's 5-1 victory over Newcastle was our biggest Premier League win of the campaign and we beat MK Dons by the same scoreline in the last round of the FA Cup, when Oscar was a central figure in a fine first-half performance.
"I scored a hat-trick but I might have had five or six clear chances to score goals, or something like that. I scored just three. That's okay, though, because we won 5-1 and the team played very well, especially in the first half.

"For one chance, me and Diego both went for the same ball in front of goal and we didn't score. Diego didn't see me when he shot, but if he hadn't shot, I would have scored a goal. Then, two minutes later, I scored a beautiful goal anyway.

"We need to have players like Diego, who are hungry to score. Guus said to players like us that we need to be ambitious to score goals and that's important. Diego is playing really good. All the players are playing well at the moment, but Diego is in the main position to score goals and he is doing it."
Our fourth-round victory bore many resemblances to a similarly swashbuckling away performance at Swansea last season, when we won 5-0 in the Premier League. Oscar and Diego Costa were the chief instigators that day, too, and our No8 admits certain games just open up in a way which makes it easy for the central playmaker and the forward to connect.
"It's difficult to explain this because we try to score a lot of goals and finish the games in the first half, but sometimes it's more difficult than that.
"After that FA Cup match, when I scored a hat-trick and we had a lot of chances, we could try to do the same again but it depends on the opposition, the tactics. When the other team attacks
us, we have more chances to score goals because we have good counterattacking players, we have a lot of quick players in those situations. But normally the other team defends against us and we need to try to score more goals in those games."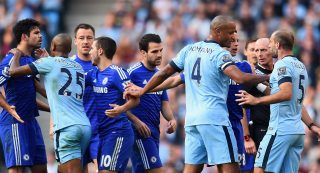 It's fair to say today's fixture is likely to be a different type of encounter, with two teams hungry for success going head to head.
Oscar understands the importance of this competition both in the context of Chelsea's season and English footballing tradition. It is a chance to win domestic silverware and, after lifting the Premier League trophy and the League Cup last year, he is keen to complete the set.
"I think a lot of our players have the ambition of holding the FA Cup and I am no different," he explains. "I want to win this competition a lot, I always enjoy playing in it because I know how important and how famous it is for English people.
"It is a very intense atmosphere when you play in the FA Cup, which I like a lot. That is one of the best things about playing football in England. Here, it doesn't matter what club, the fans support their teams and the games are always difficult – it doesn't matter if you play against teams from the Championship or League One. I have been surprised because even when you go to a small town or you play against a smaller team, their fans are unbelievable. They support their team a lot, so the atmosphere is always good and the stadiums are nearly always good as well."
That typically English atmosphere in the stands rubs off on the players who come from far and wide to compete here.
This is the oldest cup competition in the game, which started out almost 150 years ago as a very British affair, but it is a sign of the growth and globalisation of the game that an old rivalry from the other side of the world will also be in full swing on the Stamford Bridge pitch today.
Chelsea's squad includes five Brazil-born players – Oscar, Willian, Kenedy, Diego Costa and Pato – while Manchester City can point to five Argentinians in theirs – Nicolas Otamendi, Pablo Zabaleta, Martin Demichelis, Sergio Aguero and Willy Caballero.
As Oscar points out, "It's not just an English cup game, it's a South American derby as well."
Perhaps that combination is the simplest way of explaining why so many people will be tuning in around the world to watch this game today.