Gianni Infantino has been named the new president of FIFA.
[ MORE: Will he bring change? ] 
The 207 members voted in Zurich on Friday during the extraordinary congress and the Swiss official received 115 of the votes in the second round to surprisingly beat off competition from Sheikh Salman Bin Ibrahim Al-Khalifa who received just 88 votes.
After the first round, Infantino had 88 votes to Sheikh Salman's 85 and neither had the 138 needed to win outright and so the vote went to a second round for the first time since 1974.
[ MORE: FIFA approves landmark reforms ] 
The man known the world over for conducting the UEFA draws over many years rode the unexpected momentum from picking up plenty of votes early on and turned them into victory in the second round. The multi-lingual lawyer has worked at UEFA for over 15 years and is the current General Secretary which has seen him organize the hugely successful UEFA Champions League and European Championship tournaments.
Recently he has been on a tireless tour of the globe, visiting over 70 nations and getting star names such as Jose Mourinho, Fabio Capello and Luis Figo on board to try and gain as much support as possible. Addressing the delegates in Switzerland, Infantino couldn't hide his delight at becoming FIFA's new president.
"I can not express my feelings in this moment," Infantino said. "I told you I went through a journey which made me meet a lot of fantastic people, who love football and breath football and live football every day. We will restore the image of FIFA and the respect of FIFA and everyone in the world will applaud us. I want to work with all of you together in order to restore and rebuild a new era of FIFA where we can put again football at the center of the stage.

"FIFA has gone through sad times, moments of crisis, but those times are over," Infantino added. "We need to implement the reform and implement good governance and transparency. We also need to have respect. We're going to win back this respect through hard work, commitment and we're going to make sure we can finally focus on this wonderful game that is football."
Infantino, 45, also defeated Prince Ali bin al-Hussein of Jordan who received 27 votes in the first round and Jerome Champagne who gained just seven. The five candidates where whittled down to four before the official vote even began as Tokyo Sewale withdrew his candidacy at the end of his 15-minute speech.
UEFA's representative, Infantino stepped into the picture relatively late on after UEFA's former candidate and current president Michel Platini was handed a six-year ban from FIFA amid allegations of corruption. Now, Infantino will lead FIFA and take over from interim president Issa Hayatou who took over following Sepp Blatter's suspension. Blatter — the 17-year leader of FIFA — has been banned from soccer for six years by FIFA Ethics Committee following a secret payment made between himself and Platini. In a bizarre twist of fate, Infantino is from a small Swiss village of Brig, which is the next village along from Blatter's hometown of Visp.
Infantino will now oversee a monumental reshaping of world soccer's governing body, or at least that's the hope, after wide-ranging reforms were voted in my 89 percent of members on Friday during the congress.
[ MORE: Grading election speeches ]
Those changes will see the Executive Committee replaced with a new FIFA Council, plus new term limits will be introduced, salaries of senior executives will be published and a minimum of six females will be present on the new council.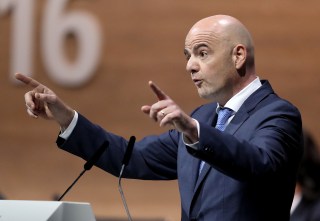 Infantino will be in charge until 2019 when the next presidential election will take place and under the new reforms the FIFA president can only be in office for a maximum of 12 years, or three four-year terms.
Outside the Hallenstadion on Friday in Zurich there were protests against runner-up Salman, a member of the Bahrain Royal Family, as the protesters highlighted the nations poor humans rights record. Salman has faced many questions regarding human rights in his home nation throughout his presidential campaign which may have swayed FIFA's members to put their faith in Infantino instead as he became the second-straight Swiss president of FIFA.
Investigations from both the U.S. and Swiss authorities are still ongoing as widespread corruption is alleged among many high-ranking FIFA officials who have since been banned and criminal proceedings are underway for many.
Infantino has a huge task to clean up the reputation of world soccer's governing body after a devastating last 10 months which has seen it become a laughing stock. With acting General Secretary Marcus Kattner speaking in Zurich and stating that FIFA is currently $550 million behind financial projections for the current cycle, one of his main jobs will be to help get sponsors back on board ahead of the 2018 World Cup in Russia.
FIFA's members have voted for change and they've elected Infantino as the man to deliver it. Let's see if he can.