From a personal standpoint, I understand keenly why Toronto FC fans feel burnt. As a soccer fan less than 100 miles from BMO Field, splitting TFC season tickets with friends was an easy decision. Major League Soccer so close to home? Why not give it a go?
Know what was an easier decision? Not renewing after a few years of profound disappointment. Despite a great stadium with a better skyline and an unbelievable group of nascent supporters in the Red Patch Boys, TFC was an on-field disaster.
That's not to say it should be easy for a team created from scratch to thrive in any league, even one as young as Major League Soccer. But we're talking eight years without playoffs, not a single conference standing finish higher than fifth, in front of a buzzing group of supporters who started to buzz, well, a lot less.
[ MLS: Can San Jose make noise in the West? ]
Toronto FC never had a chance to gel. Nine seasons in, the club has only seen eight players make more than 75 appearances. Only three — Stefan Frei, Jim Brennan and Julian de Guzman — have tempted 100 (Now with Seattle, Frei leads with 96).
How's this for a sense of history? Sebastian Giovinco's MVP season last year saw him score 22 goals. That places him second all-time for TFC. Second. All-time.
This year feels a bit different. For one, there's continuity in attack. Michael Bradley, Jozy Altidore and Giovinco (right) are all back in the fold. The first two can be expected to have much improved second seasons, while Giovinco just needs to whiff the greatness of his first to lift TFC higher in the standings. The Copa America Centenario break won't help much, but it'll hurt others, too.
Plus, coach Greg Vanney can change the game plan when Bradley and Altidore are gone. Benoit Cheyrou was very good in the midfield last season, while Toronto-born midfielder and reigning MLS champion Will Johnson is now playing at home and will add even more steel to the middle of the park.
Toronto also took proper steps to firm up their porous defense, which was a laughingstock last season, stung by the loss of captain Steven Caldwell.
[ FOLLOW: All of PST's MLS coverage ]
The Reds had some pieces in Damien Perquis, Nick Hagglund and Justin Morrow, the latter a mainstay who has flown under the radar. Now general manager Tim Bezbatchenko has brought in back liners with quantifiable MLS experience. Steven Beitashour arrives from Vancouver, and Drew Moor moved over from Colorado.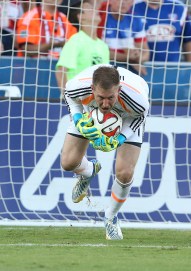 TFC found some steadiness in goal when they picked up Clint Irwin (right) from Colorado, a veteran who can properly tutor 2015 draft pick and USMNT prospect Alex Bono.
With fellow Toronto sides thriving in their respective leagues — the Jays are an AL East contender and the Raptors lead their division — this could be the year TFC finally delivers on expectations. There's enough depth in the fold to think that, given a relatively healthy campaign, Toronto should be able to place high enough in the East to set itself up for a bye.
There's plenty to be hopeful, but it's still cool if you don't believe it 'til you see it. We've learned that much, right?