Alexis Sanchez is struggling since his return from injury. Mightily.
The Arsenal star known for his flair in the attacking third has been anything but sparkling since returning from a hamstring injury against Chelsea on January 24, and the team is suffering. With Sanchez on the sidelines, the club lost just once in eight matches, scoring 13 goals in that span. Now, with the Chilean having returned and playing full minutes, the club has lost twice and scored six goals in five matches.
[ WATCH LIVE: Arsenal vs. Swansea City live online at NBC Sports Live Extra ]
Sanchez hasn't been himself in the attacking third. Sanchez is one of the Premier League's best chance creators, and he often does so with his own feet, beating defenders to create space. Before his injury, the 27-year-old had completed 46 of 74 take-ons according to Squawka Statistics, over three completed dribbles per game. Since his return, he's just 12 for 29, and the numbers show a dip in confidence. Aside from the outlier performance against Leicester City where he attempted 13 take-ons and completed just three, his attempted dribbles have fallen to just four per game. It would seem he is second-guessing his ability to face up defenders.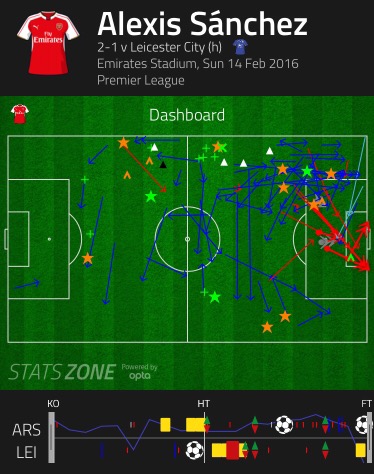 Still, Arsene Wenger cautions against those who wish to bench the Chilean."He is just coming back from injury," Wenger said prior to Wednesday's matchup with Swansea. "I believe that he is fighting to come back to his best. His second half was quite positive and encouraging at Manchester United. You don't want him to lose confidence and he wants to fight."
Those numbers mentioned previously suggest he already has, but his teammates aren't helping either. Despite having scored just one goal since his return from injury, the glaring number is zero assists. Don't let that fool you. Sanchez is still creating chances at his pre-injury rate, but Arsenal's finishing has been miserable – including Alexis, who has put just four of 12 shots on frame since his hamstring healed.
Mesut Ozil has overtaken Sanchez as the club's best chance creator for much of this season, but particularly over the past few weeks – Ozil has created a whopping 25 chances since Alexis returned (but has just two assists, again proof of the Gunners' woeful finishing). Wenger must consider dropping Sanchez for sure, but with few better options (Alex Oxlade-Chamberlain and Santi Cazorla both out injured doesn't help), he may opt to gut it out and hope his star attacker finds last season's form.