DEFENDING OPTIONAL AS OFFENSES RUN WILD
Over the last few years, MLS has been trending in this direction — as the financial investment in players has increased year by year, most of the league's teams have chosen to spend that additional cash on quality attacking talent, which means the amount of money spent on defenders has either remained unchanged or gone backwards in some cases. Why? Well, in short, scoring sells, and MLS needs to sell itself, both on TV and at the box office.
Major League Soccer – Week 1

| Result | Recap & Highlights |
| --- | --- |
| RBNY 0-2 Toronto FC | Recap, watch here |
| Chicago 3-4 NYCFC | Recap, watch here |
| Orlando 2-2 RSL | Recap, watch here |
| Houston 3-3 NE Revs | Recap, watch here |
| FC Dallas 2-0 Philly | Recap, watch here |
| Quakes 1-0 Rapids | Recap, watch here |
| Timbers 2-1 Crew SC | Recap, watch here |
| Whitecaps 2-3 Impact | Recap, watch here |
| Sounders 0-1 SKC | Recap, watch here |
| Galaxy 4-1 DCU | Recap, watch here |
It's undoubtedly made the league abundantly more entertaining year over year, even if you could construct a really strong argument that the overall quality of soccer remains largely unchanged (I would help you build this case). The likes of Sebastian Giovinco, Ignacio Piatti, Diego Valeri, Mauro Diaz, Robbie Keane, Bradley Wright-Phillips, Mike Magee, Cristian Maidana Pedro Morales have entered the league and each taken it by storm within their first six months in North America.
Sunday's 2016 season-opening onslaught was a culmination of that trend, as 36 goals were poured in across 10 games — in part due to the immense quality the league now possesses in the final third, but also due in part to the severe lack of quality (see: Chicago 3-4 NYCFC) many of the league's teams now possess in defense. From an entertainment perspective, it's brilliant, and as a full-time MLS viewer, that's just fine by me.
[ FOLLOW: All of PST's MLS coverage ]
---
IT'S LIKE YOU NEVER LEFT LA, MAGIC MIKE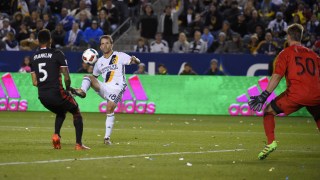 Mike Magee's final partial season in LA saw him score six goals in the Galaxy's first 10 games of 2013 before being traded to the Chicago Fire in late May as part of the deal that landed Robbie Rogers in his hometown upon returning to action as the first openly gay athlete in top-tier American team sports. Magee went on to score 15 goals in 22 games for his hometown Fire and was named the 2013 MLS MVP in a landslide voting process.
Long-term injuries reduced Magee to just 29 games and seven goals in his final two seasons with the Fire, thus his still-fresh pay raise ($400,000 against the salary cap) became too heavy a burden to bear and he was allowed to walk away as a free agent this winter. So it only made sense that Magee headed back to LA, where he won back-to-back MLS Cups (2011, 2012) and back-to-back Supporters' Shields (2010, 2011). Sure, he'd be coming off the bench and without a true positional home again, but he'd have an important part to play at some point in 2016, given Robbie Keane's advanced age and participation in the European Championship, and potential U.S. and Mexican national team call-ups for Gyasi Zardes and Giovani dos Santos this summer.
No one thought he'd be the star and savior for the Galaxy on opening night, dragging them back from a thoroughly despondent first-half performance against D.C. United and engineering a four-goal second-half rampage, but that's exactly what happened on Sunday. Dos Santos was forced off through injury at halftime, at which point Magee made in 45 minutes the kind of impact GdS has been unable to make in his first six months with the Galaxy — not only was he a constant threat in the final third (two goals, one assist in 45 minutes) because of the dangerous areas he occupied and his quick circulation of the ball, but his work rate defensively gave the Galaxy midfield and defense the kind of stability they lacked down the stretch in 2015 and in the first half against D.C.
It's still too early to definitively say, "Magee should be starting over GdS," but I will be keeping a watchful eye on the two of them and mentally pitting them against one another in their every appearance for the next month.
[ MORE: MLS roundup — A few late-night thoughts after First Kick 2016 ]
---
ESPINOZA PROVEN SKC'S IRREPLACEABLE FIGURE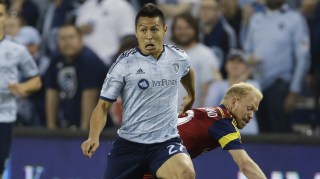 When Roger Espinoza went down for the remainder of the 2015 season with a broken foot in August, it was the beginning of the end of Sporting Kansas City's season. Sure, they would go on to win the U.S. Open two months later, but they were never close to the same team without the Honduran patrolling the midfield and wreaking havoc on some of the league's top attacking talent (see: a handful of names from the above list). With Espinoza in the lineup: 18 goals conceded in 17 games (1.06 per game) last year; without Espinoza in the lineup: 26 goals conceded in 17 games (1.53 per game). They also scored fewer without him (22) than they did with him (25).
Those are the numbers. This is an observation based on the eye test: the lives of every one else in the Sporting KC lineup is easier with Espinoza on the field. Through an immense work rate, through intelligent and controlled pressing that's criminally underrated, through a directness on the ball that puts opponents on their back foot… the Sporting machine hums along with Espinoza roaming box to box.
Espinoza's numbers remain unspectacular throughout his career (3 goals, 15 assists in nearly 10,000 minutes). Even some of the more finite numbers (2 tackles, 1 interception, 0 clearances) don't tell the story of how he's the irreplaceable figure in one of MLS's top midfield trios (Espinoza, Benny Feilhaber and Soni Mustivar), but Espinoza's impact was on display in Sunday's 1-0 away win over the Seattle Sounders, evident as ever through the marked improvement of everyone around him in comparison to those final three months of 2015.
---
TEAM OF THE WEEK
Goalkeeper: David Bingham (San Jose Earthquakes)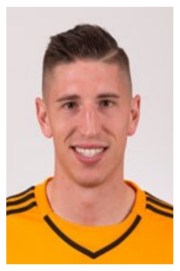 Defenders: Walker Zimmerman (FC Dallas), Victor Bernardez (San Jose Earthquakes), Matt Besler (Sporting Kansas City), Daniel Steres (LA Galaxy)

Midfielders: Ignacio Piatti (Montreal Impact), Sebastian Giovinco (Toronto FC), Mauro Diaz (FC Dallas), Mike Magee (LA Galaxy)

Forwards: Joao Plata (Real Salt Lake), Cyle Larin (Orlando City SC)
---
PLAYER OF THE WEEK
Ignacio Piatti was the only MLS player to receive a match rating of 10.0 on soccer stats website WhoScored.com, which is great, because this is one of the increasingly rare instances where the stats match up perfectly with the eye test.
In short, Piatti was unplayable against on Sunday, and it was clear for all to see. His opening goal — the one where he skated past four defenders and curled his eventual striker inside the far post — was pure class. On his day, when healthy, when fully engaged mentally — yes, that's a lot of qualifiers — Piatti's one of the top-five most terrifying players in MLS. Sunday was his day, he was fit and he was up for it. In part because of Piatti, Montreal are MLS Cup contenders with or without Didier Drogba.