On a scale of 1-10, the level of anticipation for Week 2 of MLS' 2016 season is somewhere around 15.
[ FOLLOW: All of PST's MLS coverage ]
That's because the Texas Derby and a massive traditional MLS rivalry join forces with an interesting slate of games that includes a rematch of a 4-4 thriller from last season to form a killer weekend.
After the league saw 36 goals in the 10 games of Week 1, what will Week 2 bring?
New England Revolution vs. DC United — 3 p.m. ET Saturday
A rematch of the first round of last year's MLS Playoffs, these two sides have tangled just a few times in the history of the league. DC advanced to the semifinals last season, but this is a much different United side. Gone are mainstays Chris Pontius and Perry Kitchen, and DC's been knocked out of the CONCACAF Champions League before falling 4-1 to the Galaxy in Week 1. New England played a thrilling 3-3 draw with Houston, but that sort of goal hemorrhaging isn't typical of the Revs. How will it go in Foxboro?
Prediction: New England 2-0
Houston Dynamo vs. FC Dallas —  8:30 p.m. ET Saturday
Overcoming a rival can make a bad season good, but Houston's trio of losses to FC Dallas in the Texas Derby made last season's struggles downright awful. It started May 1 with a 4-1 shellacking in Houston, and switched venues for a 2-0 decision in Dallas before another 4-1 match in early October. Western Conference favorites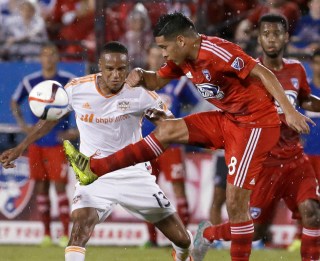 Dallas beat Philadelphia 2-0 on Opening Week, but might not have superstar Fabian Castillo for Saturday night's fracas in Frisco.
Will that be enough for Giles Barnes and Houston to score their first Texas Derby win since 2012?
Texas Derby last seven matches
Oct. 4, 2015 — FC Dallas 4-1
June 26, 2015 — FC Dallas 2-0
May 1, 2015 — FC Dallas 4-1
June 24, 2014 — FC Dallas 3-2
April 5, 2014 — FC Dallas 4-1
June 26, 2013 — FC Dallas 3-0
March 17, 2013 — FC Dallas 3-2
Prediction: FC Dallas 3-1
New York City FC vs. Toronto FC — 5 p.m. ET Sunday
I hinted at this earlier in the week, but these two sides staged an incredible 4-4 draw at Yankee Stadium last season. While David Villa scored two and Sebastian Giovinco notched a hat trick, the game saw its massive entertainment despite a distinct lack of Frank Lampard, Andrea Pirlo, Michael Bradley and Jozy Altidore.
Now, of course, that means we could see a 0-0 bore draw.
Prediction: Toronto 2-1
Picking the rest
Orlando City 2-2 Chicago Fire
Real Salt Lake 0-2 Seattle Sounders
Montreal Impact 1-1 New York Red Bulls
Colorado Rapids 2-2 Los Angeles Galaxy
Columbus Crew 2-1 Philadelphia Union
Sporting KC 2-2 Vancouver Whitecaps
San Jose 0-0 Portland Timbers