With a number of FA Cup matches are on the docket this weekend, only half of the Premier League clubs will be playing in league fixtures.
[ WATCH LIVE: Stream every PL game via Live Extra ]
Despite the absence of several key sides, three of the PL's top four sides will all play in critical matches that will help determine the title race.
***
Can the Foxes avoid a letdown?
Leicester City vs. Newcastle United — Monday, 4 p.m. ET
[ READ: What's in-store for Chelsea after their Champions League exit? ]
With just nine matches remaining and a five-point cushion, Leicester City can really begin to think about a Premier League title with a win against Newcastle. The Foxes have the benefit of not needing to balance multiple competitions, like several other teams in contention, which means Claudio Ranieri's team can zone in on its first PL crown in team history.
***
Spurs don't deserve title with loss against Villa
Aston Villa vs. Tottenham Hotspur — Sunday, 12 p.m. ET
[ FOLLOW: All of PST's PL coverage ]
With the Villans all but buried at the basement of the PL, Tottenham can use no excuses if they were to slip up against their last-place opponent. Manager Mauricio Pochettino opted to rest many of his starting players on Thursday versus Borussia Dortmund, while Dele Alli missed the Europa League clash due to suspension. There's no question that Spurs have enough talent within their side to win the title, but catching Leicester seems more and more unrealistic as our belief of the Foxes grows.
Let's just put this in perspective for a moment. Villa concedes two-and-a-half goals on average for every goal they bag themselves. Pressure is on, Spurs.
***
The battle for PL mediocrity
AFC Bournemouth vs. Swansea City — Saturday, 10 a.m. ET
[ MORE: Watch full PL match replays ]
Neither side really has anything to play for other than further assurance that they'll be playing top-flight football next season. While both Bournemouth and Swansea have shown moments of surprise during the 2015-16 campaign, Saturday's matchup is nothing more than average. A win for the Cherries would give Eddie Howe's side 10 wins on the year though, and that is a feat that deserve some applause after the uncertainty kicked off the PL season.
***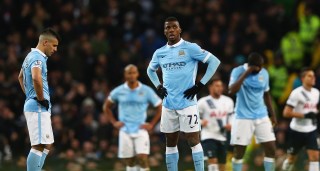 City-Norwich presents key fixture for different reasons
Norwich City vs. Manchester City — Saturday, 7:45 a.m. ET
[READ: Aguero set to return to Independiente following 2018 WC ]
The Citizens hold a slim chance to capture this year's PL title, therefore a win versus Norwich will be critical. City currently sits 10 points behind Leicester. The team they're facing though has just as much to play for on Saturday. The Canaries, 18th on the table as things stand, are firmly in the relegation battle. A win against Manuel Pellegrini's side would go a long way in preventing a slide to the Championship next season.
***
Battle of underrated sides has meaning in chase for Europe
Stoke City vs. Southampton — Saturday, 10 a.m. ET
[ MORE: Full lineups, stats, box score ]
We've said this a million times this year, but this PL season is unlike anything we've ever witnessed. Stoke City and Southampton currently occupy eighth and ninth positions in the Premier League, giving each side a shot at qualifying for Europe next season. While it's unlikely that either team will, it simply cannot be ruled out given the craziness that has transpired over the last eight months. Wouldn't it be something if Stoke (who holds a minus-three goal differential) makes it into the Europa League?