VIEIRA IS THE IDEAL COACH, IN THEORY
If you're a soccer fan — or a fan of any sport, really — what's the no. 1 trait you want the head coach of your favorite team to possess? Beyond a genius-level IQ, it's adaptability. As a fan, there's nothing more frustrating than a thick-headed, inflexible coach who trots out the same tired gameplan week after week after week, despite a wealth of evidence that screams out, "It doesn't work, dummy, try something else," but of course, he's too stubborn to do so.
[ MORE: Check out previous editions in the MLS Rewind archive ]
Major League Soccer – Week 2

| Result | Recap & Highlights |
| --- | --- |
| Orlando 1-1 Chicago | Recap, watch here |
| NE Revs 0-0 DCU | Recap, watch here |
| Impact 3-0 Red Bulls | Recap, watch here |
| RSL 2-1 Sounders | Recap, watch here |
| Rapids 1-0 Galaxy | Recap, watch here |
| Crew SC 1-2 Union | Recap, watch here |
| Dynamo 5-0 FCD | Recap, watch here |
| SKC 2-1 Whitecaps | Recap, watch here |
| NYCFC 2-2 TFC | Recap, watch here |
| Quakes 2-1 Timbers | Recap, watch here |
Two games into his first gig as a first-team boss, New York City FC head coach Patrick Vieira is anything but stubborn. In fact, he's proven to be a fairly resourceful, clever tactical tinkerer. A quick look at NYCFC's roster indicates a wealth of quality in central midfield (Andrea Pirlo, Tommy McNamara, Federico Bravo, Mix Diskerud, Frank Lampard and Kwadwo Poku), which is great in any league in the world not named Major League Soccer, but given MLS's strict roster and salary rules, possessing that kind of depth in one area of the field can mean but one thing: you're going to come up wildly short in another area, and true to form, NYCFC are totally devoid of any kind of quality wide players.
So what did Vieira do during Sunday's 2-2 draw with Toronto FC to get the most out of what he has? He started two-thirds of the above listed six players (Lampard is currently out injured, while Poku was a healthy scratch) in a four-man central midfield (call it a 3-6-1, or an old-school W-M) on the teeny-tiny, narrow field at Yankee Stadium. Who needs wide players when the field might or might not meet FIFA and MLS's mandatory minimum width of 70 yards? Dummies, that's who.
With Bravo playing the role of destroyer next to Pirlo, the Italian maestro had by far his best game since signing for the Bronx outfit last summer (106 touches, 84 passes attempted at an 81 percent completion rate, three key passes and a should-have-been assist on an absolute peach of an over-the-top ball); Diskerud and McNamara were clever in their interplay (they also pressed incredibly well, far up the field) underneath David Villa, who led the line just as you'd expect a World Cup and two-time European Championship winner to do.
In short, it was functional; it was effective; and more than anything, it was a joy to watch. TFC were genuinely caught off guard by such an unexpected tactical wrinkle, and it took them more than an hour to crack the code an produce anything of merit from open play. Sure, Vieira won't catch anyone by surprise the next time he throws out the four-man central midfield, but Sunday's tactical deviation served a valuable lesson for all: let us not be afraid of new coaches with new ideas coming to MLS, for it's those ideas that might just set them apart and on the pathway to success. In theory, Vieira's everything you want your coach to be — adaptable, idealistic, and far from afraid to buck any trend.
---
TEAM OF THE WEEK
Goalkeeper: Andre Blake (Philadelphia Union)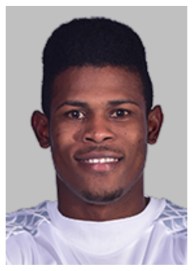 Defenders: Laurent Ciman (Montreal Impact), Victor Cabrera (Montreal Impact), Jose Goncalves (New England Revolution)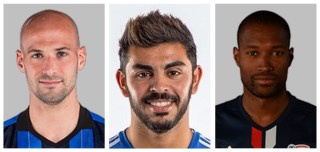 Midfielders: Ignacio Piatti (Montreal Impact), Chris Pontius (Philadelphia Union), Marcelo Sarvas (D.C. United), Calum Mallace (Montreal Impact)

Forwards: Dom Dwyer (Sporting Kansas City), Sebastian Giovinco (Toronto FC), Andrew Wenger (Houston Dynamo)
---
(CO-)PLAYER(S) OF THE WEEK
Dom Dwyer and Chris Pontius are my choices for co-Players of the Week, for two very different reasons — their two-goal performances in 2-1 victories for their respective teams aside.
Dwyer bagged 22 goals in league play in 2014 before falling back to earth in 2015, when he scored just 12. This year, Dwyer intends to break the all-time league record by scoring 30 goals. Nos. 1 and 2 came Saturday night as Sporting KC knocked off the Vancouver Whitecaps, last year's Western Conference regular season runners-up, thanks to Dwyer's first-half brace. If nothing else, I needed an excuse to post his opening golazo one more time.
Pontius' last brace in league play was nearly four years ago — June 24, 2012 — thanks in large part to a rash of injuries that limited him to just 51 appearances over his final three seasons with D.C. United (6 goals, 4 assists combined). The season prior, 2012, he bagged 12 goals and four assists en route to his first (and only) MLS Best XI selection. It's been a long road back to relevance for Pontius, but he looked healthy as ever in Saturday's 2-1 away win over Columbus Crew SC. Here's to Pontius' name appearing in many more MLS Rewind columns this season.