And you thought the Premier League was wild: More than half the Bundesliga table is in relegation danger.
There are now five teams within a point of the final relegation spot after Hoffenheim and Eintracht Frankfurt picked up a big wins that ensured at least nine and as many as 10 teams will finish the weekend within six points of the drop zone.
[ MORE: Premier League roundup | U.S. names U-23 camp roster ]
So while Bayern Munich continues to pull away from Borussia Dortmund, and both have created a massive gap from the other 16 teams in Germany's top flight, there's plenty to play for across the board over these final weeks of the season
Hertha Berlin 2-1 Ingolstadt
John Brooks' Hertha continues to surge toward the UEFA Champions League, this one at the expense of his USMNT teammate Alfredo Morales and Ingolstadt. Salomon Kalou collected his 13th Bundesliga goal of the season, while Genki Haraguchi also netted for the hosts.
Brooks went 90 minutes for the 16th straight Bundesliga match, completing 58 passes, making 10 tackles, and garnering 84 touches. But no, you're right, he shouldn't get every chance to play for the USMNT.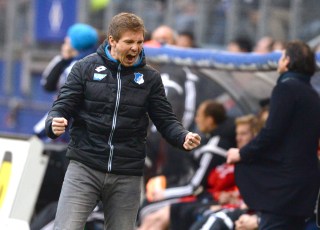 Hamburg 1-3 Hoffenheim
The visitors' woeful road form was missing on Saturday, and Hoffenheim is out of the automatic relegation zone after a huge win at Hamburg. Andrej Kramaric, Kevin Volland and Eduardo Vargas all scored for HSV, now in the relegation playoff spot and within a point of 14th.
Koln 0-1 Bayern Munich
Robert Lewandowski and Leonard Bittencourt entered the game as two of the hotter players in the Bundesliga, and both registered three shots on frame during the game. But Lewandowski buried one of his, a 10th minute chance, to give him his 25th goal of the season. That's a new record for a foreign-born player on Bayern, as Luca Toni goes to second in the books.
Elsewhere
Schalke 2-1 'Gladbach — USMNT's Johnson hurt in loss
Bremen 1-1 Mainz — Pizarro nets 101st league goal for hosts
Wolfsburg 1-1 Darmstadt — Schurrle equalizes in 93rd minute
Eintracht Frankfurt 1-0 Hannover — Ben-Hatira scores in win
Stuttgart – Bayer Leverkusen — 10:30 a.m. ET Sunday
Augsburg – Borussia Dortmund — 12:30 p.m. ET Sunday