John Terry's future at Chelsea remains uncertain beyond this season, but the 35-year-old club captain has been expressing his feelings on all he has achieved over the past two decades with the Blues.
After recently playing in his 700th game for the club, Terry has reflected on reaching that remarkable milestone, plus his strong bond with the fans and more.
[ WATCH: Stream every PL game live ]
In an exclusive partnership with Chelsea Football Club, NBCSports.com provides even more access to life at Stamford Bridge.
Join Chelsea Fan Club Plus now to read the full matchday programme from Stamford Bridge featuring notes from the manager and captain. Members also gain access to Chelsea TV for behind-the-scenes action from the Chelsea training ground and exclusive interviews with Guus Hiddink and his players.
[ MORE: Latest Chelsea news ]
Below is the Q&A with Terry in Chelsea's matchday magazine.
---
You made your 700th Chelsea appearance last weekend, becoming only the third player in the history of the club to reach that milestone. There are a lot of games to choose from but, on reflection, which matches jump out at you as a highlight?
I look at the Bolton away game to win the league in 2005 – the nerves, the excitement, the pressure. Even though we had more games to go, I just loved the feeling of being almost there for the first time ever. I felt that again before Wigan at home in 2010, when we had to win the game to win the league. That was the most nervous I have ever been before a game. I thought we'd win, but I didn't sleep the night before, I was really nervous, and that kind of stands out in the memory. They then had a man sent off and we went and smashed them 8-0 – what a way to do it – but the nerves and the excitement before those big, important, decisive games, was really important for me.
Do you thrive on those nerves and excitement?
Yeah, always. You look at the big finals we've played, and I would single those out as well, but sometimes it's the important games during the season, or at the tail end, that you remember. Look at the Palace match towards the end of last season. We had a couple of games still to go, so we didn't need to win that game, but the pressure and the nerves were there for everyone. The club hadn't won it for a few years and the whole day was so emotional. When the final whistle went, I just hit the floor – it was like a relief.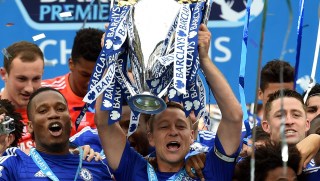 When you came off the pitch after those league clinchers was it the biggest buzz you've felt on returning to the dressing room?
No, Champions League, all day long. To go and win it after Moscow…that was by the far the best. It was a funny one for a lot of the lads, actually. Big Pete missed out on all the dressing room celebrations because he was getting drug tested. He was unbelievable in the game, the semi-final, and for the whole build-up, but he's not in any of my photos of that night. He's nowhere to be seen! It was just the emotion of the whole day and the build-up to it. We got back to the hotel and six or seven of us were in bed by midnight – we were exhausted. It drains you mentally. These are great experiences that will live with me forever.
What part have the supporters played over the course of those 700 games?
The supporters have been everything to me and always will be. When I first came into the team we had the likes of Marcel Desailly, Frank Leboeuf – big players – and the fans were so keen to see youngsters coming through. Jody Morris was established before me, then he moved on. Jon Harley had been in and out of the team, and then left the club. I have had such a good relationship with the fans from day one. They have been loyal to me, singing my name – it's just incredible really. That obviously built with success, with performances and with what I've done with the club – of course it has.
But I'm telling you now, I couldn't have done what I've done without them, 100 percent.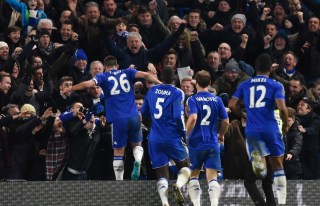 What does it feel like to go and salute the fans after a game, from a player's perspective?
It's a learning curve. When you first come into the team, at 17 or 18, you feel embarrassed going over to the fans when you've lost. You think, "They don't want to see me clapping here." But you soon learn that all the fans want is appreciation, for them travelling, committing, buying the shirt, supporting the team and singing no matter what. There are a lot of Chelsea fans who have seen a lot of bad times at the football club over the years, so appreciating these unbelievable times we've had and we are having means everything to them and it means everything to me. Whether you win, lose or draw, they deserve our appreciation, so you go over and you thank the fans.
What's the best thing about being captain?
When you've got a relationship like I've got with the football club and with the fans, and you've come through from the age of 14, there is nothing better than leading out the team to a win, to success, to titles. That feeling of walking out as captain, and knowing the fans trust you to do that, is the best. You can have bad games, as I have done within those 700 appearances, but the fans are back singing and chanting my name again the next week and that makes me feel unbelievable.
You've kept the armband and boots with commemorative print on them from your 700th game and plenty of other big occasions. I imagine you'll treasure those in years to come.
Yeah, like the one when we beat Palace away in my 500th game as captain. You can't keep them all, but it's those special ones which mean a lot that you keep. I'm getting them signed and maybe one goes in the museum and one stays at home with me. They are special moments for me and that's why I get the badges and the date printed on the armband and my boots. To be able to do it once was my dream as a 16-year-old, but to do it as many times as I've done and to have the success I've had at this football club, I am unbelievably proud of that.
I had to prove myself time after time, when new managers were coming in and the club had money to spend on the best players. I had to be up for the fight and say, "Okay, let's go again", and not just accept that level and think I'd made it. I always wanted to improve and that goes back to the supporters and them believing in me. When I finish playing, I know I can come back and look every Chelsea supporter in the eye and think, "You know what? I gave everything for you and for the football club." And they can look me in the eye and I will know for a fact that that is exactly what they have given me as well. As a player, that's all you can ask.