The masks come off after "middle pair" of group matches in the third round of CONCACAF World Cup Qualifying.
That's when possible pretenders who slid through the first two matches may meet the toughest foe of the group, or powers who got a tough road match out of the way might get a home-and-home with group minnows.
[ USMNT: Scouting Guatemala ahead of the qualifiers ]
As it stands now, Canada and Trinidad & Tobago would be new Hex teams for this year's qualifying, while Honduras and Jamaica would fall out of the mix. It's litmus test time for the Canucks and the Soca Warriors.
Group A
After easing past El Salvador, Mexico got a hassle from Honduras before picking up a pair of second half goals to win on the road. They now get a tricky match-up with Canada.
Mexico doesn't always fare well when heading far North, and BC Place in Vancouver is a tricky outing against a well-coached Canada. No one's expecting the Reds to win in Mexico next week, but keeping within two points of Mexico is not out of the question.
It's do-or-die for Honduras, who gets El Salvador for a pair of matches. The Hondurans finished 30th and 31st at the last two World Cups, and have never made it to three-straight tourneys. That could be impossible after this week. On the flip side, El Salvador hasn't been to a World Cup in eight cycles and could make it nine.
Standings (points / goal diff)
1. Mexico — 6 / +5
2. Canada — 4 / +1
3. El Salvador — 1 / -3
4. Honduras — 0 / -3
Group B
Looks like there isn't a walkover in the group, as Haiti dropped a pair of 1-0 decisions to Costa Rica and Jamaica and now faces Panama for two-straight matches.
This week's matches carry all sorts of unpredictability, as Jamaica and Haiti home wins on Friday would overturn the group apple cart and put pressure on the opposition for Leg No. 2.
Standings (points / goal diff)
1. Costa Rica — 6 / +2
2. Panama — 3 / +1
3. Jamaica — 3 / -1
4. Haiti — 0 / -2
[ MORE: See the USMNT training camp roster ]
Group C
In the United States' case, it's somewhere in the middle. Beating up St. Vincent and The Grenadines at home was expected, and picking up a draw at Trinidad and Tobago isn't a problem.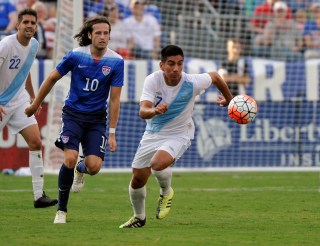 Guatemala is somewhere in the middle, not the easiest win on the road, and an expected three points on home soil.
[ USMNT: Dortmund's Pulisic could join up for second match ]
Losing points at all will likely have the Yanks behind T&T when this international break is through, as the Soca Warriors should have little problem taking six points from St. Vincent and The Grenadines.
Standings (points / goal diff)
1. USMNT — 4 / +5
2. T&T — 4 / +1
3. Guatemala — 3 / +3
4. St. Vincent and The Grenadines — 0 / -9