NEW YORK — Sacha Kljestan spent four years in Brussels playing for one of the country's biggest clubs in Anderlecht – a team that he helped win seven domestic trophies, including three league titles.
During his time there, he was welcome with open arms in the streets of Belgium's capital and fan in the Constant Vanden Stock Stadium constantly made the U.S. international feel at home by chanting USA, USA, whenever he made an impact. So when news broke that about the bombings at the metro station and airport at Brussels, it hit Kljestan very closely.
"It hits close to home. I'm sure some of my former teammates or friends know somebody, a friend of friend or a family member, who was affected this morning," Kljestan told NBCSports.com at an Adidas event that promoted the company's new ACE 16 boot on Tuesday. "It's terrible, there's not much positive to say about it. It's sad and I just hope that everyone over there is OK."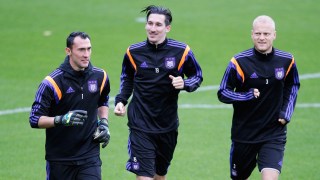 Fortunately for Kljestan, none of his friends or former teammates at Anderlecht were harmed by Tuesday's tragedy which saw at least 30 people lose their lives. However, the incident did have its impact on them. The metro bombing happened nearby the neighborhood from where the 30-year-old current New York Red Bulls midfielder used to live. Several of his teammates and friends also live in that area.
"It's just scary to think about. It was just 14 months ago that I was living there. The metro station that was hit this morning [Tuesday] is less than a mile from my apartment.
"I never felt unsafe when I lived there but it's scary for everyone who is there now. I hope that they stay strong and that they know that we're all thinking about them. I'm praying for them."
During his time at Anderlecht, Kljestan was fortunate enough to play with several notable stars including Romelu Lukaku, who now is an elite striker for Everton, and emerging young midfield talent Youri Tielemans, the teen who is drawing interest from Real Madrid. Kljestan didn't mention which teammates he spoke to but he emphasized that they all mentioned the same thing.
"The message I kept on getting is that it could happen to anyone. You never think it could happen to you until something does. We're here in New York City and we all remember what happened in 2001…When it does, it changes your life forever."