It's been a long time since Guatemala defeated the United States men's national team, a feat they'll need to achieve if Walter Claveri is to lead La Azul y Blanco into the Hexagonal for the first time since 2006.
The more likely chance for Guatemala to pull three points from this week's pair of matches against the highly favored USMNT comes Friday in Guatemala City.
Home-field advantage for these smaller CONCACAF sides can be a massive benefit, whether it be in the form of poor pitches, fervent crowds or intimidated officials (or all three).
Build-up to USMNT-Guatemala
— CONCACAF World Cup qualifying preview
— How will the USMNT lineup?
— Scouting Guatemala ahead of the qualifiers
Guatemala enters Friday's third qualifier with a 1W-1L record, having cruised to a road win at St. Vincent and the Grenadines before losing a 2-1 decision at home to Trinidad and Tobago.
That home loss means three points against the States on either Friday or Tuesday is imperative given that T&T will be expected to pull six points from its home-and-home with St. Vincent. Should that happen and the Yanks even take four of six from Guatemala — they'll be expected to do so — T&T would have 10 points and the U.S. 7 to Guatemala's four, with the Yanks hosting T&T and traveling to St. Vincent over the final two matches.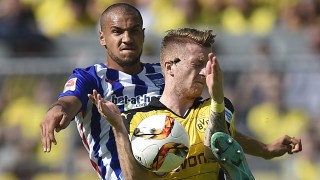 How would Guatemala go about finding a win against the States, besides shifty referees or sloppy field conditions? Team captain and MLS veteran Carlos Ruiz knows a thing or two about plucking points, and he'll turn to a cagey squad that includes Colorado Rapids attacker Marco Pappa and late-blooming forward Gerson Tinoco.
[ MORE: Aron Johannsson out rest of season for Bremen ]
That said, the Yanks have Hertha Berlin defender John Anthony Brooks (above), who is in UEFA Champions League form along with his club, and a collection of talent that outclasses Guatemala on paper and on the pitch.
If the Yanks are who we hope they are, Jurgen Klinsmann's crew should ease to a minimum four points over the pair of matches. Actually, they should take both. In doing so, they'd clinch a spot in the Hex.
Predictions
Friday: Guatemala 1-2 USMNT
Tuesday: USMNT 2-0 Guatemala