Johan Cruyff is without doubt one of the greatest individuals the beautiful game has ever seen.
[ VIDEO: Highlights from Cruyff's career ]
On Thursday it was with great sadness that the news arrived that Cruyff had lost his battle with cancer and had died in Barcelona at the age of 68.
The soccer world mourned as one. Cruyff was a legend of the sport and his overwhelming influence in shaping the modern game can never be measured.
[ MORE: Players, clubs react to Cruyff's death ] 
He is always mentioned in the same breath as Pele, Diego Maradona and Eusebio as the greatest to ever play the game, but Cruyff continued to give so much more soccer when his playing days were over.
He worked tirelessly to replicate the exciting and entertaining philosophy he thrived in with Ajax, Holland and Barcelona as a player and bring that to the modern era.
The Dutch legend succeeded.
[ MORE: Cruyff dies, aged 68 ]
In his playing days he dazzled. Cruyff's now famous turn which occurred at the 1974 World Cup is still practiced and taught to youth players today, and he also succeeded in taking a penalty kick between two players. He was a deep thinker who seemed to glide across the surface and made an impact from his debut as a 17-year-old and never looked back. Despite only being a slight figure, he always seemed to be one step ahead of his opponents. He was a genius as a player, winning three-straight European Cups with his hometown club Ajax, then translating that success to Barcelona and Holland.
He won the Ballon d'Or three times and was a majestic playmaker who was at the heart of Rinus Michels' "Total Football" philosophy which revolutionized the game.
It allowed a fluid style of play and threw away the rigid defensive systems and allowed any player on the pitch to attack, then another would slot in for them. It was all about spacing and timing and Cruyff's grasp of that notion was key to it working.
Cruyff took Michels' ideology into his own coaching career with Ajax, and it continued to shape the Dutch national team, but more famously his ideas and innovation prospered at Barcelona, and still are to this day, as the Spanish powerhouse has so much to thank Cruyff for.
"Every trainer talks about movement, about running a lot. I say don't run so much. Football is a game you play with your brain. You have to be in the right place at the right moment, not too early, not too late," Cruyff once said.
He took the ideology he was brought up on at Ajax to Barcelona and wanted to create a team people would enjoy watching. He achieved that and "El Dream Team" was born at Barca. They won four-straight La Liga titles from 1990-94 under Cruyff and he delivered their first-ever UEFA Champions League title in 1992, winning 11 trophies overall.
"It was a club which for 100 years had never won it [the European Cup] and now you didn't only win it but the way you won it," Cruyff said. "Don't talk about you won the game. No, no. You enjoyed watching and enjoying the games of Barcelona was much more important than only winning."
Cruyff did not only excel as Barca's manager but he created a system which has developed some of the greatest players the world has ever seen. Barca's famed La Masia academy was Cruyff's brainchild as he wanted the ideals he learned at Ajax to become commonplace in Catalan's capital city.
Joan Laporta, former president of Barcelona, summed up Cruyff's influence on the club and the people of Barcelona, his second-home, plus the Spanish national team who won the World Cup in 2010 for the first-time and the European Championships in 2008 and 2012 with many of the players Cruyff helped to cultivate.
"Johan revolutionized the city and the country," Laporta said. "He transformed Barcelona and Catalonia because during his time here he turned football into an art form. He was innovative and a breath of fresh air. It was an extraordinary feeling and he touched a lot of people."
The likes of Lionel Messi, Andres Iniesta and Xavi would not have become legendary figures if it wasn't for Cruyff and his ideology. The ideas he passed on to Barcelona has helped them become one of the greatest clubs the world has ever seen. It wasn't always easy for Barca to stick by the philosophy Cruyff had brought, with Jose Mourinho's defensive approach bearing fruit and other teams becoming more physical, but they stuck to the principles of "Total Football" and developed "Tiki-taka" which has been revered the world over.
He was an inspiration not only to those players but countless managers who are dominating the game today. Pep Guardiola — the man who overtook Cruyff's record as the most successful Barcelona coach by winning 15 trophies — is perhaps the biggest and best example of someone who idolized Cruyff and as his pupil tried to replicate his ideas on a daily basis both at Barcelona and again at Bayern Munich.
It's not just Guardiola, though. There is Ronaldo de Boer, Ronald Koeman, Frank Rijkaard, Arsene Wenger and countless others who took Cruyff's ideas and have had success with them from a managerial standpoint. His philosophy will always be admired and Cruyff's legacy will live on for many more generations. As a person he was outspoken when he needed to be but highly regarded as a good, kind man who was always wiling to discuss his ideas and constantly came up with new ways of playing and implementing his philosophy.
Some of the most famous quotes attributed to Cruyff sum up his sharp wit and high soccer intellect.
"If I wanted you to understand, I would have explained it better," Cruyff said.
"Playing football is very simple, but playing simple football is the hardest thing there is," Cruyff said.
"Quality without results is pointless. Results without quality is boring," Cruyff said.
"It's better to go down with your own vision than someone else's," Cruyff said.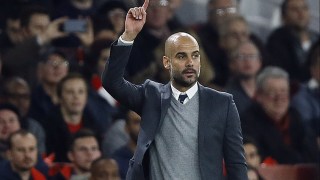 In recent months, as stories of his battle against cancer became more widespread, current Barca stars Messi, Neymar and Luis Suarez concocted a plan to honor Cruyff and show him they were thinking about him. During a game the star trio recreated his famous penalty routine and Cruyff was said to be "excited" by their gesture and his presence is still felt heavily in the modern game.
He was a remarkable individual who made the game what it is today.
Rijkaard, a Dutch national team legend himself, went on to manage Barcelona after playing under Cruyff at Ajax.
"He is like the Godfather of Dutch football," Rijkard explained. "When I was 10 years old playing in the streets, watching television I saw Cruyff and all of those other great players. For me, that's the great Dutch generation."
Marco van Basten, who is often mentioned as the next greatest Dutch player after Cruyff, was Cruyff's prodigy.
"He inspired us a lot, all of the youth of Holland," Van Basten said. "All of the young boys wanted to play like him."
Few could play like him, but those who grasped the ideas he put forward and were lucky enough to work with him became insatiable students who hung on his every word.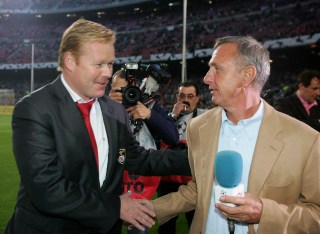 Current U.S. national team manager Jurgen Klinsmann was a great admirer of Cruyff's and back in 2011, when Barcelona beat Manchester United to win the UEFA Champions League at Wembley, this is what Klinsmann had to say.
"Barcelona was not born in the last couple of years. It was born, the style of play now, in the early 90s through Johan Cruyff," Klinsmann said. "It took 20 years for that moment today that we see and all admire."
Cruyff himself looks back at his days playing in the NASL in the United States fondly and said it was a "great experience" where he "learned a lot of things, especially in managing" from 1979-81. He is loved the world over and through his charity work and his many institutes set up to help athletes and those less fortunate, he has given so much to so many people.
Jordi Cruyff, his son, played for Barcelona, Manchester United and Holland and followed in his footsteps. Just last week he spoke about his father's legacy in the game.
"It will be a legacy, the way of playing football. The philosophy behind it is always risky, always dominant, always attractive, always offensive. Successful, obviously, but above all to believe in yourself," Cruyff said. "My father is not a believer of counter-attack football but of dominating football all the time. Like chess. What does the opponent do? Then I will do this. I will add something else. That is what he added.
"There are a lot of coaches nowadays who have a big part of my father's philosophy in their own philosophy. That's the legacy. The way we see football today partly based on the idea he brought into football 30 years ago as a coach. He's a legend."
His son, Jordi, also summed up his father's playing career quite simply.
"I think he [Johan] is one of the legends who is always going to be spoken about with Pele and Maradona. The rest of us… we are just mortals. We come and we go."
Cruyff's life may have come and gone, but his philosophy will remain forever. His legacy is everlasting and it has shaped the modern game more than any other individual.