Roger Martinez scored a powerful pair of road goals to lift Colombia into the Olympics with a 2-1 win, 3-2 on aggregate, over the United States on Tuesday in Frisco, Texas.
The Colombians were dominant, only conceding on a goofy own goal, while the Yanks barely survived most of the match thanks largely to goalkeeper Ethan Horvath.
The U.S. have now missed three of the last four Olympics in men's soccer, including two-straight cycles.
Any hopes of a comeback were effectively sealed when substitute Luis Gil picked up a pair of needless yellow cards within 10 minutes of subbing on. The second came thanks to embellishment from Colombia.
Then Matt Miazga was given a straight red for a last man back foul just before stoppage time.
[ USMNT: Guatemala recap | Player ratings | 3 things ]
Colombia has the best early chance to score when Desevio Payne slipped while trying to dribble out of the back, allowing Quintero a chance on goal that Horvath parried well.
It was Miagza's time to make a pretty huge error on a diagonal ball in the 11th minute, but Colombia was unable to capitalize on the second ball back into the mixer.
Five minutes later, it was Wil Trapp with a big hiccup that gave Colombia a break on goal, but Horvath made an incredible single-paw save to deny an opener.
A Colombia goal had the aire of inevitability. It came in the 30th minute, off an extremely poor spell of defending. A missed clearance and marking that was nearly as bad allowed Martinez to blast a left-footed shot past Horvath.
The U.S. met its attack late in the first half, as Colombia's aggression got the better of it for a 10-minute period leading right up to halftime, but it remained 1-0 heading into the break.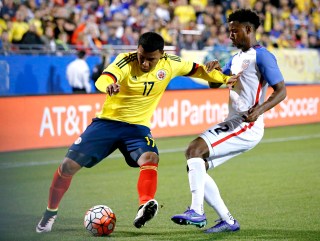 Andi Herzog brought on Jerome Kiesewetter in the second half, hoping the striker's chemistry with Jordan Morris might liven up the attack. Paul Arriola came off.
[ MORE: Plane flies "#FireKlinsmann" banner over USMNT match ]
As the U.S. kept momentum up in the second half, we saw why Kellyn Acosta is dangerous on the wings. Still, the Yanks could not get inside the mature Colombian defense.
An otherwise stellar Tim Parker was fortunate not to pick up a straight red card for an early second half stamp. He picked up a yellow for his troubles.
Soon after, the U.S. tied it on an own goal when Emerson Hyndman's lofted pass was headed into the Colombia goal.
An essentially invisible Jordan Morris was pulled for fellow MLS youngster Khiry Shelton in the 62nd minute.
The deadlock was short lived, and Colombia's second goal gave the game an academic feel. Parker was beaten by Martinez, who sliced a shot past Horvath to give Colombia a second road goal.
The U.S. was very close to equalizing the leg when Acosta totally fluffed a header across goal.
The States managed a pair of red cards in the second half. One was a second yellow for Gil and the second to Miazga with a meltdown tackle in a game that saw meltdowns from both teams.