FAIRY TALE FOXES: HOW CAN THEY CLINCH?
The euphoria which swept around the King Power Stadium on Sunday at the final was mesmerizing. This is really going to happen.
Leicester City beat Southampton 1-0 — their fifth 1-0 win in their last six games — to go seven points clear at the top of the Premier League with six games to go and the home fans let out a huge sigh of relief after a tense, nerve-wracking 90 minutes.
[ MORE: The day Leicester (pretty much) won the PL ]
There will be plenty more of this to come in Leicester's final six games of the season but they now know that if they win four of their final six games of the season then they will be champions. Gain 12 points more points and nobody can stop them. That's all that stands between this group of players and immortality.
Getting off the train in Leicester on Sunday I was greeted by this chap selling scarves proclaiming Leicester City as "Premier League Champions, 2016" and many believed he was too premature and would jinx the Foxes. Yeah, about that. I'm sure he'll do a roaring trade in the coming days and weeks.
After Tottenham Hotspur drew 1-1 with Liverpool at Anfield on Saturday, the Foxes saw their chance to pounce and put more space between themselves and Spurs. They did it in a manner which is befitting of champions. Following a bright start, Southampton came into the game and Sadio Mane's shot looked to be blocked on the line by Leicester's Danny Simpson. No penalty kick and no red card was the decision by referee Mark Clattenberg. Those are the kind of breaks you get when you're at the top but you almost get the feeling even the referees (subconsciously, of course) don't want to intervene in this epic Cinderella story.
[ MORE: 3 things from Leicester's big win | Koeman livid | Ranieri calm ] 
Veteran captain Wes Morgan, 32, headed home the game-winner, his first goal of the season, and their fearless leader epitomizes what the Foxes are all about. He hasn't had a break in two years after playing for Jamaica at both the Gold Cup and Copa America last summer but Morgan is within 12 points of lifting the title.
Their title odds were 5000-1 at the start of this season and being at the KP yesterday, fans were walking around with a huge smile on their face and almost in disbelief.
The supporters roared Leicester on in the final stages and after the game I asked Leicester's charismatic manager Claudio Ranieri about the special bond they have with the fans.
"The fans understood our difficulties and they pushed a lot," Ranieri told ProSoccerTalk. "They were not nervous, they understood our momentum and they are pushing with us. It is a fantastic link. It is unbelievable. They are very, very close with us. They understand when we need support or when I asked for support… but I didn't even ask today. They started early to help us."
With four-straight 1-0 victories, Leicester's squad of second-chancers and steady pros has a chance to clinch the PL at Old Trafford on May 1. Win their next four games and they've done it.
The big challenge will be battling nerves (the players have yet to show any) and although fans in Leicester told me they have "a habit of throwing things away" there is almost no way they can blow this now. Apr. 3 2016 will go down as the day Leicester took the biggest stride yet towards winning the PL title. And, by the way, Leicester was bottom of the PL and seven points from safety on Apr. 3 2015 before their amazing late-season run to stay up. Incredible.
Ranieri admits he is staying calm and the veteran Italian manager exuded confidence as he told reporters he would not change his approach at all in the final six games. "Why should we change?" Ranieri said. He's right. "The Tinkerman" hasn't had to tinker this season as injuries have been kind to the Foxes and their lineup has been unchanged for much of the season. Ranieri has to be lauded for getting little Leicester in this position and the way he has simplified the game and told his players to focus on what they're good at rather than what they're not is remarkable. That's how they can clinch. Don't change anything and trust what got them to this point.
Here are the six games of which Leicester must win four to seal the title. The next three matches represent a very real chance of maximum points and the final three games were always going to be very tough.
This is what stands in Leicester's way of pulling off one of the greatest achievements in not only soccer, but sporting history.
Leicester's remaining schedule
April 10 at Sunderland
April 17 vs. West Ham United
April 24 vs. Swansea City
May 1 at Manchester United – CAN CLINCH TITLE WITH FOUR-STRAIGHT WINS
May 7 vs. Everton
May 15 at Chelsea
---
SPURS SLIP BUT FUTURE'S BRIGHT
Harry Kane's slumping shoulders said it all at the final whistle at Anfield. Kane, 22, and Spurs had given all they had away at Liverpool but came up short as they finished the second half like a freight train but couldn't find the all-important second goal.
Premier League Schedule – Week 32

| Result | Recap & Highlights |
| --- | --- |
| Arsenal 4-0 Watford | Recap, watch here |
| A. Villa 0-4 Chelsea | Recap, watch here |
| B'mouth 0-4 Man City | Recap, watch here |
| Leicester 1-0 Saints | Recap, watch here |
| Liverpool 1-1 Spurs | Recap, watch here |
| Man United 1-0 Everton | Recap, watch here |
| Norwich 3-2 N'castle | Recap, watch here |
| Stoke 2-2 Swansea | Recap, watch here |
| S'land 0-0 West Brom | Recap, watch here |
| West Ham 2-2 C. Palace | Recap, watch here |
Liverpool had taken the lead through yet another moment of magic from Philippe Coutinho but Kane's 22nd goal of the season — a superb turn and strike in two touches from a seemingly impossible angle — got Spurs going.
[ MORE: 3 things – Liverpool 1-1 Spurs ] 
Mauricio Pochettino's side knew it was a big chance missed to pile pressure on Leicester. If Spurs' would've won on Saturday evening the gap would've been reduced to two points. Now, with both teams entering the final six games of the season, they are seven points behind Leicester.
A word on Kane. This guy has improved after his breakout season last year. He scored 31 goals in all competitions for Spurs after bursting onto the scene and may labeled him a one-season wonder. Oh no.
[ MORE: Premier League schedule ] 
The sheer quality in the turns and then the finishes in both his goal against Liverpool last weekend and then for England vs. Germany during the international break prove just how polished of a player he has become. On the world stage he has to be up there with the best strikers on the planet and set this record on Saturday:
For Spurs, along with Dele Alli, Christian Eriksen and Eric Dier, they have a strong core of youngster all under the age of 24 who will only get better.
[ VIDEO: Premier League highlights ] 
Even if they don't win the Premier League this season, they'll be well set for the years ahead. Pochettino is only in the second year of his project at Spurs and is well ahead of schedule. These are heady days at White Hart Lane and they'll only continue to get better, I'm sure of it.
So is Poch.
"It is true this is not just about this season," Pochettino told reporters. "When you compare Tottenham with the big sides, people can see this approach is for the long term. We have the youngest squad in the Premier League yet here we are fighting for the title. But the project is fantastic because we re ahead of the programme — we are only going to get better. For a lot of the players this is their first season in the Premier League and it is sure that next season they will improve. And in football you always need time to develop your full quality."
CONTE CONFIRMED
Chelsea unveiled a quality permanent replacement for Jose Mourinho on Monday, as Antonio Conte was finally announced as their new manager on a three-year deal.
The current manager of the Italian national team announced last month that he will leave his role with the Azzurri after the 2016 European Championships this summer and now the worst kept secret in soccer is out. Interim boss Guus Hiddink, who took charge when Mourinho was fired back in December as Chelsea flirted with relegation less than seven months after winning the PL title, will depart this summer with Chelsea currently on a 15-game unbeaten run in the PL. Hiddink has steadied the ship superbly.
What about Conte?
Conte, 46, is a born winner. As a player with Juventus he won a UEFA Champions League and five Serie A titles. As a manager he led Juve to three-straight Scuddettos from 2011-14 before answering Italy's call. He has yearned for a return to club management and given Chelsea's need for direction and stability, plus their proud history of Italian managers being in west London, Conte and Chelsea seem like a match made in heaven.
[ MORE: How did Miazga do on Chelsea debut? ]
Plenty of Chelsea's players may see otherwise as Conte is a renowned disciplinarian who will whip this under-performing squad into shape. He proved with Juve and Italy that defensive solidity can lead to success, although the Italians have hardly set the world alight during their EURO 2016 qualification campaign but have high hopes for the tournament this summer before Conte departs.
Conte has signed a three-year contract and he will add a defensive solidity and flexibility which will suit the current crop of Chelsea's players. That said, his arrival will likely spark plenty of upheaval in the Chelsea squad and it will be interesting to see if he can entice big names from Juve (ahem, Paul Pogba) to Stamford Bridge.
Coincidentally, tomorrow Conte is the subject of a preliminary court hearing in a match-fixing case in Italy. He has already served a four-month ban during the 2012-13 season after allegations that his Siena side were involved in match-fixing during a game back in 2011. Conte denies any wrongdoing but the legal process is still ongoing.
Putting that matter aside, Chelsea has acquired a manager who was a combative and committed holding midfield during his playing days and his Juve and Italy teams have played with the same desire. Let's see if Chelsea's superstars are ready to roll up their sleeves and put their nightmare title defense behind them.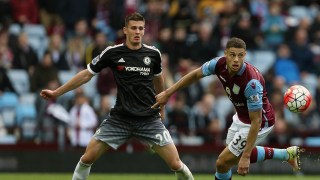 Staying with Chelsea, USMNT youngster Matt Miazga, 20, made his Chelsea and Premier  League debut on Saturday, becoming the first American to play for the Blues.
Miazga didn't put a foot wrong (admittedly against a shoddy Aston Villa side) in the 4-0 win and with the Blues not having much to play for between now and the end of the season, expect the New Jersey native to get plenty more run outs for Chelsea before Conte arrives. Big moment for the former New York Red Bulls defender who proved he is comfortable in the PL and was happy enough to make his debut… but wants more.
RELEGATION PICTURE CLEARER
Norwich City's stoppage-time winner brought down the house at Carrow Road as the Canaries continued their good form to beat relegation rivals Newcastle United 3-2 in a pulsating relegation six-pointer.
Alex Neil's Norwich have now gained seven points from their last three games and have won two on the spin, while Rafael Benitez has one point from his first three games in charge of Newcastle and is running out of time to save the sinking ship.
[ MORE: Latest Premier League standings ] 
A few weeks ago, following one win in 10 games, you would've said Norwich were looking doomed to join Aston Villa in the second-tier next season but now north east rivals Newcastle and Sunderland look the most likely to join Villa. Sunderland drew 0-0 with West Brom at home this weekend and Sam Allardyce got the elusive clean sheet he was hoping for, but not the win as the Black Cats have now drawn their last four games. Wins are like gold dust for the relegation battlers at this point of the season and although Sunderland and Newcastle both have a game in hand on Norwich, they sit four points and six points, respectively, off the Canaries.
Right now, three monster clubs could be going down as Villa, Newcastle and Sunderland prove that short-termism and constant changes of managers and players is not the way forward. There is no clear ideology at all three clubs and it looks like they will be left behind by smaller, yet smarter, teams. Teams likes Watford, Norwich and Bournemouth have a strong belief in what they're doing and fight for their lives. Villa, Newcastle and Sunderland are sleeping giants who still aren't waking up despite desperate times careering towards them.
Premier League Playback comes out every week as PST's Lead Writer and Editor takes an alternative look at all the action from the weekend. Read the full archive, here.