El Nino was stormy.
Atletico Madrid's Fernando Torres had a first half for the ages, good and quite bad, scoring a goal before picking up two yellow cards by the 35th minute in what would become a 2-1 Barcelona win at the Camp Nou in UEFA Champions League quarterfinal play on Tuesday.
Luis Suarez scored the equalizer with a half-hour to play, then put the hosts up 2-1 in the 74th minute
The second leg is April 13 at the Vicente Calderon. Barca has beaten Atleti 2-1 in all three meetings this year.
[ MORE: Champions League schedule ]
Antoine Griezmann continues to impress for Atletico, and he lashed a low shot just wide of the goal moments before the opening goal.
Koke poked a pass beyond a lunging Gerard Pique, and Torres raced past Dani Alves to push his finish beyond Marc-Andre ter Stegen.
Atleti was feeling it, and Torres found Griezmann for another decent chance that the Frenchman hit well enough. Ter Stegen dove to knock it out for a corner.
Then, disaster for Atleti. Torres picked up a pair of yellow cards in succession, the second a needless barreling through of Sergio Busquets.
1 – Torres is the first player to score and get a red card in the same #UCL match since Yaya Touré back to November 2014. Protagonist

— OptaJose (@OptaJose) April 5, 2016
[ MORE: Full lineups, stats, box score ]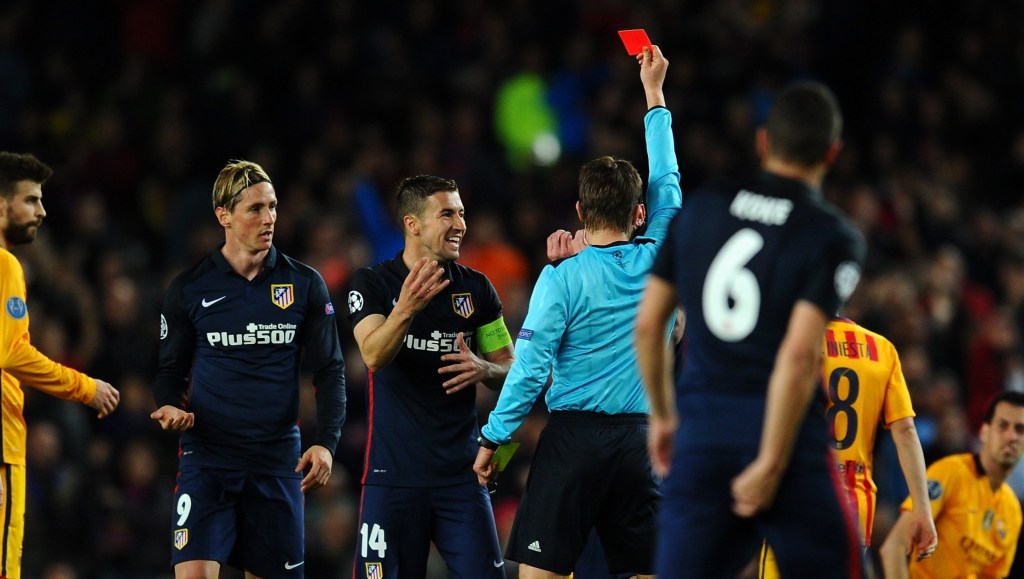 The second half saw solid chances for both sides, with an Atleti cross dancing through the six without a partner before Messi chested and bicycled a Neymar cross wide of the goal.
Atleti keeper Jan Oblak was under siege early in the second half, and made several good saves while also reaping the benefits of some juicy rebounds falling into lucky places.
Neymar bent a gorgeous shot from outside the 18 as the clock struck 61, and it almost snuck inside the far post. Still 1-0. Could Atleti do this?
Nope. Barca's Suarez tapped in a half-pass, half-shot from Jordi Alba less than a minute later to tie the match at 1.
Suarez added another after picking up a yellow card of his own. Dani Alves swept a high pass to the unmarked Uruguayan, who cranked a header past Oblak. 2-1.