After four years in exile, Rangers returned to the top-flight of Scottish soccer on Tuesday with a win over Dumbarton in front of nearly 50,000 fans at their famous Ibrox Stadium.
Now, a new journey begins.
[ MORE: Rangers finish long trip back to the top ]
After being demoted to the fourth and lowest tier of Scottish soccer in 2012 after going into administration and then liquidation, the great Scottish club was reduced to ruins amid severe mismanagement from Craig Whyte and Charles Green who are both currently embroiled in a criminal investigation with regards to alleged fraudulent acquisition of the club in 2012.
The Rangers Football Club PLC were liquidated and a new club rose from the ashes: The Rangers Football Club Ltd.
After three promotions in the last four years, they are now back where they belong after overcoming severe financial restrictions and battling their way through the lower leagues of the Scottish pyramid. There have been plenty of mistakes made along the way and tough times off the pitch still lie ahead when it comes to finances, but this is a fresh start for Rangers. 
We are talking about a team who has more league titles (54) than any team in Scottish history and were perennially in the UEFA Champions League alongside bitter rivals Glasgow Celtic. It's like demoting Real Madrid or Barcelona to the fourth tier of Spanish soccer, then tying one arm behind their back.
[ MORE: Van Gaal staying at United? ]
The fact that the Old Firm rivalry will return to Scottish Premiership next season is another reason for celebration, but Rangers' return to the big time will also help the whole of Scotland.
Celtic have won the Premiership title in each of the four seasons Rangers were out of the top-flight but now they'll have a real rival again as Aberdeen, Motherwell and Hearts have failed to provide sustained resistance. Under Mark Warburton, Rangers will be very competitive in their first season back in the top-flight and already their players are focusing on challenging for the title next season.
Anyone who has ever visited Ibrox will tell you how passionate their fanbase is and their fans will expect instant success back in the top tier of Scottish soccer.
But a word on the fans: they've been alongside their team all along.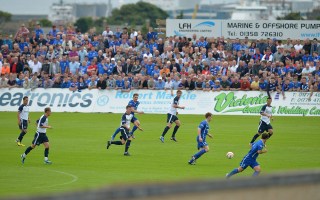 Since Peterhead away in the fourth tier in 2012 in their first league game after the humiliating demotion, to last night at Ibrox against Dumbarton, Rangers' fans have traveled the length and breadth of Scotland supporting their team. They've rolled into tiny coastal towns in their thousands and must be commended for the way most of them have shrugged their shoulders and got on with the punishment handed out to them by the Scottish Football Association.
[ MORE: City of Leicester to rename streets after players? ] 
You'd rarely hear Rangers fans, players or management complain about the situation they found themselves in. Many times they've had financial hiccups along the way with Newcastle United owner Mike Ashley investing in the parent company who owns Rangers and plenty of other financial travails, but the fans stuck by the team and rather enjoyed traveling to Montrose, Stenhousemuir and Alloa Athletic. Their loyalty should be rewarded in the coming years.
Rangers' return to the top-flight restores order in Scotland. With Gordon Strachan leading the Scottish national team in the right direction and Rangers back in the Premiership, a brighter future awaits.
Assuming Rangers challenge Celtic for the title next season, potentially having two teams challenging in Europe will be a great thing for Scotland. Celtic didn't even make the UCL last season and crashed out of the Europa League at the group stage. The lack of proper competition in Scotland's top-flight has hurt them. After losing their two UEFA Champions League spots due to poor performances in European club competitions, with a strong Celtic and Rangers — that will happen now as Celtic can't take things for granted and Rangers will be desperate to usurp their crosstown rivals immediately — there's a chance Scotland's coefficient will climb and they'll at least grab two UCL qualification spots back.
Right now they only have three Europa League spots and one UCL spot for the champions as they sit 25th in UEFA's coefficient rankings and need to get into the top 15 to gain a second UCL spot.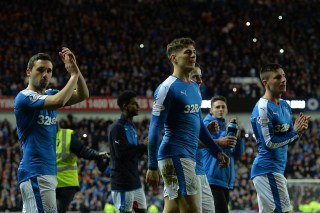 It will take time for Scotland to get anywhere close to replicating the heady days of Celtic and Rangers being in the Champions League together plus managers — Sir Alex Ferguson, David Moyes and Kenny Dalglish to name a few — and players starring in the Premier League and elsewhere in Europe, but Rangers' arrival back in the top-flight should open up a new chapter for the passionate soccer nation of just over five million people.
Next season Rangers will be hoping they can continue their climb back to the summit of Scottish soccer by winning the Premiership title.
For now, they should revel in the tough climb they had up through the league's in the last four years. After consecutive promotions from the fourth and third tiers, they've taken two years to get out of the second tier so maybe we shouldn't get ahead of ourselves and presume they'll be challenging for the title next season. That said, it's Rangers. It is what we expect.
Speaking as someone who has spent time in Scotland slugging away in the lower leagues, what they've achieved is no mean feat. They've gone through three management teams, countless players and had many ups and downs as financial turmoil threatened to derail the club once again in 2014.
Captain Lee Wallace has been part of this journey throughout and he's best equipped to explain exactly what this promotion means to Rangers.
"The fact of the matter is, we are back where we belong," Wallace said. "Every singe player associated with Rangers, every single fan can be proud of what we have done over the last four years and we are finally there."