SOUTHAMPTON — In a plush executive suite overlooking the pitch at St. Mary's Stadium on Thursday, Southampton Football Club announced a new landmark partnership with Under Armour from the 2016-17 season.
[ VIDEO: "The Southampton Way" ] 
The duo announced a seven-year partnership, as Southampton's plans to muscle in on the American market received a huge boost with one of the most recognizable and fastest-growing brands in the sporting sphere aligning themselves with Saints.
[ VIDEO: Premier League highlights ] 
UA will make Southampton's apparel for the next seven seasons but this deal is about much more than just making a jersey.
In February ProSoccerTalk sat down with leading figures at the South Coast club to discuss an extensive coaching and player development program they are launching in North America this summer.
Saints' will partner with youth clubs and programs across North America to help educate coaches and develop young players, as they aim to grow their brand Stateside. UA's involvement in this plan is pivotal as the team continue to push ahead with expanding their fanbase in the United States of America and Canada.
UA and Saints have put together a six-point plan and pledge — it was led out on the St. Mary's pitch on canvas together with a team badge and UA logo — to work together to achieve this.
Relentlessly innovate and create revolutionary product enabling or first team to perform at the highest level
Continue to develop the next generation of academy talent and empower them with over 5000 pairs of cutting edge footwear over the next seven years
Work with the Saints Foundation and kit out 5000 children in the local community
Develop the women's and girls' game through our shared expertise and knowledge
Realize our global ambitions by spreading the benefits of sport and healthy living through technology and activations
Together we commit to having fans and innovation at the heart of everything we do
Speaking at an event at St Mary's to launch the new deal, Southampton's chairman Ralph Krueger (a Canadian who formerly coached the Edmonton Oilers) lauded the link up — he called it the must lucrative deal in club history — with one of America's top brands.
"The American market is one we have taken a big step into. We are growing this day by day," Krueger said. "We are peeking into the Asian market in China. There are other opportunities in the world where we want to teach the game of football."
Krueger also said that Saints' challenge is to "retain their underdog mentality whilst entering a sustained period of success" and his club partnered with UA as they "share similar values in that they achieve success through a combination of hard-work and strategic thinking."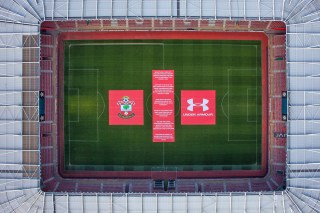 Southampton have finished eighth and seventh in the last two PL seasons, their best-ever campaigns in the PL era. Ronald Koeman's side are currently in seventh place, three points off fifth with five games of the 2015-16 season to go.
UA is currently partnered with one other Premier League outfit, Tottenham Hotspur, and they sponsor top athletes such as Jordan Spieth, Steph Curry, Bryce Harper, Michael Phelps, Memphis Depay and many others.
UA's VP of Global Brand and Sports Marketing, Peter Murray, traveled in from the U.S. and sat in the suite overlooking the pitch with Krueger on a sunny morning on England's South Coast.
"It is going to be a great journey together," Murray said. "As part of the partnership, our brand will be on Southampton Football Club's players from their academy and every step of the way."
Krueger and Murray revealed that 18 months ago initial talks started at St Pancras International train station in London and now it has come to fruition.
ProSocerTalk understands that Saints could well plan a preseason training trip to Baltimore this summer to visit UA's headquarters and will take the coaching staff, U-21 players and those players not involved in the 2016 European Championships to the U.S. for training. Krueger said firm details on preseason plans will be made clearer in the coming weeks.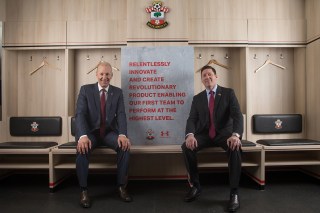 Krueger also revealed that Southampton will find out at the end of April about their application to start a women's team, with the club eager to kick on and help the female game grow in England.
Southampton called themselves "the fastest growing brand in world football" during the announcement and this partnership will help the Saints go marching on to new territories.
"We are just getting started" is the motto used by UA. The synergy between these two is clear as Southampton aim to continue their climb up the PL with a new American partner by their side.