Leicester City has become the darling of the Barclays Premier League over the past 10 months, but even in their short few days as champions of arguably the world's top division in football two glaring questions has been thrown out repeatedly.
[ MORE: Is Claudio Ranieri set to return to Italy? ]
Can the Foxes repeat in 2016-17? And can Claudio Ranieri's side keep its prized trio?
[ WATCH LIVE: Stream every PL game via Live Extra ]
Both seem unlikely, however, the second discussion is one worth having at this very moment.
Let's consider what we're talking about here for a second. Jamie Vardy, Riyad Mahrez and N'Golo Kante have each put their names on the map for the world to see after dazzling on the biggest stages this season.
While Vardy was the best of the bunch this season in terms of attacking firepower (24 goals and six assists), the latter two offer significantly more value for Leicester this offseason. Several reports have surfaced linking a Mahrez and Kante package deal to Arsenal for a sum of nearly $70 million, which would certainly help the outlook for the Foxes in the future.
Both players are right in the crux of their primes, with each man at 25 years of age. Vardy on the other hand, who signed a new contract with Leicester this season, will turn 30 midway through next season. Mahrez and Kante each started over 30 matches this season for the Foxes, with Mahrez notched an astounding 17 goals and 11 assists. Kante's production can't be amplified by stats but that certainly doesn't mean he isn't valuable.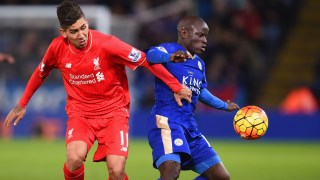 While money is obviously a factor for any club looking to sustain long-term success, particularly for an up-and-coming side like Leicester, the Foxes already stand to make in excess of $200 million for their troubles over the next year-plus. That of course includes winning the PL, television revenue and qualifying for next season's UEFA Champions League.
With that being said, I firmly believe that the Foxes should stave off their competition when it comes to holding onto their terrific trio. What once seemed like a once in a lifetime feat of winning the Premier League could very well turn into something much more for Leicester moving forward.
There's something to be said about cohesion and an understanding that is built when you are able to keep a core group of players together. Yes, I know that Manchester City, Chelsea and the rest of the big boys will be gunning for little old Leicester now that they have achieved the unthinkable and likely embarrassed the likes of England's elite. That doesn't mean that Leicester should go selling what got them their title though.
[ MORE: Watch full PL match replays ]
Football has become more and more influenced by the greed and power that money drives. Just ask FIFA. But I genuinely think the sport needs a Leicester in its corner. It's unlikely that Ranieri's men will rattle off a three-peat of PL titles or even win the Champions League next year, but they can still be firm contenders and build off of a legacy that is already among the greatest in sports history.
Just imagine if they won again next season…