Arsenal legend Ian Wright, 52, believes Gunners fans are well within their rights to continue to vent their anger after yet another season of seeing a charge for the Premier League title falter.
[ MORE: Leicester's biggest-ever party ]
In an exclusive interview with ProSoccerTalk, Wright also spoke about his sons Bradley and Shaun Wright-Phillips playing in MLS, discussed the chances of his former club Crystal Palace winning the FA Cup and talked up England ahead of this summer's 2016 European Championships.
As we've come to expect with Wright, he tells it like it is.
[ STREAM: Every PL game via Live Extra ] 
Speaking to PST from London while at a charity event to raise money for Arms Around the Child, Arsenal's second-leading goalscorer of all time certainly feels just as frustrated as some of their fans about the lack of a PL title in the last 12 years.
Here's the full transcript from our chat with Wright.
---
Can you explain why you got involved with Arms Around the Child and why it is important to you?
My friend Mervyn Lyn, who I've known for many years, has been involved with Arms Around the Child and it is to do with the children who have been left as orphans due to aids in South Africa and India. Any time I can, I try to raise awareness I can. When you consider this kind of charity and how these children are orphaned and the plight they are in, anything you can do that can help is good. This is one of those causes that deep down in your heart you genuinely want to try and help out any way you can.
Modern day Premier League footballers do a lot for charities and give back but the good they do is never documented as much as the so-called mistakes they sometimes get themselves involved in. Those are more highlighted but a lot of the players and the Premier League itself do a lot for charities around the world. Some of the guys aren't fussed with the publicity they get from doing charity work. They are just doing it because that is what they want to do.
Your sons Bradley and Shaun Wright-Phillips are currently playing together for the New York Red Bulls in Major League Soccer, how are they enjoying it?
I'm really pleased with the way it has gone for Bradlley. He has always been a very good goalscorer, a very good finisher and player, in terms of a focal point to hit the ball up to and keep the ball and set play up. He can bring midfielders into play and set the play up and he has done well. I am very proud of what he did last season and even more so when he scored that fantastic goal against Bayern Munich in the All-Star Game. A couple of years before he scored against Arsenal… he scores against everybody! He is scoring and he is enjoying playing over there.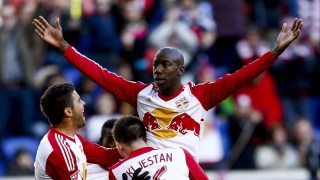 You watch the razzmatazz and everything that goes with MLS and it is really, really exciting. A lot more players over here are thinking about MLS and thinking of it at a time when they're younger. Normally people think about going there at a really late stage of their career but now people are starting to think, 'actually, this is a good move for me to go there in my late 20s.'
Do you wish MLS would have been a better known option for you when you were playing? 
I'm quite pleased with the time that I had and when I finished at 36 I was fine with it. Like I say with Bradley and Shaun, they were very fortunate to have the opportunity to go to America at a time when American soccer is really booming and go over at a good time in their careers. It was going pretty well for me throughout my career in the Premier League, I didn't really have much desire to leave it, whatever was going on. But of course, if MLS was around at the time you would think about it but I was quite happy with the way it ended in the end.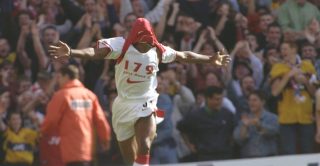 My ankle was killing me, so I had to stop anyway! It wouldn't have wanted to go to somewhere like America and not do myself justice and not be what people knew me for. That's why I'm quite pleased that Bradley and Shaun, who has still got some good football left in him, have got a lot to offer. I think the American game and MLS is booming, there are some good players over there and long may that continue for my boys.
There's been a lot of unrest among Arsenal's fans recently, can you understand their frustration?
It is frustrating, especially when you look at Leicester winning the league. They deserve all the plaudits they are getting because it is an amazing feat and I don't think it is one that we will see again soon. What they've done is go against the grain, against all the so-called money and everything that goes with having to buy the so-called best players in the world, and players leaving and saying they want to play Champions League football, Leicester have bucked that trend and have shown you don't have to. If you are willing to work as a unit, work for a manager and have good fans and good owners, you can do whatever you want.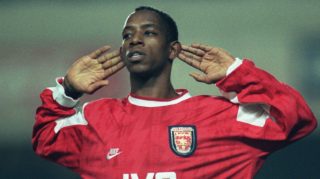 I think that the Arsenal fans, with Leicester winning the league it is frustrating because they've done what they've done for many years. That is, after Christmas they seem to fall away. When you consider the amount of money the Arsenal fans are paying on a yearly basis, it is the most expensive in Europe if not the world and it is getting more frustrating. I do feel for them because I think that the players are good enough to be able to make a better fist of it than they did this season. Especially since the main protagonists such as Chelsea, Manchester City, Man United, Liverpool, all the people Arsenal have had problems beating in the past, they weren't really in it this year and it was a great opportunity.
It was an opportunity Arsenal missed and that is why the fans are upset and they've got every right to be because they just wanted a bit more out of the players and they didn't get it.
Where do you think Arsenal need to strengthen this summer?
People have been saying for years about the center half pairing, you can always strengthen there. The midfield, I feel that they aren't too far away with the players they need in midfield but it is up in the striking department where they need somebody who is capable of getting 15-20 Premier League goals a season. I think the goals can be shared out at Arsenal and if they can get a striker that can deliver at least 20 goals, someone like what Aguero does for Manchester City, what Harry Kane does for Tottenham or Jamie Vardy does for Leicester, somebody like Jermain Defoe and what he's done for Sunderland, somebody you know who is going to score 15 to 20 goals a season.
That's what Arsenal have needed for many years and that's what they've not had. Some games, you can see where they've needed that player but he's not been there to score that goal which could take them over the line.
For many, it seems like Wenger will decide when he leaves and not the board. Is this why fans are so frustrated and almost stuck in limbo?
I'm not going to get too deep into the that but the fact that they are frustrated is because they want to win things. They want to win things with a manager who has been there for many years. He says things that maybe they don't believe anymore. About how the squad is a very good squad and he says they are a very hard-working squad and determined squad, one of the best squads he's worked with, and then what happens is when you look at the way results have gone, especially the last five, six, seven years in respects of winning the Premier League, they fall short.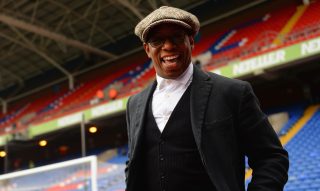 So, the fans are tired of hearing the same stuff. They are tired of the fact that the board are satisfied that Arsene has qualified for the Champions League for 20 years and that is a lot of money to the football club. Of course the board are going to be very happy with a manager who can deliver and help balance the books and make money. The club is doing that in abundance. The people who are spending the money at the top end are pleased to see that the books are being balanced but the fans who are frustrated because other fans are winning things, they are the ones who are making all the noise at the moment.
I hope they continue to make the noise and I hope that people upstairs will listen. I don't think it's fair on the Arsenal fans that they should continue to be paying the money they are paying and at the end of the day they aren't really getting anything back for it.
Your old club Crystal Palace, back into an FA Cup final and just like 1990 playing against Manchester United. Must bring back some great memories for you? 
Of course. It shot me into the national consciousness. Scoring those goals against Manchester United, coming on as late as I did, it was one of the greatest moments of my life. For Palace to get back to the cup final against a Man United side who, I think if Palace have got all their players fit and ready to go, they will cause them a lot of problems. It was a different Man United side we played, full of internationals, full of top, top players. It was one of those where we were really up against it and we gave them a good go in the first game and unfortunately we weren't so good in the replay but it is brilliant for Palace to be there. The fans are amazing when they go to a place like that. When they've got that kind of opportunity to go to Wembley, to show what kind of support they have, they are amazing.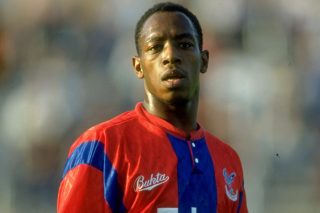 It is a one-off game, Palace have match winners in Bolasie and Zaha and maybe even Dwight Gayle off the bench. Just like United have Martial, Rashford and Lingard, those players will cause Palace problems. It is a finely poised final and I am pleased Palace are there. They started the season brilliantly, faded off a little bit but now they've finished off by securing their place in the Premier League and now, hopefully, they can really make a good fist of the FA Cup final and maybe get something.
When it comes to the England squad for EURO 2016, as a former England striker who would you start up front?
Vardy has been fantastic, Kane has been fantastic. Roy Hodgson will probably start with Harry Kane and I would probably start with Harry Kane and Vardy, I would start with the pair of them because you get something from both of them.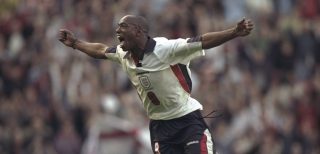 Harry Kane can hold the ball up and Jamie Vardy can stretch teams and then we can leave space in the midfield for people like Rooney, if he plays, and Dele Alli to exploit the space that people like Vardy create. We have a very good mixture in respects of the forwards that we can play. I think that if he starts Vardy or Kane, it wouldn't make much difference to me because I think they both offer so much in different ways.
Jack Wilshere has returned in recent weeks for Arsenal, should he start for England this summer?
Jack's been out for how many months now? Literally the whole season. We can't really say I would start Jack, of course you can't start Jack in front of Eric Dier or Alli or people like that. If Jack is fit enough by the time they get to the Euros and has proven he is fit enough and remember, people at Arsenal are going to be a little bit like 'hang on a minute, don't use him so much just because he's got back' but the mere fact that Jack can be in the squad, people should be happy. When you start talking about whether people would start him, it is a little bit too much because he's literally just got back.
Finally, can England win EURO 2016 this summer? Do you have high expectations? 
I do, yeah. Simply because people are saying things like, 'we should get to the quarterfinals and we should be happy' but if you're going into a tournament, we've beaten Germany and were fantastic and we weren't so good against the Netherlands, but you have to look at the best possible scenario.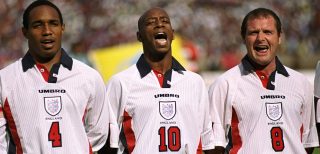 If we are capable of beating Germany we'll be one of the favorites going into the tournament. I think we should be looking to go all the way in the tournament. Why wouldn't you? I wouldn't want to be in a tournament where people say, 'oh yeah, it will be alright if we get to the quarterfinals' because subconsciously if you get to the quarterfinals you can relax. You've got to want to get to the final. We should want to get to the final. That's what I'm hoping the guys will be thinking.