From staring out the windows of Swiss trains to the color of his goalkeeper shirts, art has never been far from Stefan Frei's mind.
The 30-year-old backstop spent some time talking with ProSoccerTalk this week as Seattle prepares for a match with Colorado and Frei oversees the production of a massive 'tifo' project for a future Cascadia Cup game.
[ MORE: Puerto Rico-USMNT preview ]
We spoke with Frei about plenty of on-the-field topics, from the Sounders' early season form to his early days in Toronto and the character of USMNT prospect Jordan Morris, but the project is one of those rare corporate projects that fits the bill as interesting.
Frei has designed a 200-foot long, 75-foot high canvas that will be painted and constructed by fans across Seattle, a project with Delta called "The Fabric of Sounders FC". That started with middle school artists who helped him put the "first splashes of paint" on the project this week.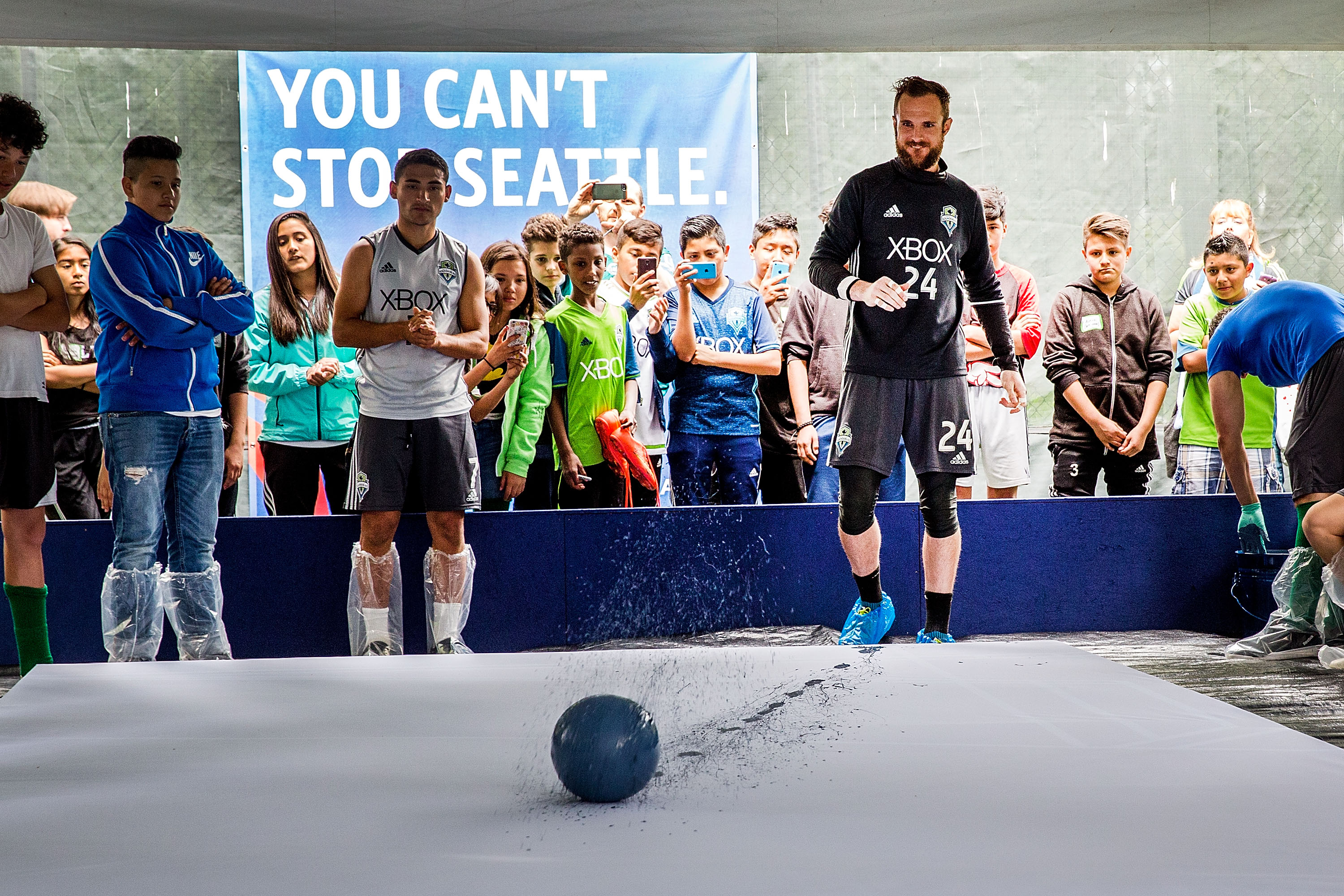 And it's giving Frei insight and appreciation for what Seattle supporters do on their own time to make match day special, as he lauded the inspiration of the Emerald City Supporters.
"I did all the designing it, but how do you translate the design that I did digitally onto canvas? You can probably speak to our supporters because you need a lot of hours, sweat and tears," Frei said. "In stages throughout the year we'll go out into the community, take snippets of the design and allow people to paint it along my guidelines."
All of that will culminate with a flight of fans heading down to Portland from Seattle and doing some of the installation on the plane.
Frei's love for art is innate, and he didn't find it in a gallery (at least at first). As a young player taking trains to school and practice, the attraction was outdoors, but not nature.
[ MORE: FA Cup preview | MLS Rivalry Week Preview ]
"What you see when you're peering out of the train a lot in Europe is graffiti," he said. "For some reason, it caught my eye. Especially old school graffiti that used very flashy colors, bright, in your face neons. I was fascinated by it, and I started doodling. In sketch books and things, not on walls."
The 'keeper wanted to study art at California, but couldn't because of his soccer schedule. An architecture major had the same obstacles. So he's relishing the opportunity now, launched by his designing of a tee-shirt to go with Seattle's 2016 kit launch.
In an odd twist of fate, Frei would love to wear the Sounders' rave green in his goalkeeper kit. He cannot for obvious reasons, and also rarely gets to choose what he wears (he says he loves this year's "highlighter yellowish-green type deal").
That's fine, though, because he has plenty of on-field concerns. The Sounders' season has suffered fits and starts as the club adjusts after the departures of Obafemi Martins and Lamar Neagle this offseason, with more responsibility than expected heaped onto new boy Morris.
"The biggest thing I want you to take away from this is he's got the right head on his shoulders. Before I was pro, I played with tremendous talents but unfortunately they stayed talents because they thought they had it all and wouldn't need to work any more. And they lost it all and people will never hear from them again."
"Jordan was raised by a really good family and he knows what he needs to do. Some people might question why he came to MLS and he gave it some serious thought. It wasn't some immature decision and ultimately he came to the conclusion that this is what he wanted to do. The best thing I see from him is day-in day-out he knows he's got a lot more to do. He shows up for training.
"He works his butt off."
Morris had a slow start to the season goal-wise but netted in four-straight before seeing the streak snapped in a 2-0 Sunday loss to Dallas. The adjustment to the professional level was supposed to be easier, and come over time, but Martins left for China.
[ MORE: Chelsea bid for Higuain, told to bid higher ]
"It doesn't help when your top striker leaves a couple of days before your season starts."
That's put the onus on Frei and his veteran leaders to keep stability around the training ground. He uses the term "even keeled" several times in describing the room, saying Seattle doesn't get too high off a win streak or "devastated" by losing skids.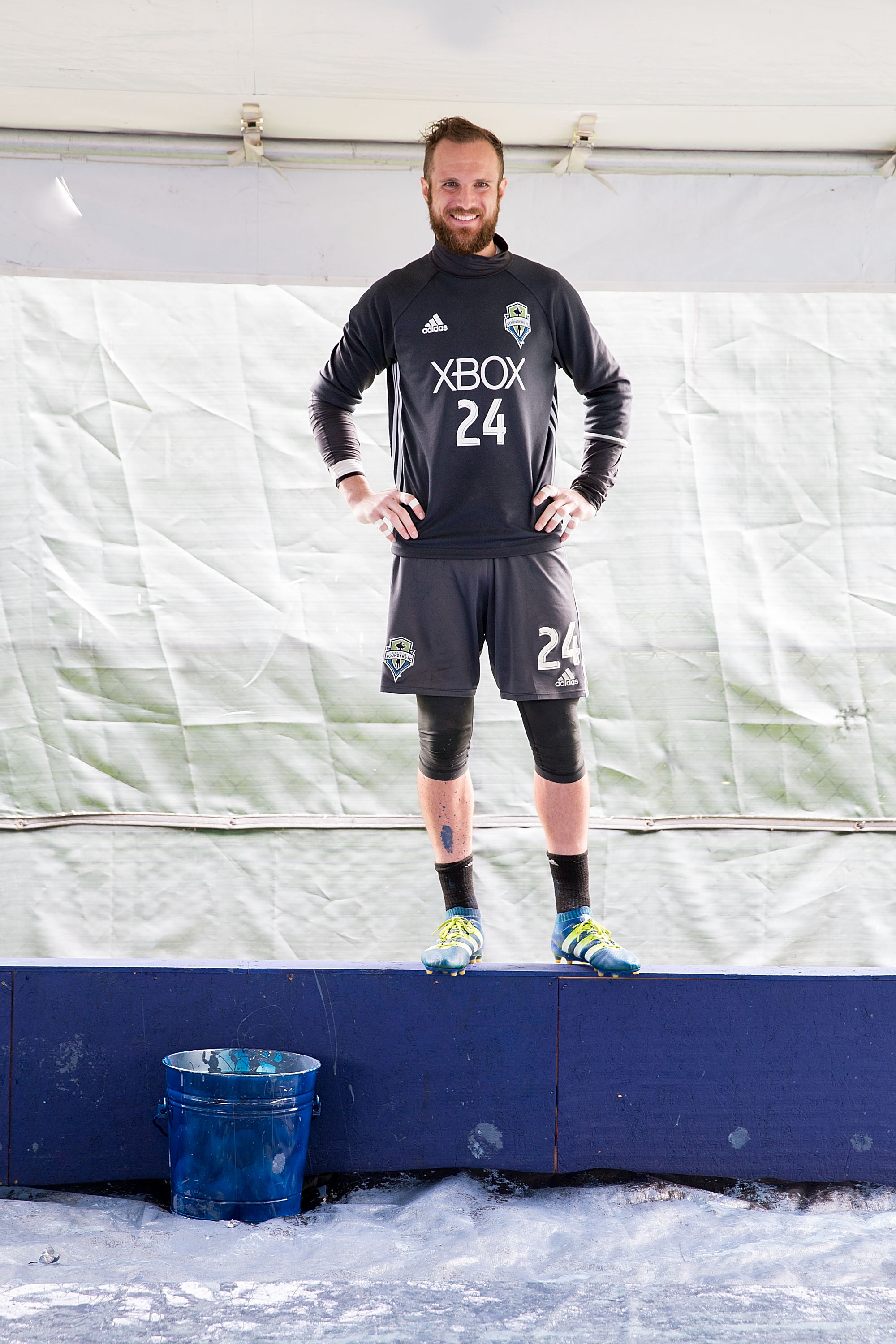 And Frei makes a good point when it comes to consistency. From his perspective, losing even a handful of players is a mild offseason given what he went through as a youngster in Toronto. Drafted 13th overall in 2009, he won the starting job almost immediately. He also saw a lot of players in front of him before leaving for Seattle in December 2013.
"For me to have coaches to put me in as raw as I was huge," Frei said. "I faced a lot of shots. Unfortunately we went through tough times. Would I take any of that back? No. It's made me appreciate what I have now a lot more. When we have an offseason with Sounders where we get rid of three, four, five players, people are like, 'Wow, you're really cleaning house'. Sea
There's been a bit of the unlucky in Seattle's slow start, too. In addition to Martins' untimely departure, the Sounders have conceded five penalty kicks in 10 games.
"We can't really control those things, what we can control is keep your head down and work your butt off," Frei said. "Everybody does that here. That's why I enjoy going to work here every day. It makes for a really good work environment."