Louis Van Gaal has left the building.
The 64-year-old Dutchman is out as Manchester United's manager after the club confirmed the worst kept secret in sport on Monday with his three-year contract cut short after United's failure to qualify for the UEFA Champions League next season.
[ MORE: Mourinho in talks with United ]   
Two years after arriving at Old Trafford, we are all still a little confused as to what actually happened as the allure of LVG had us bamboozled, disgusted and intrigued, while perhaps now even a little sad that it's over.
Van Gaal divided opinion among United's fans, former players, pundits and the media for most of his tenure at Old Trafford. Now the end has arrived we're not really sure if United are better off, worse off or just in a similar spot to before LVG arrived in 2014.
[ MORE: LVG releases statement after exit ] 
Towards the end there's been an inevitability about his departure — despite his insistence he'd be in charge next season — but it's worth noting that when the history books look back at Van Gaal's time in charge of one of the world's biggest teams, history will likely be kind to him. Right now it seems like a failure but compared to David Moyes' time in charge, it's not. He delivered two top five finishes and an FA Cup trophy even if he couldn't get them back to the UCL for next season. From that point of view he failed to meet his targets but despite all of the unrest about the tactics, personnel choices and his character, he didn't miss his targets by much.
[ MORE: Premier League money table 2015-16 ]
Despite the tedious, glacial rate of play he fostered among his team, there were flashes of brilliance throughout his reign which kept you interested, kept you thinking that maybe, just maybe, LVG's boys would spark into life and deliver the goods. Anthony Martial's late goal against Liverpool this season. Marcus Rashford's double against Arsenal. The 4-2 home win against Manchester City and the win at City earlier this season. All of those moments gave you a notion that maybe the previous struggles were all part of Van Gaal's masterplan.
It has been said many times before in sport and I think United's fans can vouch for this after the past two years: it's not the losing, it's the hope that kills you.
[ MORE: Cantona wants Guardiola over Mourinho ]
He arrived after success with the Netherlands at the 2014 World Cup and a mystique surrounding his name after the decades he spent on the European continent. Under LVG, United were meant to return to a swashbuckling giant, a force to be reckoned with in England and Europe. Yet it became clear quite early in his reign that that wasn't going to be the case.
From his bizarre player selections to his penchant for slow, possession based play, Van Gaal quickly ate away at any excitement United's fans had for him. Every now and then he would deliver memorable moments like throwing himself to the ground in the technical area, an impromptu speech on the mic at the end of season awards dinner and blurting out something about sex masochism in the media to keep everyone interested.
[ MORE: Best moments of LVG's bizarre tenure ] 
He told his players to be "horny" for the win, called out Sam Allardyce's long-ball accusations and had a go at journalists most weekends. The LVG sideshow delivered. The play on the pitch didn't and that's what ultimately cost him his job as his three-year project to return United to greatness ground to a halt. There was so much to dislike about Van Gaal's egotistic comments and brash demeanor but at the same time there were so many reasons to admire him.
Van Gaal is a man who led the club like Sir Alex Ferguson did, someone who knew what it meant to be at the helm of a global team and treat the fans with the respect they deserve and foster a family environment throughout the club. He put everything into it, even if he didn't show it as he sat in the dugout writing notes on his clipboard during games. That angered fans and pundits who wanted to see more aggression a la Jurgen Klopp. They wanted more excitement and LVG couldn't deliver it.
United's fans were simply bored of seeing their team play. They recorded their lowest ever goals tally in the PL era this season. They went 11 home games in a season without scoring a goal in the first half. They simply didn't deliver an exciting product on the pitch.
Van Gaal pointed to his philosophy and way of playing and he certainly stamped that on the team, successful or not. They led the PL in average possession this season and in backwards passes and although he managed to get through his ideas clearly to the players, it just didn't work in the PL.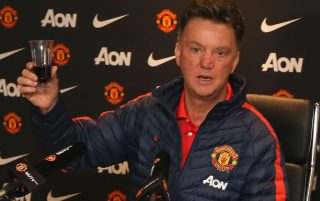 All the time, though, it was interesting to see the situation unfold.
Many times United's fans didn't want to look, just like when you pass a car wreck on the road but are guilty of rubber-necking. Everybody, no matter what team you supported, wanted to drive by and have a long glance at United's issues and then have their say on the matter without being up close at the scene to deal with the injury crisis', plus having to blood youngsters (somewhat successfully) early, help under-performing players recover and then deal with the pressure which comes with managing such an illustrious club.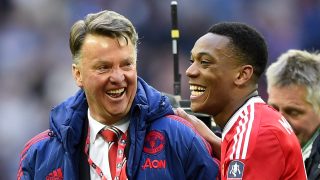 Perhaps the most damning factor of his tenure was player recruitment. Van Gaal was given over $375 million to rebuild a team demoralized by Moyes and then decimated in the summer the Dutchman arrived. The only money he spent wisely was on Martial and Daley Blind plus helped the likes of Rashford, Jesse Lingard, Timothy Fosu-Mensah and Cameron Borthwick-Jackson break into the team.
Mercurial talents such as Angel di Maria, Memphis and Radamel Falcao just didn't fit into his system. Until the bitter end he spoke about the club's failure to get in his transfer targets, the players he wanted and tried to defend his teams lack of cutting edge in the final third. In the end, his excuses fell on deaf ears. He tried to explain himself too much over the two years and his relationship with the media soured over time.
One of the most alluring things about Van Gaal is his personality. He is brash, confident and outspoken because he's been there, seen it and done it. He's won trophies in Holland, Spain, Germany and now in England after his FA Cup success. He is an Amsterdammer who believes in himself and his ability as a manager. That provided countless moments in press conferences where awkward silences would be conjured by LVG, all the time glaring at a journalist who dared to question his authority, his team selections or the mentality of his team. He continued that until the end and went at the media time and time again.
His last words to the media as Manchester United'a manager were at Wembley Stadium on Saturday, just as news was breaking from people in that very room that Jose Mourinho was set to take his job from him.
One last time he was bullish, combative and forthright.
Asking questions to Van Gaal over the past few years in crowded press conferences (they were never empty because, well, nobody knew what he would say next) myself and others always felt his eyes latch onto you as he sized you up and decided if you were worthy of an answer. He played the game. He always kept everyone guessing, just like the man he tried to replicate at United, Sir Alex Ferguson, did. His need for control seemed overbearing but he was old school, a former school teacher from Amsterdam who was the heir to Johan Cruyff at Ajax but never got the chance to break through and replace his idol.
If his playing career wasn't anything special, his career as a coach has been. He built a dynasty at Ajax, won major trophies with huge clubs and led the Netherlands to the World Cup semifinals in 2014 with a team that excited the fans. His time with Manchester United will live long in the memory despite two seasons of mediocrity for a club of their size. Fourth-place and fifth-place Premier League finishes will not be celebrated in 10 years to come by United's fans but they'll be sat having a pint in a pub saying "do you remember when Van Gaal…"
His legacy won't be glorious among United's fans but it will be memorable. Van Gaal's legend lives on as intrigue and mystique remain as he saunters out of the exit door at Old Trafford.