Argentina
Runners-up in three of the last four Copa America tournaments, Argentina would love to break through for a title in the United States. The 1991 and 1993 winners are going on 23 years without a championship.
Star player: Lionel Messi — What else needs to be said for the world's best player, other than his international record is missing some titles. The Copa America is one of them.
It goes well for them if they play within any reasonable distance of their talent. With Javier Mascherano, Sergio Aguero and Gonzalo Higuain, Argentina run through the group stage and cruise to a final.
But what if Messi is just drained, and neither Aguero and Higuain carry over their club form for country. Second place in this group is no waltz through the knockouts, as Uruguay knocks out the Argentines and cue up more questions about Messi in his national team uniform.
---
Chile
Alexis Sanchez (below) and La Roja look to build on its first ever Copa America crown, won on home soil last summer in somewhat controversial fashion.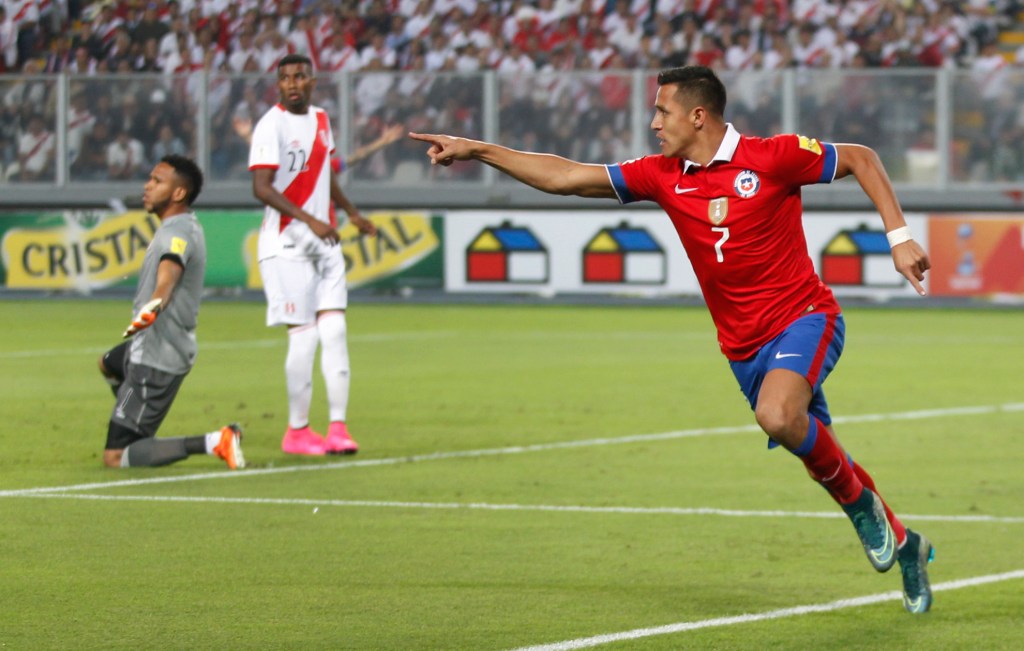 Star player: Arturo Vidal — Yes, Alexis Sanchez might deliver shots, but Vidal stirs the drink. The tempestuous midfielder has everything it takes to turn a game on its head.
Deep from top to bottom: Chile powers through Argentina and then lays waste to Bolivia, able to rest many stars against Panama before beating Group C's runner-up to set itself up for a repeat of its 2015 title run.
A combustible lineup and aging core combine to leave Chile struggling after a big loss to Argentina. Unable to gather itself together, the Chileans stumble to a draw against Bolivia that leaves them Group D's runner-up and the victim of Uruguay in the knockout rounds.
---
Panama
This is a sneaky capable unit coming off a third place finish in the Gold Cup.
Star player: We'll tap Jaime Penedo, perhaps the lynchpin of a veteran squad. The longtime New York Red Bulls keeper now calls Saprissa his home.
Now is the time for Panama's experienced core to do big things; Blas Perez, Luis Tejeda, Gabriel Gomez and Felipe Baloy are likely on the end of their national team runs, and San Jose's Panamaniacs connection of Alberto Quintero and Anibal Godoy — at 28 and 26 — are two of the younger parts of the unit.
But age is a factor when it comes to tournament play, and can Panama possibly outlast either Chile or Argentina? It's unlikely.
---
Bolivia
Surprising quarterfinalists last summer, Bolivia sits second-last in the CONMEBOL World Cup qualification table. Their only wins since late 2014 have come against Venezuela (2) and Ecuador, and there are a total of just 15 international goals in their 23-man squad.
Star player: Romel Quiñónez — The goalkeeper from Bolivar is set to get a lot of work.
This tournament goes well if: Bolivia handles Panama and manages a draw against Argentina or Chile.
But in all honesty: There will be growing pains for La Verde this summer in the U.S.
---
Game schedule – Full schedule for Group D, here
Who's going through, who's going home: Argentina and Chile thrive, Bolivia and Panama battle for third.
Marquee match: Argentina vs. Chile, June 6. No explanation needed.
Top players to watch
1) Lionel Messi
2) Arturo Vidal
3) Sergio Aguero
4) Angel Di Maria
5) Alexis Sanchez