We placed Mexico fifth and the USMNT seventh in our rankings of contenders for the Copa America Centenario, which begins Friday in California.
But how wide is the distance between the two sides, and is any gap in talent mitigated by bigger challenges in schedule?
That's what we'll try to suss out here.
Mexico embarrassed the United States in the CONCACAF Cup playoff match this Fall, and both sides have since seen more good results than bad.
[ FOLLOW: All of PST's USMNT coverage ]
The Yanks, of course, suffered the ignominy of a 2-0 defeat in Guatemala in World Cup qualifying, but are 7-1-1 in their last nine matches. Jurgen Klinsmann's men have looked especially strong in the past match-and-a-half, dominating both Ecuador and Bolivia.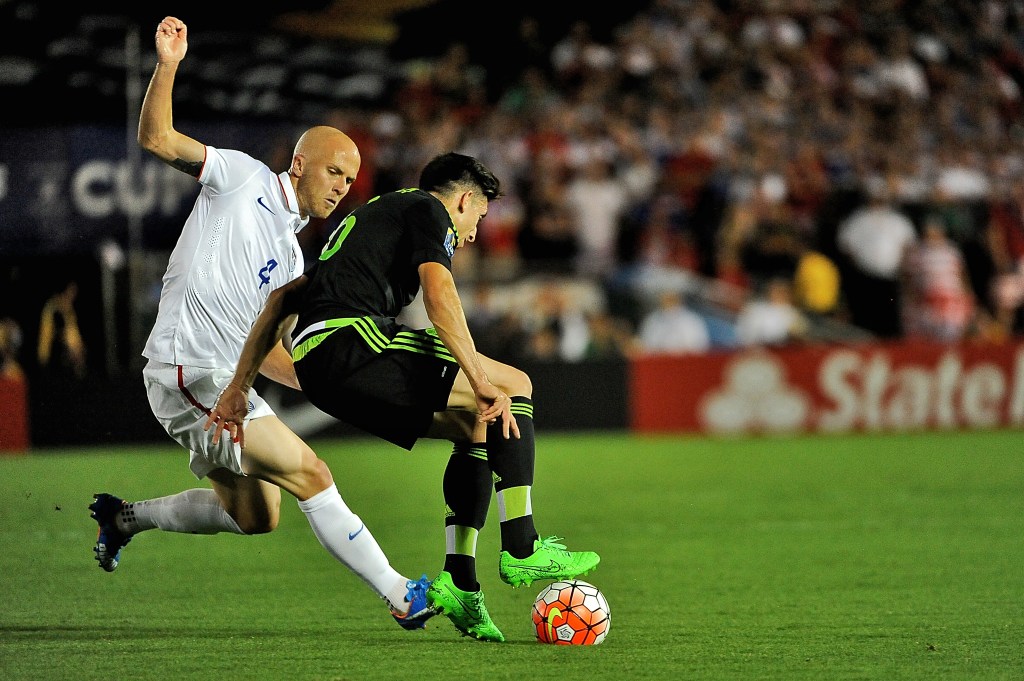 El Tri hasn't lost since the 2015 Copa America, and that was not a full-strength squad. Following the tournament, Mexico began a 12W-6D run which includes a Gold Cup win — suspect as the run was —  and a draw against Argentina. No, El Tri hasn't beaten many opponents of power during the run, but the record is far from shaky.
Honestly, Mexico should expect to make a run at history. While they stumbled in qualification for the 2014 World Cup, their U-23s won gold at the 2012 Olympics. This generation of El Tri has been building upward, more or less, since that tournament.
[ COPA AMERICA PREVIEWS: Group A | B| C | D ]
Mexico has rarely had trouble with group mates Jamaica or Mexico, and Uruguay will be without Luis Suarez. It would be shocking if El Tri failed to advance from the group, and Mexico should have a chance to win the group. Argentina or Chile likely await in the quarters, so the semifinals are neither a given nor particularly likely.
The U.S. is in a different spot altogether. Yes, they should be able to advance from Group A, but their host status is the only thing that will make them heavy favorites in any match. Costa Rica went further than the Yanks at World Cup, and Paraguay has drawn Argentina twice, Brazil twice (once losing in penalties) and Uruguay once in the past calendar year.
The Yanks should be favored to finish above both those teams, but could be in a hole if they don't start fast against Colombia on Friday in California. Colombia won its only warm-up match, a 3-1 decision over Haiti in Florida last week, but did not have star man James Rodriguez yet.
Winning the group is key for Klinsmann's knockout round hopes, as Brazil should easily win Group B and face Group A's runner-up. There's a world of difference between facing Ecuador, Peru or Haiti, or tangling with Brazil.
[ EURO 2016: England squad released |Germany, too ]
So you could honestly make the case that while Mexico is far more dangerous side in this tournament, especially given their proximity to home, the United States edging Colombia for Group B gives them a far better chances of making the semis. The best team doesn't always win. However, if the U.S. finishes second in Group A, it's very difficult to imagine them taking down Brazil given September's 4-1 thrashing at Foxborough.
The question is, would you fancy Mexico to have a better chance of upending Chile or Argentina? Most would say, "Yes."