Clint Dempsey scored early and the United States held on despite playing 45 minutes with 10 men in a 1-0 win over Paraguay in Philadelphia on Saturday.
The U.S. moves onto the knockout rounds of the Copa America Centenario, where it will meet the winner of Brazil-Peru if Colombia gets a point against Costa Rica tonight.
[ WATCH: Dempsey's goal | Yedlin's yellows ]
The Yanks were down a man thanks to a pair of yellow cards to DeAndre Yedlin within a minute in the second half. The first was iffy, the second was borderline red on its own merit.
Paraguay's desperation forced them to foul the United States often, and the Yanks had a pair of good free kick opportunities inside of the first six minutes.
The second was the better of the pair, and Fabian Johnson curled his offering right to Paraguay 'keeper Justo Villar.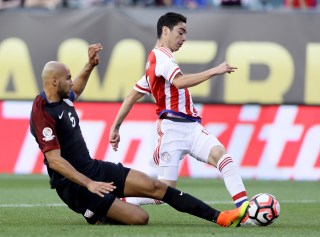 An ill-advised charge from Fabian Johnson sprung Paraguay on a 3-on-1, but John Brooks (right) made an incredible sliding tackle in the 18 to save the Yanks.
[ MORE: England-Russia recap | Russian fans chase English ]
Despite the widely-held conception that the Paraguayans would push the tempo, they seemed happy to accept their fate as a counterattacking side. The 19th minute saw Brad Guzan make a point blank save and give away a corner.
The 24th minute saw the U.S. with another good free kick thanks to a handball just outside the arc. Clint Dempsey hit a laser wide of the upper 90.
The Yanks broke through in the 27th, as Zardes zipped down the left wing and held off his mark to deliver a low cross to the spot. Dempsey didn't miss from there.
Gyasi Zardes –> Clint Dempsey –> GOAL, #USMNT. #USAvPAR #MyCopaColors https://t.co/aumNF2kGgS

— FOX Soccer (@FOXSoccer) June 11, 2016
DeAndre Yedlin put the U.S. in a horrible position with a pair of quick fire yellows in the second half, the second a brutal takedown from behind that was absurd given the circumstances.
Still, the Yanks just needed a draw. And Klinsmann's men came close to making it 2-0 when Bobby Wood sprung Zardes only to see the Galaxy man waste the chance on a charging goalkeeper.
Brooks and Guzan came up absolutely massive in an 82nd minute stretch that saw the U.S. goalkeeper make two kick saves in quick succession after Brooks diverted a clear-cut chance to the keeper's left.