Your first three Copa America group winners are the United States, Peru and Mexico.
You had that in your predictions, right?
If anything, you may've had Mexico tipping Uruguay for Group C, but it's El Tri and Venezuela moving onto the knockout rounds after a 1-1 draw between Mexico and Venezuela on Monday in Houston.
[ MORE: Could DC sign 16-year-old over Inter? ]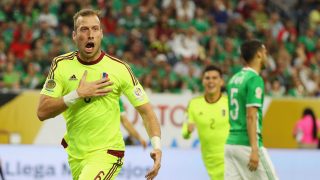 Jesus Corona nabbed an 80th minute equalizer for Mexico, and the draw snaps Mexico's 11-game win streak. Jose Manuel Velazquez scored in the 10th minute to give Venezuela a look at the group title.
Both sides finishes 2W-1D in group play. Mexico will get the runner-up of Group D, while Venezuela will get the winner (probably Argentina).
Both sides came into the group finale with wins over Uruguay and Jamaica, but Mexico had been more impressive. Throw in the fact that Houston was basically a home match, and that makes Monday's result even more of a surprise.
Jesus 'Tecatito' Corona channels his inner Leo Messi to bring #ElTri back on level terms. 😱 #MEXvVEN #MyCopaColors https://t.co/k6ksbFOJB1

— FOX Soccer (@FOXSoccer) June 14, 2016
As a consolation for Venezuela, how about this outstanding save from Tenerife goalkeeper Dani Hernandez? (Their goal was pretty classy, too).
WHAT. A. SAVE, Dani Hernandez. 👐 #MEXvVEN #MyCopaColors https://t.co/11A5Fctbu5

— FOX Soccer (@FOXSoccer) June 14, 2016